Community Bank Compliance Costs Reverse Upward Trend
Oct 19, 2018
From 2016 to 2017, annual compliance costs at community banks declined by 13 percent to $4.6 billion, according the most recent national survey conducted by the Conference of State Bank Supervisors (CSBS).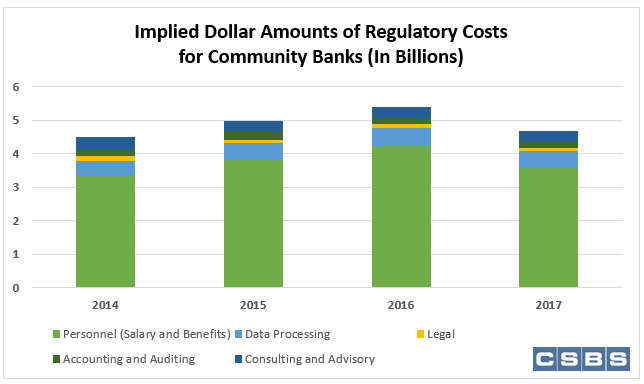 Personnel, data processing, legal, accounting and auditing costs all declined for community banks from 2016 to 2017. The drop could be attributed to community banks being more efficient at meeting regulatory requirements or regulatory changes coming from the 2016 EGRPRA review, according to the survey's conclusions. 
One area did increase, though. Consulting and advisory costs related to regulatory compliance went up six percent to $328 billion. And despite the overall drop, compliance costs were cited as a key factor for community banks considering whether to be acquired.
"We are pleased that compliance costs have declined, as federal and state regulators move towards more tailored regulation of financial institutions," said John W. Ryan, CSBS president and CEO. "However, compliance costs clearly are still a concern for community bankers and impact their business decisions." 
The survey, conducted from April through June 2018, captured responses received from 521 community banks in 37 states. The survey was released earlier this month at the sixth annual Community Banking in the 21st Century Research and Policy Conference, co-sponsored by the Federal Reserve, CSBS and FDIC.