Blog post
COVID-19 Infects U.S. Financial Markets
Mar 20, 2020
By Thomas Siems, CSBS Senior Economist and Director of Research
On Jan. 11, 2020, China reported the first known death from the novel coronavirus, now known as COVID-19. At the time, the Dow Jones Industrial Average (DJIA) Index of 30 large companies based in the United States stood at 28,824, still 2.5% below the peak level of 29,551 that it would eventually reach one month later. As of this writing, the Dow has been down more than 30% since it peaked on February 12, just five weeks ago. Moreover, the 10-year constant maturity Treasury Note, which was trading around 1.8% at the beginning of the year, has seen its yield drop to record lows below 1%, even trading below 0.5% in early March.
The nearby chart presents a timeline of when COVID-19 seriously infected these U.S. financial markets. As shown, the Dow continued to advance following news of China's first known death from the virus, after the first case was confirmed in the U.S., after the World Health Organization (WHO) declared a global health emergency, after President Trump declared a national health emergency and banned travel with China, and after the Diamond Princess cruise ship carrying more than 3,700 people was quarantined in Japan. But in mid- to late-February, once COVID-19 cases emerged and subsequently surged in Italy, South Korea and Iran, and cases outside of China exceeded those within its borders, equity and bond markets both collapsed.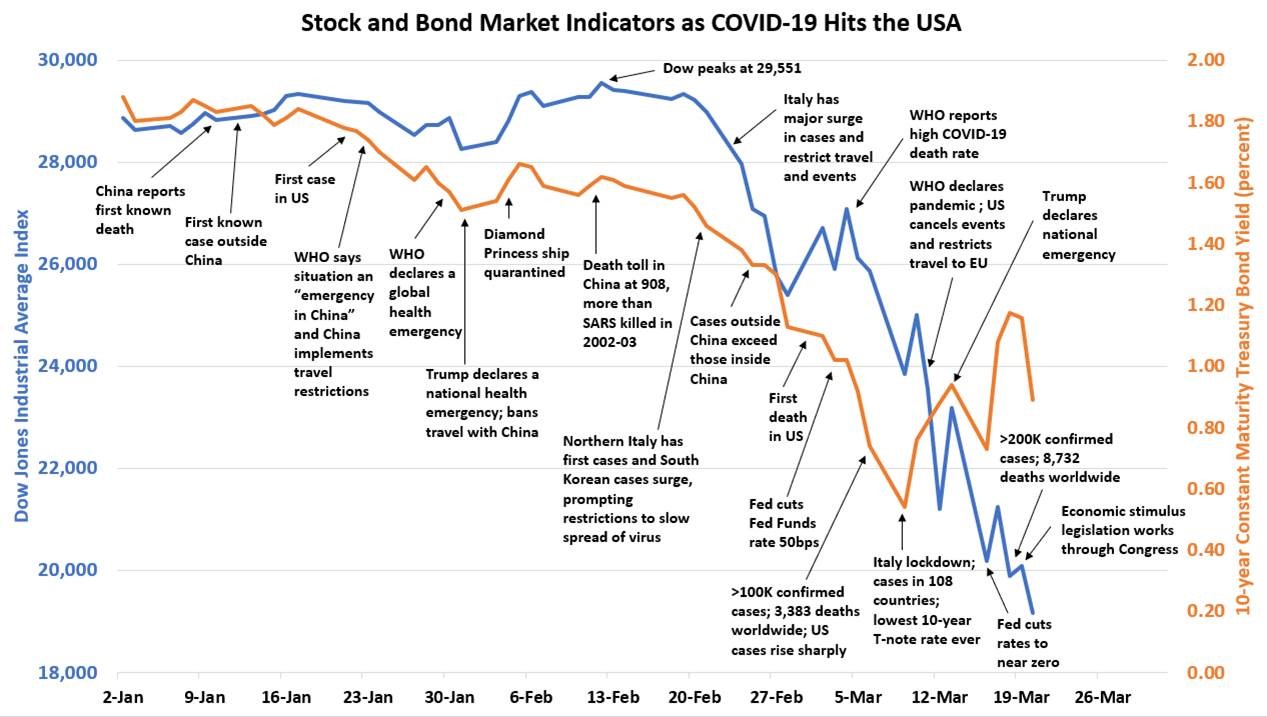 On February 29, the first U.S. patient died from COVID-19 in Washington state. And in early March, the Federal Reserve announced a 50-basis point reduction in the Federal Funds rate, in recognition that COVID-19 had, in effect, "mutated" to infect U.S. financial markets. A few days later, the WHO reported that COVID-19 has a much higher death rate than seasonal influenza and declared a global pandemic. Shortly thereafter, U.S. professional sports leagues, colleges and universities, conferences and concerts, and other events were postponed and cancelled across the nation. Businesses and schools were encouraged to allow telecommuting where possible, cancel/reschedule events, and temporarily close operations where large groups can gather. Additionally, U.S. residents were encouraged to stay at home and not congregate in large groups. 
In the past week, as equity markets have fallen further and funding markets strained, the Fed has unleashed several actions intended to provide liquidity to banks and businesses. The Fed dropped the Fed Funds rate to near zero percent, and as "the lender of last resort" they reinstituted several 2008-09 financial crisis era programs to further support smooth market functioning and facilitate the availability of credit to businesses and households. Moreover, fiscal policymakers have also recognized the need to help businesses and households and are actively working on legislation to provide emergency economic stimulus to the parts of the economy most in need. 
The protective health measures encouraged by the government―designed to decrease the rapid spread of the virus and ease pressures on the U.S. healthcare system―has significantly transformed the way Americans interact, work and play. The short-term consequences have resulted in airlines significantly curtailing flight schedules; retail outlets, restaurants, bars, casinos and theme parks closing; and manufacturers and energy firms shuttering. 
While it seems very likely that the U.S. economy has fallen into a recession, we lack official statistics to accurately assess the condition of the economy in real-time. But the recent magnitude of market intervention by fiscal and monetary policy authorities is clearly an attempt to lessen the impact on economic actors during this extensive "pause" in activity in many sectors of the economy.
So where will the U.S. economy and financial markets go from here? How much damage will COVID-19 do to the economy and how long will it continue to infect financial markets? I wish I knew. Because COVID-19 is highly contagious, more deadly than seasonal influenza, and has a longer incubation period than many viruses, no one really knows how long this will last. But I am confident we will all get through this together. Our nation and people are resilient. Take care of yourself. And take care of others. 
Featured Posts
Recent Posts