Blog post
COVID-19's Initial Impact on Employment
Mar 26, 2020
By Thomas Siems, CSBS Senior Economist and Director of Research
The U.S. Department of Labor just released what is arguably the first official economic report that shows the beginning of the devastating impact that the novel coronavirus, known as COVID-19, will have on the U.S. employment situation. While economists expected a record increase in weekly jobless claims for the week ending March 21, the 3,283,000 increase was a stunning tidal wave surge from the previous week's 281,000 initial claims and dramatically eclipsed the previous record of 695,000 set during the 1982 recession and the weekly peak of 665,000 during the 2008-09 financial crisis (see Chart 1).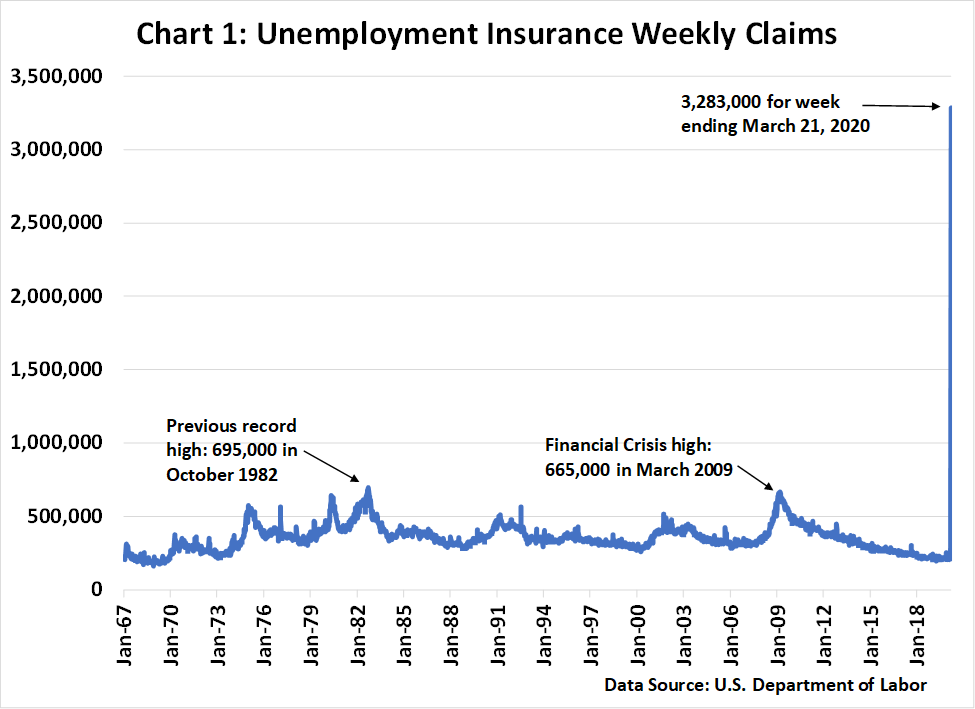 Using only these new initial claims data, I calculate that the U.S. unemployment rate would immediately rise from its February level of 3.5% to roughly 5.3%, an increase of 1.8 percentage points. To put this in perspective, the largest one-month increase in the U.S. unemployment rate during the 2008-09 financial crisis was 0.5 percentage point, rising by that much for each of three consecutive months from December 2008 through February 2009 (climbing from 6.8% to 8.3% over these three months and subsequently peaking at 10% in October 2009).
Applying the state-level jobless claims data, all 50 states and the District of Columbia will see an initial increase in unemployment, and as one might expect, the potential impact varies across the nation. Chart 2 shows the state-level unemployment rates for January 2020, before COVID-19 was generally considered a major concern; Chart 3 shows the potential current unemployment rate for each state projected by factoring in the recent initial jobless claims data, when COVID-19 began to seriously infect financial markets; and Chart 4 shows the expected change in the state-level unemployment rates between the two timeframes.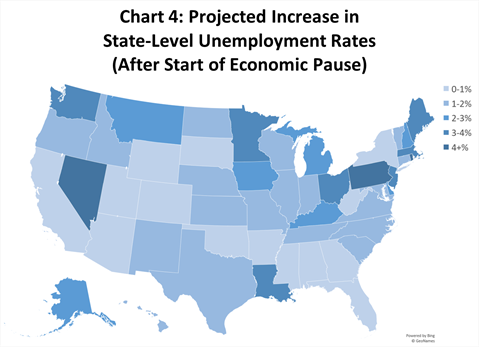 Based on these calculations, the states with the largest projected increases in state-level unemployment rates are expected to be Rhode Island (3.4% to 9.8%), Nevada (3.6% to 9.6%), and Pennsylvania (4.7% to 10.5%). For the most populous states, the projected unemployment rate increases are as follows: California (3.9% to 4.8%), Texas (3.5% to 4.6%), Florida (2.8% to 3.5%) and New York (3.8% to 4.7%), all near a one percentage point increase. These are stunning, almost unfathomable increases, except that we all know why it is happening. With business and school closures across the nation, government lockdowns in many areas, and people staying home and not traveling or going anywhere, thousands of people have been, and will continue to be, forced onto the unemployment rolls. The economy has been put on pause.
In an attempt to blunt the impact that this economic pause will have, fiscal policymakers have crafted legislation to provide assistance to parts of the economy that have been adversely affected. Businesses, both large and small, will be offered loans and incentivized to keep employees on their payrolls. Many households and individuals will receive direct aid. State and local governments will receive support. And the U.S. Treasury Department was given funds to support additional emergency lending programs. At nearly $2 trillion, it is the largest economic rescue package in American history. 
Furthermore, monetary policymakers have not been standing idle. While my last blog outlined several policies, programs and facilities that the Federal Reserve initiated earlier this month, they have continued with more aggressive actions to keep money and credit flowing in the financial markets and the overall economy. As the nation's "lender of last resort," the Fed has pulled out all the stops and has the ability to support $4 trillion in additional emergency lending.
The economic fallout from COVID-19 has been swift and dramatic. And while more damage is likely, it bears repeating that the U.S. economy went into this COVID-19 health crisis in a very good place: U.S. unemployment rates were at 50-year lows; inflation was low and stable; and economic growth was tracking slightly above 2% annually. But with an economy that depends primarily on the consumer for growth and sustainability, an economic recovery will happen only after the spread of COVID-19 is contained and consumers regain confidence to travel, dine out, shop, go to the theater, attend sporting and cultural events, etc.
I (already) long for those days to return! Yet, every day, I become even more grateful for the nation we live in and call home. It's been encouraging to see my fellow Americans looking out for one another and showing their irrepressible spirit. In time, we will overcome, and I hope we will be better and stronger than before. As we continue to fight this invisible enemy, take care of yourself. And take care of others.
My thanks to Brennan Zubrick and Jake Vick on the CSBS Data Analytics Group for their help creating these charts.
Featured Posts
Recent Posts