Blog post
Data Corner: The Rise of State Chartered Larger Banks
Dec 18, 2019
By Carlos Cordova, CSBS Data Scientist, Analytics and Research
In this edition of the CSBS Data Corner, we explore the number of state-chartered banks with total assets greater than $7.5 billion. The banks are grouped into different asset categories based on their total assets value. The graph shows that the overall number of banks with assets greater than $7.5 billion has risen 62% in the past 10 years.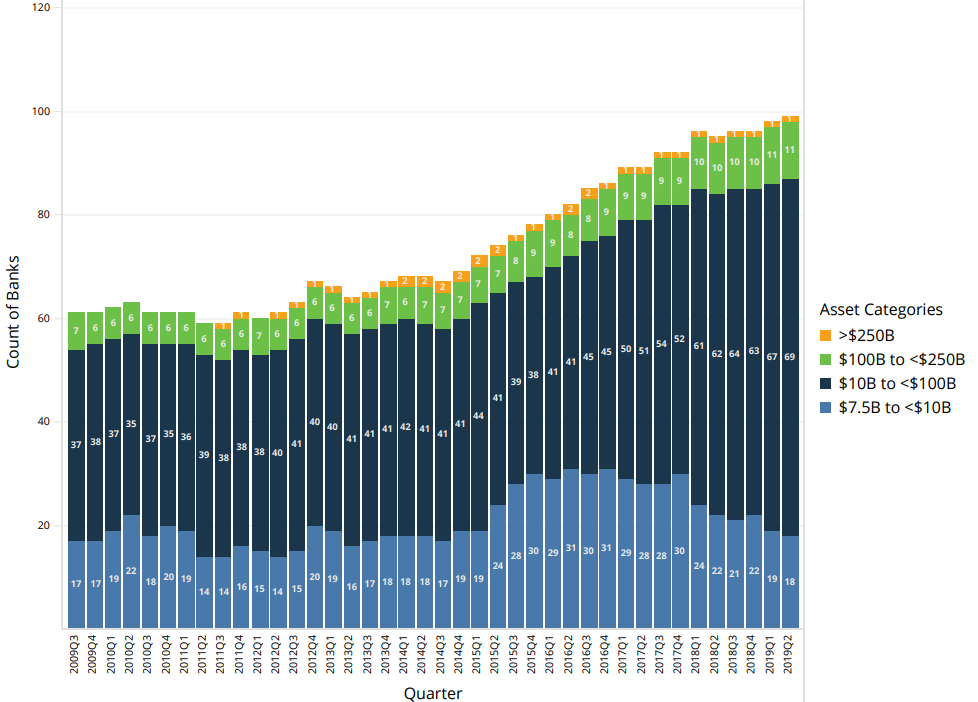 This change is mostly due to an 85% increase in the number of banks whose total asset value is between $10 and $100 billion. This rise in larger banks is also driven by industry consolidation, discussed in more detail in previous Data Corner posts here and here. By comparison, the number of nationally chartered banks has decreased 11% over the same 10-year period.
"Over the last decade there has been a clear and consistent consolidation trend in the banking industry driven largely by mergers and acquisitions," said Charlotte Corley, Commissioner of the Mississippi Department of Banking and Consumer Finance.
She added: "While the overall number of banks has declined by 41% since 2005, these continued mergers and acquisitions have created a new crop of larger and more complex financial institutions within the state banking system which require a higher degree of effort and understanding to effectively supervise and regulate. Since much of the growth in banks >$7.5 billion has been among state-chartered banks, the state system has had to ramp up its capabilities with regards to large bank supervision.
"State examiners responsible for large banks are using new tools and forums provided by CSBS to share ideas about large bank examinations and improve the supervision process for these institutions, a powerful illustration of the collective wisdom and collaborative spirit that exists within the state banking system."
CSBS held its Large Bank Supervision Forum in Indianapolis in November. The forum, comprised predominantly of presentations and facilitated discussions, is designed to provide participants with an overview of the large bank supervisory processes and key regulatory concerns that are specific to large, complex financial institutions. For more information regarding the forum, reach out to Dan Schwartz, CSBS Director, Policy Development (dschwartz@csbs.org).  
Featured Posts
Recent Posts