The Examiner
Sep 21, 2018

"Winter is an etching, spring a watercolor, summer an oil painting and autumn a mosaic of them all."
- Stanley Horowitz
The Autumnal Equinox occurs tomorrow, September 22, 9:54 PM. Happy Autumn!
---
In this Issue...
     - Full Details on Community Bank Research Conference
     - Video: Unlocking the Power of Regional Regulation
     - In the Media
---
Full Details on Community Bank Research Conference
The Federal Reserve and CSBS have rolled out their agenda for their annual community bank research conference. You can read the full announcement here. 
The conference will be held October 3-4, 2018, at the Federal Reserve Bank of St. Louis and webcast live. At the conference, the annual survey of community banks will be released and 11 academic papers will be presented. These papers will address small business lending, competition in banking, and bank management and performance. Also, students from Eastern Kentucky University will present an additional paper. This student team won the CSBS Case Study Competition for 2018, awarded last May. 
Of special note, the FDIC has now joined the Federal Reserve and CSBS as a conference cosponsor, and FDIC Chairman Jelena McWilliams is scheduled to deliver remarks. 
Other key speakers include:
Federal Reserve Governor Randal Quarles
Federal Reserve Bank of Cleveland President Loretta Mester
Federal Reserve Bank of St. Louis President James Bullard
CSBS Chairman Charlotte Corley
CSBS President and CEO John Ryan
Beneficial Bank President and CEO Gerald Cuddy
This is the sixth year for the research conference -- officially titled the Community Banking in the 21st Century Research and Policy Conference -- and attracts a mix of federal and state financial regulators, leading academics and financial researchers, and community bankers. Over the years, conference research has been used to inform policy decisions among federal policymakers and regulators. 
You can read more information about the 2018 and prior year conferences and research here. 
---
Video: Unlocking the Power of Regional Regulation
Each year, the Community Banking the 21st Century Research Conference team compiles videos featuring community banks and their regulators. Last year, Greg Gonzales spoke about a bank in his local community and how the Tennessee Department of Financial Institutions provides efficient, effective supervision.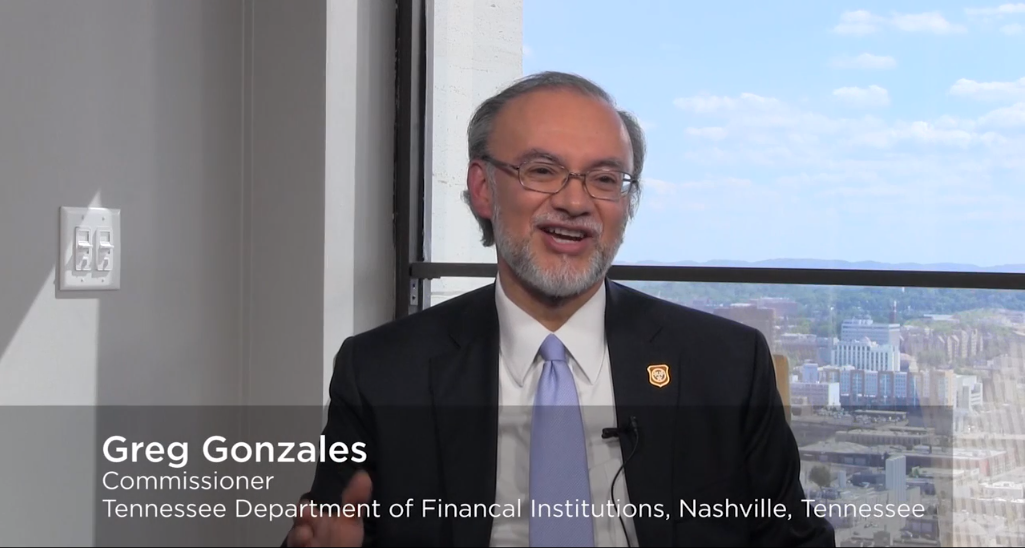 "We don't regulate for regulation's sake," said Greg Gonzales, Tennessee Commissioner. "We regulate to allow financial institutions to serve the people of this state, provide important financial services. That's the ultimate goal. That's what it's all about."
Gonzales has been with the Tennessee DFI for over 30 years. Starting as an entry-level attorney, Gonzales has worked for all divisions of the department. Gonzales became commissioner in December 2005.
Highlighting the role community banks play in Tennessee, Gonzales discusses Tri-State Bank, a minority-owned community bank. Tri-State Bank was granted a charter in 1946.
"This bank was really part of the fabric of their community," said Gonzales. "The bank supported Civil Rights activities who were sought to punished by others economically for the activities they were taking. That bank stood for these people... That bank was a catalyst to change a culture of a community."
"Let's tailor regulation to the issues at hand, to the economic background of the bank, to the ability of management, to the history of that institution," said Gonzales. "We need to unleash the power of regional regulation. That's what we need to do!"
---
In the Media
Breaching Legislation. Data breach legislation continues to be in the news. National Mortgage News sums it up this way: "Data breach is really a fight about federal preemption." That would be our take as well. NMN reported that "some consumer advocates and officials at the state level worry national standards could weaken strong data breach rules that are already in place in a select number of states." The House Financial Services Committee approved a bill last week that would set a new national standard. Importantly, when it comes to notifying consumers affected by a data breach at a financial institution, rather than setting a floor upon which states can add additional requirements, the House bill sets a firm ceiling. CSBS's Margaret Liu is quoted in the article. And CSBS has communicated its opposition to key Members of Congress. 
A Fuller Fed? The Wall Street Journal reported that the Trump Administration plans to nominate Nellie Liang to become a Governor on the Federal Reserve Board. A 31-year veteran of the Fed, the Journal reported that "in early 2009, Liang helped lead the government's first round of bank stress tests that helped settle market fears about the resilience of U.S. banks." Liang would join four other Governors, including Chairman Jerome Powell, on the Board. Two vacancies still remain pending in the Senate, including that of Kansas Bank Commissioner Miki Bowman, who CSBS supports.
Lower Capital for CRE Loans. The Federal Reserve, FDIC and OCC proposed easing capital requirements for commercial real estate loans by tightening the definition of what constitutes a "high-volatility loan," Politico Pro reported. The proposal has a 60-day comment period.  
Crypto Firms Running Afoul? Politico Pro also reported that the New York Attorney General has found that three cryptocurrency firms might be operating in the state without the specific license type required by the New York Department of Financial Services. DFS will evaluate the matter. To Politico Pro, "the report is the latest spotlight on an emerging industry that federal regulators such as the SEC are already watching closely. The price of Bitcoin and other digital currencies has plummeted in the past year, due in part to negative attention from regulators." 
GAO Looks at Regulatory Burden. American Banker reported that "the Government Accountability Office recently released a report on community banks that concluded regulatory burden has had a 'generally modest effect' on the declining number of banks, industry profitability, and the volume of small business lending since the financial crisis." The economic environment and competition have been more powerful factors, GAO said. This finding did not sit particularly well with bankers. A spokesman for the American Bankers Association said in the article that "the increase in financial regulation since 2010 has driven up compliance costs for banks and reduced lending to small businesses." Indeed, the article did point to a 2017 finding from the Federal Reserve and CSBS that compliance costs approached $5.4 billion annually for community bankers. CSBS has not yet reviewed the GAO report. The 2018 annual survey of community banks will be released at the Federal Reserve-CSBS-FDIC community bank research conference in St. Louis, October 3-4.
Six Weeks Until the Mid-Terms. According to the analytics website FiveThirtyEight.com, at this point Democrats have an 80 percent chance of gaining control of the House of Representatives, while Republicans have a 68 percent chance of holding onto the Senate. Stay tuned.