The Examiner
Oct 19, 2018

"So needless to say, I'm odds and ends...
But I'll be stumbling away slowly learning that life is ok.
Say after me. It's no better to be safe than sorry."
- a-ha, Take on Me
Released this day in 1985
---
This Week's Stories
---
In the Media
Bowman Cloture. The full Senate is moving closer to voting on the nomination of Micki Bowman, Kansas state banking commissioner, to become a Federal Reserve Board Governor. During the week, the Senate Majority Leader, Mitch McConnell (R-KY), scheduled a cloture vote on Bowman's nomination for November 14. Cloture is a procedural step just prior to a final vote by the full Senate. If she is confirmed, the Board would then have five Governors and two vacancies. CSBS supports Bowman's nomination.
Good News on the Economy. The Wall Street Journal reported on a speech delivered this week by Federal Reserve Vice Chairman for Supervision Randal Quarles, who discussed the economy and interest rates. Quarles: the economy is "in a good spot"...."all indicators currently are for a strong economy for a significant period into the future"....and "the more the economy's potential growth increases, the more gradual we can be in our removal of monetary policy accommodation." Plain English: interest rates are going up, but perhaps not as quickly as some might have thought. You can read Quarles' full speech here. 
Warning Signs in the Housing Market. Also from the Wall Street Journal: "Home price growth has slowed...the volume of existing home sales has fallen...and there are a number of reasons to believe this shift will persist." One company that would be affected by a downshift: Freddie Mac, whose retiring CEO, Don Layton, interviewed with the American Banker: "I don't think there's going to be a strong down cycle, but we have to be prepared for it." Layton also discussed GSE reform. 
E-Payments Fraud Rising. The Federal Reserve released a new report on fraud in electronic payments made through depository institutions. Key finding, per Politico Pro: "Non-cash payments fraud rose 37 percent from 2012 to 2015...or $8.3 billion." You can read the report here. 
Fintech Update. The SEC has launched a "FinHub" on its website to organize fintech regulatory activities as well as provide industry and the public with related resources. Meanwhile, at a Washington event this week, Comptroller of the Currency Joseph Otting said that there are "a number of highly interested institutions" in the OCC's fintech charter...he expects formal applications by year end...and charter decisions by mid-2019...all per Politico Pro. CSBS opposes the fintech charter because it exceeds OCC's statutory mandate, and CSBS has said it will take its case to federal court "at a time deemed appropriate." 
Election Predictions. Per the data analytics website FiveThirtyEight.com, the Republicans have an 80 percent chance of retaining a majority in the Senate, while the Democrats have an 84 percent chance of gaining a majority in the House of Representatives. Election Day is November 6.
---
Community Bank Compliance Costs Reverse Upward Trend
From 2016 to 2017, annual compliance costs at community banks declined by 13 percent to $4.6 billion, according the most recent national survey conducted by the Conference of State Bank Supervisors (CSBS).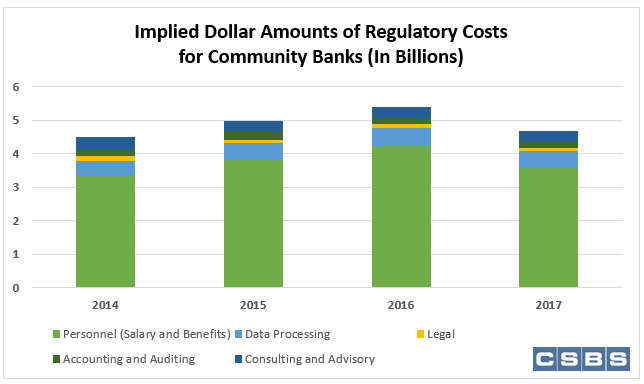 Personnel, data processing, legal, accounting and auditing costs all declined for community banks from 2016 to 2017. The drop could be attributed to community banks being more efficient at meeting regulatory requirements or regulatory changes coming from the 2016 EGRPRA review, according to the survey's conclusions. 
One area did increase, though. Consulting and advisory costs related to regulatory compliance went up six percent to $328 billion. And despite the overall drop, compliance costs were cited as a key factor for community banks considering whether to be acquired.
"We are pleased that compliance costs have declined, as federal and state regulators move towards more tailored regulation of financial institutions," said John W. Ryan, CSBS president and CEO. "However, compliance costs clearly are still a concern for community bankers and impact their business decisions." 
The survey, conducted from April through June 2018, captured responses received from 521 community banks in 37 states. The survey was released earlier this month at the sixth annual Community Banking in the 21st Century Research and Policy Conference, co-sponsored by the Federal Reserve, CSBS and FDIC.
---
New BSA/AML Information Portal Launched
The Federal Financial Institutions Examination Council (FFIEC) launched the redesigned Bank Secrecy Act/Anti-Money Laundering (BSA/AML) InfoBase website, which is aimed at sharing bank examination procedure information with examiners, financial institutions, the public, and other stakeholders. 
The FFIEC BSA/AML InfoBase was redesigned to improve the overall experience for users. The redesign improves site navigation, enhances search capabilities, provides mobile-friendly capability, and contains new functionality that allows users to download various sections of the FFIEC BSA/AML Examination Manual.
---
The FDIC Needs a State Regulator on its Board
By Charlotte Corley
Chairman, CSBS
Commissioner, Mississippi Department of Banking and Consumer Finance
The Federal Deposit Insurance Corp. is the federal regulator for most of the nation's state-chartered banks. But even though it is required by law, there is no one with state bank supervisory experience on the FDIC's board of directors.
That must change — and now is the time. The administration has an opportunity to fill a current vacancy on the board and it should use this opportunity to nominate someone with state bank supervisory experience.
State-chartered banks make up 79% of the nation's banks. They are regulated by state bank supervisors, and most also are examined at the federal level by the FDIC. That makes the FDIC arguably one of their most important federal standard-setters. As a state bank supervisor, I know first-hand the importance of these institutions in our communities. It is just as important to have someone who has been a state bank supervisor on the FDIC board, as is required by law.
There are approximately 4,400 state-chartered banks, which are mostly community banks, in the United States. Many have a small but vital footprint in their communities. State-chartered banks provide 75% of all agriculture lending and nearly half of all small-business lending in the nation. That means they are helping farmers finance their new equipment and a local restaurant or hardware store maintain its business or grow.
In small-town America, these issues are critically important. And I think it is equally important for the FDIC board to have someone who understands the state banking system. State bank supervisors have a unique perspective on banking services in local communities. They are mandated to ensure the safety and soundness of these banks, protect consumers and support economic development of their communities.
Congress recognizes this need. In 1996, it amended the Federal Deposit Insurance Act to require that, separate from the comptroller's and the director of the Consumer Financial Protection Bureau's seats on the FDIC board, one of the three independent positions must be held by someone with state bank supervisory experience. The law is clear that this requirement is only met by a person who has worked in state government as a supervisor of state-chartered banks, and as Congress noted, someone with "state bank regulatory expertise and sensitivity to the issues confronting the dual banking system."
Yet no one has met this requirement on the FDIC board since former Massachusetts State Bank Commissioner Thomas Curry finished his term in 2012 to lead the Office of the Comptroller of the Currency. Although Curry still served on the FDIC board in his role at the OCC, he no longer met the requirement as it's described under the law.
I want to be clear that we need a number of voices on the FDIC board. It is important to have those who have worked in and are knowledgeable about Washington policy. But to have a board solely made up of policymakers not only sidesteps the law, it ignores the importance of why it was created. Congress saw that the FDIC board needs practitioners, as well as policymakers.
The FDIC board needs someone who knows about local banks and the communities they serve. It needs a state bank supervisor.