The Examiner
Oct 26, 2018

"Where there is no imagination, there is no horror."
- Sir Arthur Conan Doyle
---
This Week's Stories
---
CSBS Sues OCC Over Fintech Charter
CSBS this week filed a complaint in the U.S. District Court for the District of Columbia against the OCC. The complaint seeks to prevent the agency from granting national bank charters to entities that operate as nonbanks, arguing that such charters exceed the authority granted by Congress.
John Ryan, CSBS president and CEO: "Common sense and the law tell us that a nonbank is not a bank. Thus, CSBS is calling on the courts to stop the unlawful, unwarranted expansion of powers by the OCC."
CSBS previously filed suit against the OCC in 2017. After that suit was filed, the OCC announced that it had not yet determined whether it would move forward with the new charter, and the court decided that the issue was not ready for consideration. CSBS is now seeking court action based on the OCC's announcement this past July that it is accepting applications for the new bank charter for fintechs as well as the OCC's publication of a Licensing Manual Supplement.
Key points:
The National Bank Act and other federal banking laws authorize the OCC to charter only institutions that engage in the "business of banking," which requires an institution to receive deposits.
The OCC has said the new charter is for fintechs that do not take deposits. Many such companies operate as nonbanks licensed at the state level.
Congress has not granted the OCC authority to award bank charters to nonbanks.
Ryan added: "The OCC is playing the role of an industrial planner that picks winners and losers, makes consumers vulnerable to predatory actors who do not have to follow state consumer protections, and creates a new risk to taxpayers: failed fintechs seeking bailouts."
"Lest we forget, in the early 2000s the OCC enabled national banks to ignore state predatory lending laws, a move that contributed to the U.S. financial crisis and the largest number of home foreclosures since the Great Depression. History cannot be allowed to repeat itself."
New York State expressed its support for CSBS's lawsuit shortly after the filing was made.
"The New York State Department of Financial Services (DFS) strongly supports the action taken today by the CSBS against the OCC, following the Department's own lawsuit against the OCC filed last month.  DFS ardently concurs with CSBS that the National Bank Act does not provide the OCC with authority to create a new national bank charter for 'fintech' companies.  The proposal threatens to create an entirely new federal regulatory regime, threatening state sovereignty, community banking, and strong state consumer protection laws, including New York's usury laws.  State regulators like DFS are experienced and best equipped to regulate cash-intensive nonbank financial service companies doing business in the state, including the necessary oversight and enforcement of anti-money laundering, payday lending, consumer identification and transaction monitoring laws, for which the OCC is not nor authorized."
---
Community Banks All-In on Technology
CSBS just wrapped up its sixth annual Community Banking Research and Policy Conference, a joint initiative with the Federal Reserve System, and as of this year, the FDIC. Many activities lead up to the conference. Two of note are the national survey of community banks and the community bank case study competition.
The national survey, which is distributed to banks by state bank regulators, collects valuable data on how banks are positioning for the future. The survey is coupled with "Five Questions for Five Bankers," which is administered by the state regulators. With over 500 banks annually completing the survey and 37 states regulators asking the questions of bankers, the results are insightful about banks planning for the future, their challenges and opportunities. It is a one-of-a-kind look into the industry. 
The case study competition, in its fourth year, has undergraduate students partnering with a community bank to look at a key issue facing the industry. This year, 51 teams participated from 45 academic institutions in 42 states.
The 2018 case study competition focused on community banks' use of technology. The cases provide valuable insights into how banks are viewing technology in their operations, customer service and retention, new product, and disaster recovery. As you would expect, you get the full range from excitement and renewal to frustration and anxiety. But make no mistake, community banks are all in when it comes to technology.
The national survey asks an important question about the bank's plan for products and services. The results show a clear drive towards adding anything technology related. See the graphic below. Previous reports consistently showed banks wrestling with the idea of technology solutions, and fintech firms in particular, as "friend or foe." The industry seems to be well beyond that dilemma and is focusing more on what solutions are best for their bank's customers.
This is all leading to exciting and interesting changes in staffing, governance and risk assessment. Stay tuned as we explore these topics in future posts.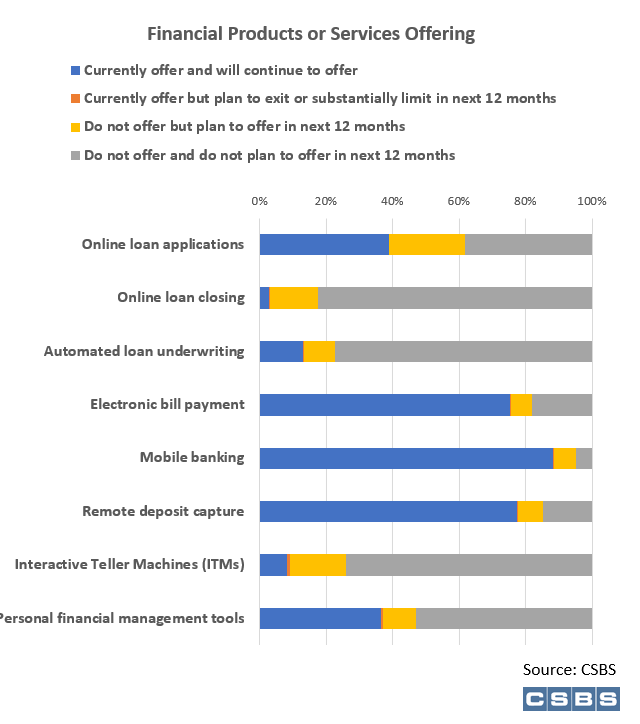 ---
In the Media
Future Fed Actions. On the DC speaking circuit, Federal Reserve Vice Chairman Richard Clarida weighed in on everyone's favorite topic: interest rates. "I believe some further gradual adjustment in the federal funds rate will be appropriate." Translation: rates will continue to rise. On an especially positive note, Clarida offered the view that further economic expansion might not trigger inflation. You can read his speech here. Meanwhile, the Fed announced that next week it will consider new regs applying to banks with assets between $100-250 billion. Politico Pro described the prospective action as "the most closely watched part of the Fed's implementation of the new bank deregulation law." And if you want to know how Federal Reserve Chairman Jerome Powell is handling the politics of his job, read this article by The Washington Post. 
Current FDIC Actions. Another piece of good news: "More Americans had federally insured bank accounts in 2017 than at any point since the 2008 financial crisis," reported Politico Pro. That finding came from an FDIC report issued this week on the banked and unbanked. Unbanked households are down to 6.5 percent. FDIC Chairman Jelena McWilliams: "The good news is that our nation's banking system is serving more American households than ever before. The bad news is that...8.4 million households continue to lack a banking relationship." You can read the full report here. Meanwhile, American Banker reported that McWilliams told a bankers' meeting that the agency will open an office to innovation to enable banks to innovate more through technology.
CFPB Consumer Complaints. The agency issued a report this week this CFPB is getting a lot of mail from big states: California, Florida and Texas. Those states account for roughly 30 percent of all the complaints consumers had about a financial institution from January 2017 to June 2018. Not terribly surprising given that, well, a lot of people live there. New York and Georgia were next highest. All told, CFPB received nearly half a million complaints during this period. Interestingly, as American Banker reported: "Whereas in 2016 consumer complaints focused on debt collection more than any other financial service, credit and consumer reporting issues was the most prevalent area drawing complaints in 2017." You can see how your state fared by reading the full report here. 
CSBS Sues OCC. See our announcement above. This article from The New York Times and Reuters is a sampling of media reports. "Common sense and the law tell us that a nonbank is not a bank," said CSBS President and CEO John Ryan on why state financial regulators oppose the OCC's decision to extend national bank charters to entities that would still operate as nonbanks.
Election Day Countdown. With just 11 days to go, forecasts have remained pretty stable. Per the data analytics firm FiveThirtyEight.com: the odds strongly favor Democrats winning a majority of the House of Representatives (85 percent chance) and Republicans holding the Senate (82 percent).