The Examiner
Nov 16, 2018

You know how Sister Berthe always makes me kiss the floor after we've had a disagreement? Well, lately I've taken to kissing the floor whenever I see her coming, just to save time.
- Maria, The Sound of Music
First Premiered on Broadway this day in 1957
The CSBS Examiner staff wish you a Happy Thanksgiving! The Examiner will resume on Friday, November 30.
---
In this issue...
---
Miki Bowman Confirmed to Fed Board of Governors
Congress confirmed this week Kansas Commissioner Miki Bowman to serve on the Federal Reserve Board of Governors. CSBS has supported Bowman's nomination, noting that she will be the first appointee to meet the new legal requirement to reserve one seat on the Fed Board for someone with community bank supervisory experience.
"My heartfelt congratulations to Miki Bowman on her confirmation to the Board of Governors of the Federal Reserve System," said CSBS President and CEO John Ryan. "Having a governor with supervisory and industry experience in community lending -- a provision that CSBS advocated for Congress to make federal law -- will contribute to policy decisions that reflect a more well-rounded view of the financial system. We look forward to working with Governor Bowman and other members of the board as they continue to tailor regulation throughout the financial system."
---
Impact of Bank Failure is Sometimes Greater Than the Sum of its Parts
Staff at the Research and Statistics Division of the Federal Reserve Board recently published a working paper examining whether financial stress at small banks has a different impact on the real economy than financial stress at larger banks. 
The working paper estimates that the failure of a single large banking organization with an assumed $100 billion in deposits would result in approximately a 107 percent decline in quarterly real GDP growth, whereas stress among five smaller banking organizations—each with an assumed $20 billion in deposits—would result in roughly a 22 percent decline in quarterly real GDP growth.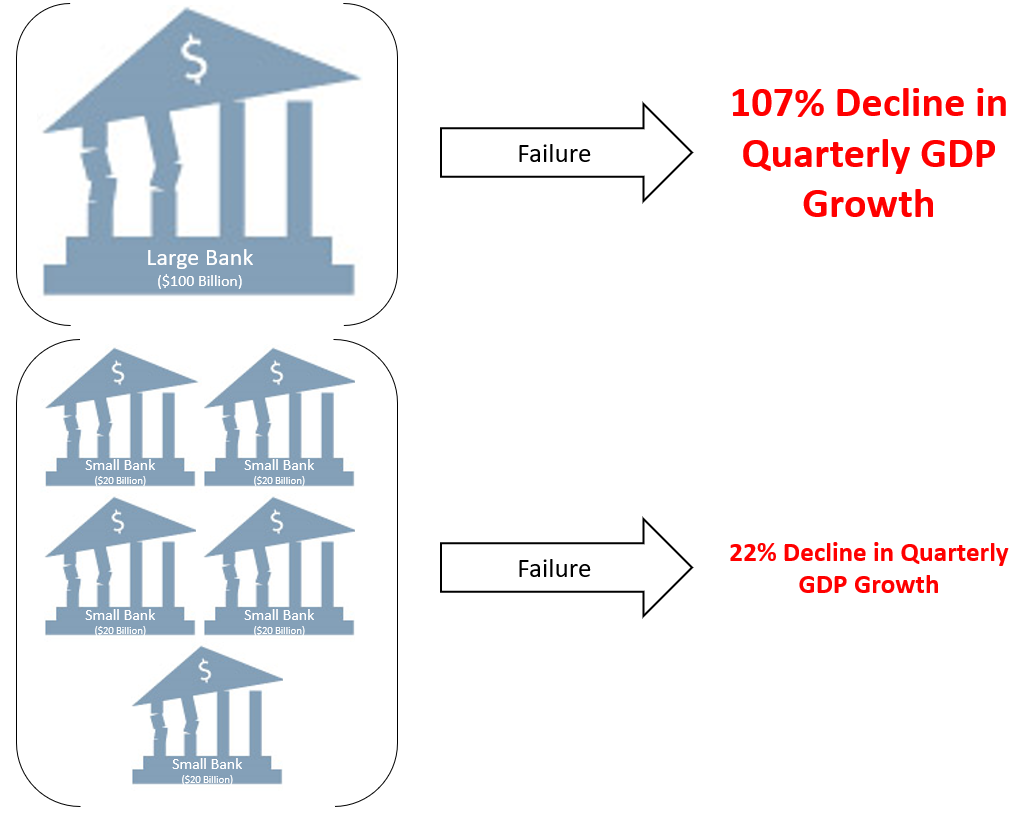 The paper is an important contribution to the research on the connection between bank size and systemic risk. The findings of the paper are critical to keep in mind as federal regulators seek to tailor regulations applicable to large and small banks while limiting potential damage to the economy in future financial crises. 
---
FFIEC Provides Guidance on Financial Institutions Affected by California Wildfires
Federal and state financial regulatory agencies issue interagency statement on supervisory practices regarding financial institutions and their customers affected by California wildfires 

The OCC, the Federal Reserve Board, the FDIC, the NCUA, and the California Department of Business Oversight recognize the serious impact of the California wildfires on the customers, members, and operations of many financial institutions and will provide appropriate regulatory assistance to affected institutions subject to their supervision. The agencies encourage institutions operating in the affected areas to meet the financial services needs of their communities. 
A complete list of the affected disaster areas can be found at www.fema.gov. 
Lending: Financial institutions should work constructively with borrowers in communities affected by the California wildfires. Prudent efforts to adjust or alter terms on existing loans in affected areas should not be subject to examiner criticism. Modifications of existing loans should be evaluated individually to determine whether they represent troubled debt restructurings. This evaluation should be based on the facts and circumstances of each borrower and loan, which requires judgment, as not all modifications will result in a troubled debt restructuring. In supervising institutions affected by the wildfires, the agencies will consider the unusual circumstances these institutions face. The agencies recognize that efforts to work with borrowers in communities under stress can be consistent with safe-and-sound practices as well as in the public interest. 
Temporary Facilities: The agencies understand that many financial institutions may face staffing, power, telecommunications, and other challenges in re-opening facilities after the wildfires. In cases in which operational challenges persist, the primary federal and/or state regulator will expedite, as appropriate, any request to operate temporary facilities to provide more convenient availability of services to those affected by the wildfires. In most cases, a telephone notice to the primary federal and/or state regulator will suffice initially to start the approval process, with necessary written notification being submitted shortly thereafter. 
Publishing Requirements: The agencies understand that the damage caused by wildfires may affect compliance with publishing and other requirements for branch closings, relocations, and temporary facilities under various laws and regulations, as applicable. Institutions experiencing disaster-related difficulties in complying with any publishing or other requirements should contact their primary federal and/or state regulator. 
Regulatory Reporting Requirements: Institutions affected by the wildfires that expect to encounter difficulty meeting the agencies' reporting requirements should contact their primary federal and/or state regulator to discuss their situation. The agencies do not expect to assess penalties or take other supervisory action against institutions that take reasonable and prudent steps to comply with the agencies' regulatory reporting requirements if those institutions are unable to fully satisfy those requirements because of the effects of the wildfires. The agencies' staffs stand ready to work with affected institutions that may be experiencing problems fulfilling their reporting responsibilities, taking into account each institution's particular circumstances, including the status of its reporting and recordkeeping systems and the condition of its underlying financial records. 
Community Reinvestment Act (CRA): Financial institutions, as applicable, may receive CRA consideration for community development loans, investments, or services that revitalize or stabilize federally designated disaster areas in their assessment areas or in the states or regions that include their assessment areas. For additional information, institutions should review the Interagency Questions and Answers Regarding Community Reinvestment at https://www.ffiec.gov/cra/qnadoc.htm. 
Investments: The agencies realize local government projects may be negatively affected by the wildfires. Institutions should monitor municipal securities and loans affected by the wildfires. Appropriate monitoring and prudent efforts to stabilize such investments are encouraged. 
For more information, refer to the Interagency Supervisory Examiner Guidance for Institutions Affected by a Major Disaster available from each regulator. 
CSBS: https://www.csbs.org/interagency-supervisory-examiner-guidance-institutions-affected-major-disaster 
FDIC: https://www.fdic.gov/news/news/financial/2017/fil17062.html 
FRB: https://www.federalreserve.gov/supervisionreg/srletters/sr1714a1.pdf 
OCC: https://www.occ.gov/news-issuances/bulletins/2017/bulletin-2017-61.html 
NCUA: https://www.ncua.gov/Resources/Documents/SL-17-02-examiner-guidance-institutions-affected-major-disaster-enclosure.pdf
---
In the Media - Week of Nov. 12
Miki Bowman confirmed: The Senate confirmed Kansas state bank commissioner Michelle "Miki" Bowman to be a governor on the Federal Reserve's Board on Nov. 15, which was widely covered. CSBS advocated for the statutory requirement that at least one member of the Fed board have experience as community bank regulator or community banker and supported Bowman's appointment. With her confirmation, there are now five members of the Board of Governors and two vacancies.
Elections have consequences: Democrats succeeded in establishing a majority in the House, and Republicans held the Senate. See the current tally via nytimes.com. The American Banker reports that the Financial Services Committee is expected to be led by current ranking member Rep. Maxine Waters (D-CA). Her priorities are expected to include affordable housing and oversight.
Politico reports that Sen. Mike Crapo (R-ID) is expected to chair the Banking Committee in the next Congress, after Sen. Chuck Grassley (R-IA) said that he would seek the gavel of the Finance Committee. Sen. Crapo's focus will be on data and privacy issues.
Senators Joe Donnelly (D-IN) and Heidi Heitkamp (D-ND), who played key roles in helping forge bipartisan compromise on passage of regulatory relief legislation (S. 2155), both lost their re-election bids. Sen. Dean Heller (R-NV), another member of the Senate Banking Committee, also lost his re-election bid. 
Federal regulators reconsidering payday lending rules: The FDIC is soliciting comment on encouraging small-dollar lending at banks, a change in the agency's position. The request is seen as a first step toward altering joint guidance from the FDIC and the OCC that caused most banks to leave the business. The OCC rescinded that guidance and issued a new bulletin in May to encourage banks to get into certain small-dollar lending according to the American Banker. Bloomberg reports that the CFPB is also considering a rule change that would eliminate a requirement that lenders first assess borrowers' ability to repay these loans, which CSBS commented on in July and September of 2017.
Quarles goes to the Hill: Over two days of testimony this week, Federal Reserve Vice Chairman for Supervision Randal Quarles told members of Congress that efforts to overhaul the Community Reinvestment Act were not an attempt to weaken the law but to "reinvigorate" it, according to Politico. The American Banker reports that Quarles fielded questions from members of the Senate Banking Committee about a recalibration of post-crisis supervision, with Democrats warning the central bank's top regulatory official not to weaken prudential requirements and Republicans calling for more regulatory relief.