The Examiner
Dec 6, 2018

America is never wholly herself unless she is engaged in high moral principle.
We as a people have such a purpose today.
It is to make kinder the face of the nation and gentler the face of the world.

- President George H.W. Bush
---
In This Issue...
---
FDIC Needs Director with State Bank Supervisory Experience – It's the Law
By CSBS President and CEO John Ryan
In my view, laws set by Congress are meant to be followed.
That is one reason that I am so delighted that Miki Bowman, a former community banker and state banking commissioner, is now a member of the Board of Governors of the Federal Reserve System. In addition to having excellent credentials, Gov. Bowman's confirmation fulfills a federal law made by Congress in 2015 requiring that the Fed board have at least one member who has previous experience in community banking or community banking supervision.
I hope that soon I can say the same about an FDIC director.
In 1996, Congress amended the Federal Deposit Insurance Act to require that at least one of the FDIC's three independent directors have state bank supervisory experience, which clearly means someone who has served in state government as a supervisor of state-chartered banks. Given that the Comptroller of the Currency's seat on the Board represents the national banking system, Congress wanted to ensure a state bank commissioner would also serve on the FDIC Board to provide the state banking system's perspective, allowing for representation from both sides of the dual banking system.
However, no one has met the state bank regulatory expertise requirement on the FDIC board since former Massachusetts State Bank Commissioner Thomas Curry finished his term in 2012. Although Curry still served on the FDIC board in his role at the OCC, he no longer met the requirement as it's described under the law.
That means the FDIC Board has not had anyone with state regulatory experience for six years.
That could change soon. There is a current vacancy on the board. It is a wonderful opportunity for the Administration to nominate and confirm someone with state bank supervisory experience. 
Here's why. In addition to being federal law, a director with state bank supervisory experience expands the FDIC board's knowledge base to include a practitioner with direct experience of the approximately 4,400 state-chartered banks that make up 79 percent of the nation's banking system. That is important, as the FDIC coordinates with the states to examine most of these banks.
State-chartered banks play a vital role in their communities. They provide 68 percent of all agriculture lending and 56 percent of all small-business lending in the nation. State bank supervisors have a unique perspective on these banking services. They are mandated to ensure the safety and soundness of these banks, protect consumers and support economic development of their communities. A state bank supervisor can give a practical, real-life view to examining these banks at a federal level.
Congress agreed. And I have every expectation that the Administration and the Senate will do their due diligence to nominate a person with state regulatory experience.
We expect them to follow the law.
---
New CFPB Director Takes Over
This week, the Senate voted to confirm Kathleen Kraninger to become the next Director of the Bureau. She replaces Acting Director Mick Mulvaney, who remains OMB Director. John Ryan, CSBS president and CEO, commented: "State financial regulators look forward to continuing our relationship with the Bureau under Director Kraninger's leadership. State regulators have a vital role in enforcing consumer protections and work closely with the Bureau on behalf of the consumers in every state and U.S. territory."
---
Community Bank Student Competition Breaks Registration Record
A record number of college student teams have signed up for the 2019 Community Bank Case Study Competition.
Ninety-six student teams from 64 universities will research how the Economic Growth, Regulatory Relief, and Consumer Protection Act passed in May will impact community banks and the markets they serve. 
"We are very excited to see such strong interest," said CSBS Senior Executive Vice President Michael Stevens. "This year's competition will provide valuable insights into the impact of public policy on the real economy." 
About the Case Study Competition 
Now entering its fifth year, the CSBS Community Bank Case Study Competition is the largest and most comprehensive undergraduate research competition on community banks.  
Student teams will conduct research at a community bank and produce both a research paper and a video summarizing their findings. 
The case studies will undergo three rounds of judging by three separate panels of banking experts. The top three scoring teams will be announced at the CSBS State-Federal Supervisors Symposium in San Antonio. The announcement will be streamed live on the competition website at www.csbs.org/bankcasestudy. 
The student teams compete for an academic scholarship, a chance to get their work published in an academic journal and an opportunity to attend the sixth annual CSBS-Federal Reserve Community Banking Research Conference, held in St. Louis in October.  
The 2018 Community Bank Case Study Competition covered institutions' use of financial technology. The winning publications of the 2018 competition can be found here. 
You can learn more about the Case Study Competition here. 
See the full list of universities registered here.
---
CSBS IT Exec Addresses Automation on Government Matters
CSBS Senior Vice President of Digital Services Ngoc Vu recently shared how automation and data are helping state regulators be more efficient and transparent on Government Matters.  
The televised news program airs locally in Washington, D.C. and provides insight into issues impacting the federal marketplace. 
Tools like the State Examination System, now in development, will help states share their data and make multistate exams more efficient, Vu told host Francis Rose on the December 4 episode, which looked at how intelligent automation is transforming the public sector.  
Automation helps states have better insight by comparing data, recognizing and being able to be risk managers rather than processors, Vu said. 
"It's improving our business process," Vu said. "It's making us be able to reach decisions that are better faster, so it is key to our mission." 
Flexibility is important, too, she added; "At CSBS, we use technology to bring 50 states together…having flexibility to address those states is key." 
Vu joined Appian founder and CEO Matt Calkins, along with representatives from the U.S. Marine Corp., IBM GBS and KPMG, on the 30-minute program, which can be found here.  
---
Banks Size Impacts Their Technology Offering
The larger the community bank, the greater importance of new and emerging technologies, finds to a recent analysis of the CSBS 2018 Community Bank Survey. 
The majority of banks over $800 million reported that adopting new and emerging technologies was very important, while smaller banks gave it far less importance, according to a report by Temple University professors William C. Dunkelberg and Jonathon A. Scott. The banks showed a similar pattern when responding to the importance of being a local market leader in technology adoption.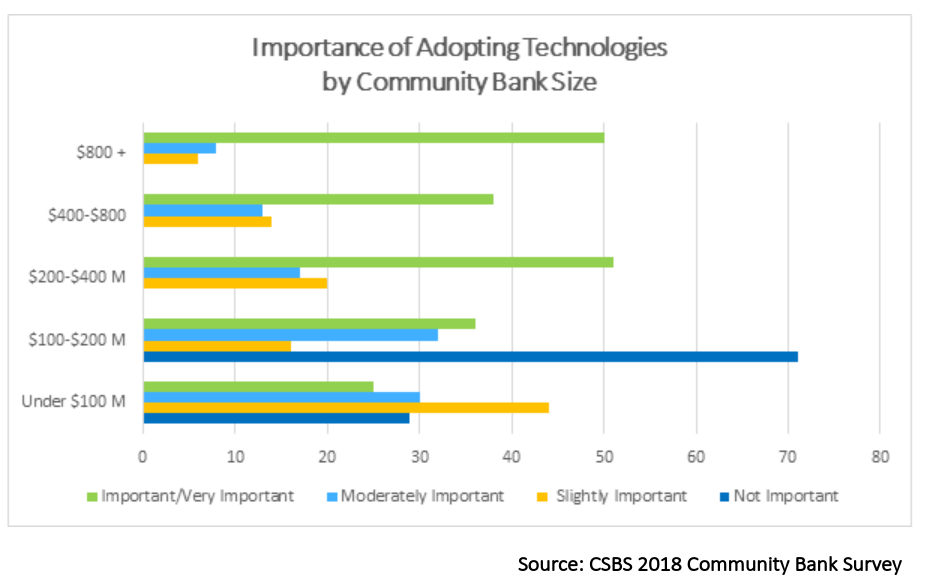 The economists have published a series of four reports that take a deep look at this year's CSBS survey responses. To read the full report, click here. 
In addition to financial technology use, the 521 community banks from 37 states answered questions about trends in small business and other lending, banking services, mergers and acquisitions and management succession.  
The annual survey is released each year at the annual Community Banking in the 21st Century research and policy conference held in October each year at the Federal Reserve Bank of St. Louis. 
---
In the Media
State perspective on the FDIC Board: Politico Pro quoted John Ryan exclusively in this article on the Financial Services Whiteboard. "I have every expectation that the Administration and the Senate will do their due diligence to nominate a person with state regulatory experience," Ryan added. "We expect them to follow the law."
Reporting driving legislation: Senators Sherrod Brown and Marco Rubio submitted a bill to ban the use confessions of judgment, a collection tactic used by merchant cash-advance companies working with small businesses. Senator Brown said he read a series of articles published by Bloomberg News about confessions of judgement in November.
Federal bank regulators encourage AML innovation: The Wall Street Journal reports that, in an effort to drive adoption of new anti-money laundering compliance technology, federal regulators told supervised institutions that banks that find problems with previous compliance programs when testing new technology won't necessarily be penalized.
Kathy Kraninger to lead the CFPB: The Bureau was in the spotlight this week with the confirmation of Kathleen Kraninger as director with a 50-49 vote. Kraninger's confirmation was widely reported, including by the Washington Post.
Treasury report cold on postal banking: A new Administration report covered by the American Banker opposes efforts to privatize the Postal Service, including entrance into postal banking, saying primarily that the USPS is ill-equipped to manage the risks involved.