May 9, 2019
"I learned that courage was not the absence of fear, but the triumph over it. The brave man is not he who does not feel afraid, but he who conquers that fear."
---
FDIC Regulation Can Cause a Liquidity Crunch for Smaller Banks
In a comment letter sent this week to the FDIC, CSBS suggested changes to the regulatory treatment of brokered deposits and deposit interest cap methodology.
Brokered deposits can be a source of supplemental funding for banks in rural areas or markets that lack local deposits to meet community needs and are a critical credit to agriculture customers and small businesses. However, the FDIC has generally viewed brokered deposit waivers as increasing the risk to the Deposit Insurance Fund. 
State regulators have long been concerned that the current supervisory approach can cause a liquidity crunch for already struggling banks. If a bank falls under the prompt corrective action (PCA) framework, it is immediately prohibited from renewing or issuing brokered deposits. This creates an unnecessary strain on liquidity, destabilizes the institution and increases the risk to the Deposit insurance Fund.
If a bank triggers PCA by falling below "well capitalized," state regulators recommend it should be able to reduce its brokered deposits over time. Rather than increasing the risk to the deposit insurance fund, a more gradual approach lowers the risk by placing the bank on a "glide path" for easing their dependence on brokered deposits. CSBS recommends that banks be allowed to develop a plan to unwind their brokered deposit positions over 12 to 24 months, which would avoid a liquidity crunch as the bank works to enhance capital and reduce its risk profile. 
CSBS also recommended changing how the national interest cap is determined to account for fluctuating interest rates. Under the current methodology, banks subject to rate restrictions are unable to reasonably compete for deposits. One option recommended by CSBS would generally allow for a higher rate cap in a falling rate environment, while another recommended alternative would allow for a higher rate cap in a rising rate environment.
The FDIC asked for feedback on its supervision of brokered deposits in an advanced notice of proposed rulemaking issued in December. 
---
Data Corner: Quantifying Regulatory Relief Efforts
By CSBS Senior Vice President Jim Cooper, Senior Director Brennan Zubrick and Analyst Joey Samowitz
This month's Data Corner shows two different measures – total brokered deposits reported by all banks over time and the number of banks reporting a non-zero level of brokered deposits.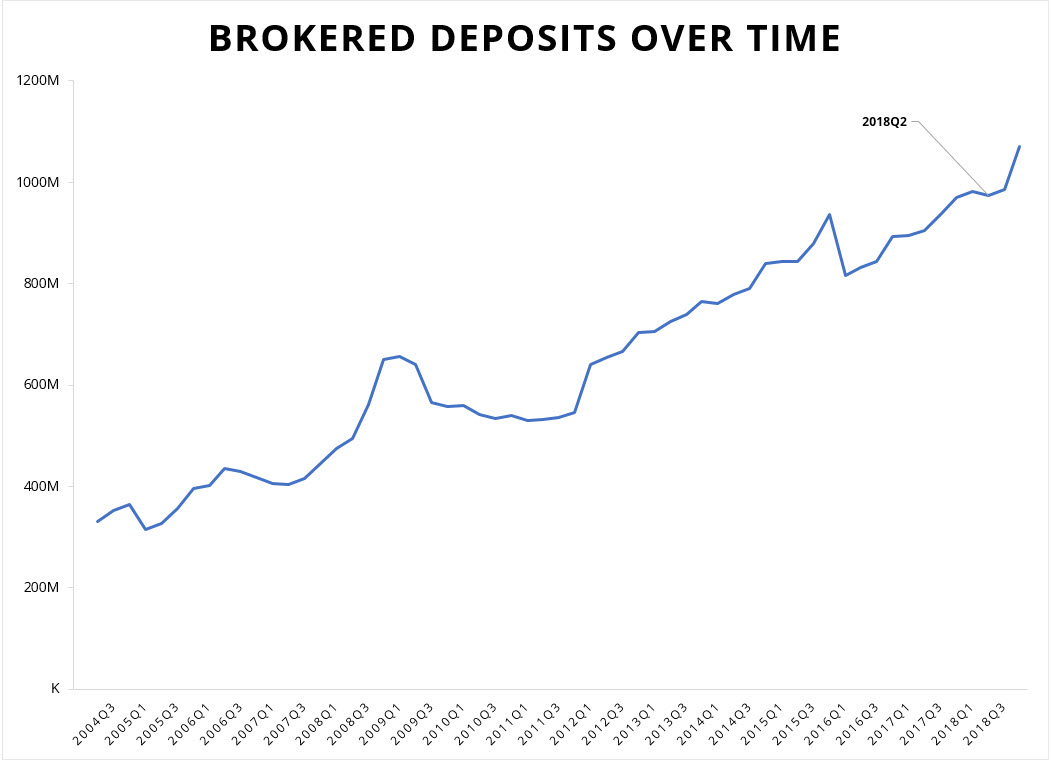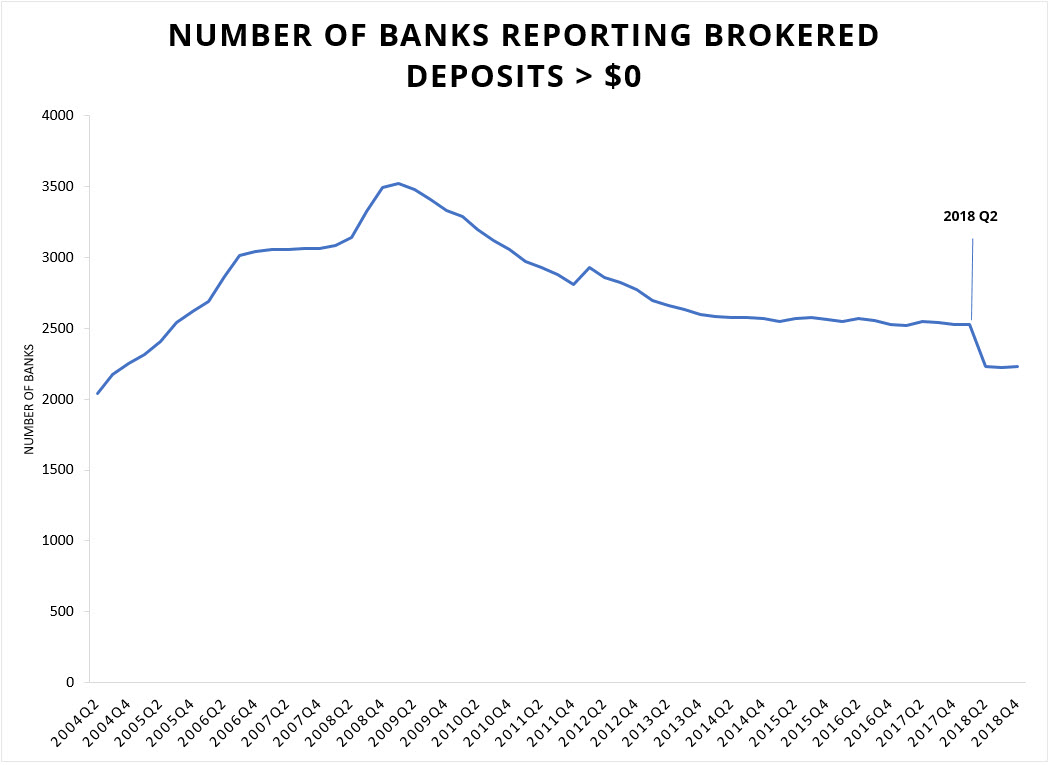 Core deposits include deposits that are stable, lower cost and will likely reprice more slowly than brokered deposits when interest rates rise.  In contrast, brokered deposits are sold by third-party "deposit brokers" to customers seeking a higher return on FDIC-insured bank deposits. Banks use brokers to place deposits when their ability to attract local core deposits is limited or when they need to fund more loans than their existing core deposits can support. CSBS recently commented on the FDIC brokered deposit rules that included concerns about a potential liquidity crunch for less than well-capitalized banks utilizing brokered deposits.
Effective Q2 of 2018, the provisions of the Economic Growth, Regulatory Relief, and Consumer Protection Act, which was signed into law in May of that year, removed reciprocal deposits from the definition of brokered deposits. The level of brokered deposits reported by all banks went down only slightly after the reporting change went into effect on Q2 2018, but the number of banks reporting any amount of brokered deposits went down by 12%, meaning 302 banks went from reporting some level of brokered deposits in Q1 2018 to reporting no brokered deposits in Q2 2018. Most of the 302 banks that stopped reporting brokered deposits were likely the the primary beneficiaries of the definitional change in the law. 
---
The COUNTER Act is Welcome Progress on BSA Reform
By CSBS Senior Vice President and Deputy General Counsel Margaret Liu
Thursday, the House Financial Services Committee approved unanimously a bill (H.R. 2514 or the COUNTER Act) to modernize and reform the Bank Secrecy Act (BSA).   CSBS applauds this effort to improve the Bank Secrecy Act's effectiveness and to ensure the law can better and more efficiently achieve its purpose of combatting illicit finance.     
The states are the single largest supervisor of institutions, both banks and non-banks, subject to BSA/AML requirements. As the primary regulator of 4,283 depository institutions and over 500 non-depository money services businesses, state regulators are often the first point of contact for financial services providers and law enforcement on issues that arise related to BSA compliance.  In 2018, state-chartered banks filed 234,262 Suspicious Activity Reports (SARs). Over the same period, state-licensed money services businesses (MSBs) filed 873,203 SARs. Together, this amounts to more than half of the total number of SARs filed in 2018.  
Earlier this week, CSBS sent a letter on the discussion draft of the COUNTER Act.  A few key points from our letter and about the bill the Committee just approved:
AML/CFT Supervision.  CSBS supports the COUNTER Act's significant emphasis on improving supervision related to anti-money laundering (AML) and the countering of the financing of terrorism (CFT).  A thoughtful review of issues, including feedback loops, the value of BSA, and AML exam authority delegation should lead to improved processes and more effective supervision and enforcement.  
Shared Compliance Resources.  CSBS supports the COUNTER Act's endorsement of shared compliance resources.  CSBS issued a White Paper in 2016 making the case for shared resources and we appreciate the bills' support for this commonsense solution for community banks and other smaller institutions.   
Coordination and Information Sharing.  The COUNTER Act's focus on better connecting the regulatory players in the BSA space is a key reform.  FinCEN and the federal banking agencies are working to reform the approach to AML supervision.  In the spirit of the COUNTER Act's emphasis on regulatory coordination and collaboration, we look forward to engaging with Treasury and the federal banking agencies.  And, when it comes to the COUNTER Act's proposed Innovation Labs and the Innovation Council, we would like to work with the Committee to ensure that state regulators are involved.
De-Risking.  We strongly support the COUNTER Act's inclusion of a study and strategy on de-risking.  CSBS and its members have long been concerned about de-risking and the challenges that licensed money services companies and other businesses have faced in obtaining and maintaining banking relationships.  Such wholesale treatment runs counter to our expectation as bank regulators that banks can and should assess the risks of customers on a case-by-case basis.
We look forward to working with the Committee to advance this important proposal.    
---
National Survey of Community Banks Has Begun
By Alisha Sears 
CSBS Policy & Supervision Analyst 
CSBS has begun the annual process of surveying community banks on their economic condition, regulatory impacts and business plan. We encourage banks to participate in the survey, which can be accessed here.
This is the sixth year of the CSBS National Survey of Community Banks. It canvasses hundreds of community banks across the country, providing truly a unique opportunity for them to have their voices heard. The data from these surveys provides a rich tableau of the challenges and opportunities these institutions face and is useful information for both policymakers and researchers. 
The survey also helps us monitor the constant change community banks experience year after year. Last year we reported that after years of increasing costs, compliance costs for community banks actually declined by 13%. 
But the National Survey is more than accumulating quantitative data. It also provides us with qualitative insight on the outlook of community banks and the economy. 
This year, CSBS is pleased to introduce the creation of an ongoing sentiment index of community bankers in partnership with Temple University economists Dr. William Dunkelberg and Dr. Jonathan Scott. The index is intended to shine light on specific market conditions and how they impact prospects for growth and participation by community banks in their communities. 
Ten short questions have been included towards the end of the National Survey. The answers to these questions about regulations, competition, economic conditions and market prospects will be combined to form an overall sentiment index of community bankers. Going forward, these questions will be circulated on a quarterly basis to better reflect changing sentiments. 
Our goal is to get a more accurate understanding of how bankers are feeling about the future and to help provide an important barometer of the state of the industry. We encourage bankers to complete the survey given its potential influence as an economic barometer.
The National Survey went live on April 15 and closes on June 30. We look forward to seeing where the community banking industry stands in 2019.
---
And Then There Were Six
Six student teams this week advanced to finals in the 2019 CSBS Community Bank Case Study Competition, emerging from the second round of 15 teams.
The student teams are from Eastern Kentucky University, Juniata College, Southeastern Louisiana University, University of Missouri - Kansas City, University of Tennessee at Martin, and Utah Valley University.
A total of 58 student teams representing 44 colleges and universities entered this year's competition, which examines how the Economic Growth, Regulatory Relief and Consumer Protection Act has helped community banks foster economic growth. In previous years, only five teams have moved to the final round. 
"The competition has been fierce this year, and it was hard to limit the finals to six teams," said CSBS Senior Executive Vice President Michael L. Stevens. "We are thrilled by the quality of work they have produced. It is going to be an intense final round."
The student teams compete for an academic scholarship, a chance to get their work published in an academic journal and an opportunity to attend the sixth annual CSBS-Federal Reserve Community Banking Research Conference, held in St. Louis in October. 
This is the fifth year of the competition, which is open to undergraduate students in all fields of study as an opportunity to gain valuable first-hand knowledge of the banking industry. 
The top three scoring student teams from the final round of judging will be announced on May 23 during the CSBS State-Federal Supervisors Symposium in San Antonio. The announcement will be streamed live on our Twitter feed (@CSBSNews).
Featured Posts
Recent Posts
News to your ears,
New every month.

CSBS Podcasts