Aug 23, 2019
In This Issue...
The CSBS Examiner will be taking a break next week in observance of Labor Day. The next Examiner will be available September 6.
---
"A truly American sentiment recognizes the dignity of labor and the fact that honor lies in honest toil."
---
CSBS Deploys New Fintech Tools for Industry
CSBS launched three new online tools so industry can more easily navigate the state regulatory system and protect against cyber risks.
The tools:

John Ryan, CSBS president and CEO: "As financial services develop technology to provide innovative products, state regulators are bringing new tools online to help industry ensure compliance and protect consumer data."
The tools are part of CSBS Vision 2020, a roadmap of initiatives to modernize nonbank licensing and supervision, and the first two respond to formal recommendations made earlier this year by the CSBS Fintech Industry Advisory Panel.
The state guidance portal, found here, will help nonbanks stay current with state regulatory guidance.
The map for what is known as the agent-of-the-payee exemptions, found here, identifies states that do not require a money transmitter license for receiving a payment on behalf of a third party. The map includes state-by-state summaries of exemption requirements.
The cybersecurity 101 resource center, found here, features a non-technical guide and related information to help financial institutions develop comprehensive cybersecurity programs.
---
Main Street Banks Share Outlook for Interest Rates
After raising its policy rate nine times (from near zero beginning in late 2015), early in January the Federal Reserve Bank suspended its planned normalization of interest rates and credit conditions, ending plans to further raise rates and reduce the size of its portfolio of government bonds and mortgage backed securities. This was in response to increasing concerns about economic "weakness" in the press and a negative response in the equity markets in late December that also reflected some liquidity concerns. The financial press reported rate cuts are "priced in" on Wall Street and markets "expect" the Fed to deliver as early as the July meeting. The markets' expectations were met.
For many observers, this has been a surprise because the economy is doing very well, is at full employment based on labor market measures, and surveys of business optimism such as the National Federation of Independent Business Small Business Optimism that are flashing "expansion" or "growth" readings (even if slower). Among small business owners who account for about half of private employment and gross domestic product, Chart 1 show that only 4% expect credit conditions to ease, while 14% expect conditions to tighten and 64% expect no change in the July survey.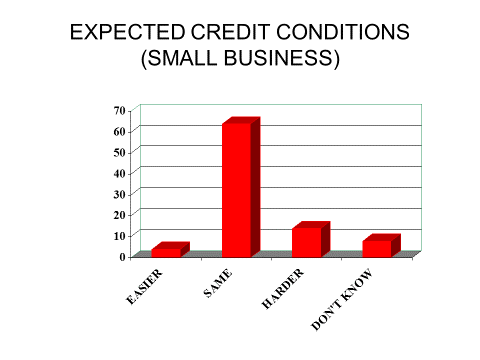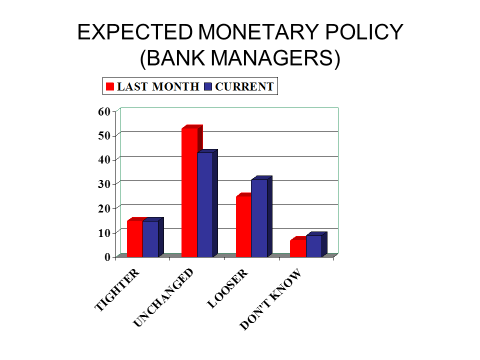 Among bankers, CSBS found that relatively more bank managers expect credit conditions to ease than expect more tightening in their annual survey conducted during the second quarter. The survey was conducted in preparation for the Community Bank Research and Policy Conference at the Federal Reserve Bank of St. Louis in October. Surveys were received before and after the Fed announcement on June 6 regarding a weaker outlook for economic growth. Thirty-three percent of the banks that responded after this announcement expected the Fed to ease (compared to 23% of those that replied before June 6). Most of the change in sentiment about the Fed came from those who reported no change, declining from 53% for all respondents before June 6 to 43% after adding respondents who answered after the announcement.
The direction of the change in monetary policy can affect bank profitability through two channels: negatively if net interest margins fall or positively if an improving economy results in increased loan demand. Table 1 below shows a mixed message. Those banks expecting a looser policy more frequently report (39% versus 32% overall) worse future profitability, which supports the narrowing net interest margin story. Tighter policy expectations show no significant association with expected future profitability.

If loan demand is a function of the economy's growth prospects, we can also look at the association between expectations about future business conditions and expectations about future monetary policy. Views about the strength of the economy impact expectations for Federal Reserve policy. Among bank managers expecting the economy to improve (13% t of banks), 27% expect the Fed to ease, compared to 35% expecting the Fed to ease among those expecting business conditions to weaken (28% of banks). These bank managers are in agreement with some Federal Open Market Committee members who argue that the economy will weaken and needs a stimulus. Others argue that the most important goal is to create inflation.

Wall Street clearly favors a cut in interest rates because lower interest rates inflate the values of financial assets, other factors unchanged. When Fed Chairman Jerome Powell indicated in Chicago that the Fed would consider lower rates, the S&P rose 500 points. When the jobs report turned in a very positive number recently, markets closed lower because a good economy lowers the chance that the Fed will cut rates. For bankers, the issue is less clear, as a Fed rate cut puts a downward pressure on loan rates and supports a deterioration in expectations for business conditions. 
The CSBS 2019 Community Bank Survey results will be released in early October as part of annual Community Banking in the 21st Century Research and Policy Conference held at the St. Louis Federal Reserve and hosted by CSBS, the Federal Reserve System and the Federal Deposit Insurance Corp.  
---
In the Media
Volcker Rule re-write – Widely reported changes to the Volcker Rule, a crisis-era law that bars banks from making risky trades on their own behalf, will relax restrictions for midsize banks and ease compliance for the biggest banks according to the Wall Street Journal. MarketWatch described the changes as appearing "to offer the biggest benefits to smaller banks by creating a tiered regulatory framework that exempts them from the most stringent requirements of Volcker Rule." 
Student loan servicing – According to Politico, the student loan industry attempted to work with the Education Department to "fend off the growing trend of states considering or passing laws to crack down on student loan servicing companies." "The states were responding to allegations of misrepresentations and other abuses in the industry, which manages the student loan payments of the nation's more than 45 million student loan debtors." CSBS opposes federal pre-emption of these state consumer protections and sent a letter to Education Secretary DeVos outlining state regulators' objections, available here.
Vision 2020 – Law360 covered a study finding that fintech use in the U.S. is lagging compared to China and India, but resolving regulatory uncertainty around banking, lending and payments could facilitate a surge.  "As companies await a decision on the viability of the Office of the Comptroller of the Currency's fintech charter, the Conference of State Banking Supervisors has charged ahead with its Vision 2020 plan aiming to provide consistency across money services business licensing requirements."
Water shortages are a banking problem – The American Banker reports that changing weather patterns and increasing demand for water means water supply may become an important credit-risk factor.  "Examiners at California's Department of Banking consider water shortages among the risks banks there must 'identify, measure, monitor and control,' a spokesman for the agency said in an email."
Featured Posts
Recent Posts