Sep 20, 2019
Autumn is a second spring when every leaf is a flower.
---
New CSBS Paper: Mortgage Industry Overview
In a new policy paper, CSBS provides an overview of how the residential mortgage industry operates and is supervised by financial regulators. The paper, "Overview of Nonbank Mortgage," is the latest in a series on reengineering nonbank supervision being developed by CSBS to examine the nonbank financial services industry and how it is supervised. State financial regulators are the primary regulators of most nonbank financial services companies operating in the United States.
Key findings from "Overview of Nonbank Mortgage" include:
Since the financial crisis, U.S. residential mortgage debt outstanding has remained stable, hovering around $10 trillion, while home equity has swung back into positive territory at roughly $16 trillion 
The current mortgage market relies almost exclusively on backing from the federal government, with funding and guarantees from federally-supported entities (Fannie Mae, Freddie Mac and Ginnie Mae/FHA/VA) accountable for almost all new home loans
With roughly two-thirds market share, nonbank financial services companies are now the primary source of mortgage originations, a departure from prior eras in housing finance, and they represent a growing source of mortgage servicing as well
Compared to depositories, nonbanks present different kinds of risk to financial regulators such as, but not limited to, greater dependence on third parties for mortgage liquidity, lower operating capital, and lack of asset diversification 
State financial regulators oversee the mortgage industry through their statutory powers to license and supervise mortgage companies and, where necessary, take enforcement actions against bad actors 
You can read the latest paper here. Prior papers -- "Introduction to the Nonbank Industry" and "An Overview of State Nonbank Supervision" -- can be found here. 
---
The Community Bank Leverage Ratio: A Model of State and Federal Regulators Working Together
By James M. Cooper
CSBS Senior Vice President of Policy and Supervision
The Federal Deposit Insurance Corporation today voted to adopt the final rule for the community bank leverage ratio (CBLR). The rule will establish a simplified capital regime for a qualifying community bank. The state regulators and CSBS staff worked closely with federal regulators to craft a final rule that will provide much needed regulatory relief for community banks.
The decision is an example of state and federal regulators working together at our best. 
Congress directed the federal agencies to develop the CBLR in Section 201 of the Economic Growth Regulatory Relief and Consumer Protection Act last year. The goal was to provide qualifying community banks relief from the complexities and burdens of the current risk-based capital rules while ensuring that they maintain a high quality and quantity of capital consistent with requirements of the current rules. In an unusual move, lawmakers required the federal agencies to consult with state regulators in the CBLR implementation.
We were encouraged by the interagency CBLR proposal released by the OCC, Federal Reserve and FDIC in February. But we were concerned that the proposed CBLR would actually create more regulatory burdens for community banks. The final rule adopted several of the recommendations made by state regulators and CSBS, including:
The elimination  of a proposed proxy prompt corrective action framework that would be punitive for banks that opted for the CBLR and fell below the 9% capital threshold. 
Adoption of the existing definition of Tier 1 capital as the numerator of the CBLR rather than creating a new and additional capital adequacy measure.
Creation of a two-quarter transition period for a bank that fall below the 9% CBLR level before the bank would need to begin reporting risk-based capital ratios again.  

State regulators met with federal regulators multiple times over the past six months to explain our concerns and offer alternatives. And we are thankful that they listened. 
The final CBLR rule more appropriately tailors capital requirements for community banks without adding more burdens. That means that community banks that opt to use the CBLR will find real relief, as Congress intended, and their communities, in turn, will benefit. 
We look forward to further dialogue with our federal counterparts to better appropriately tailor supervision and regulation to the unique risks presented by community banks. 
---
CFPB's Proposed Debt Collection Rule Needs Clarification
The CFPB should be clear that any update to the current debt collection rules will not stand in the way of states enacting and enforcing more stringent rules that protect consumers, CSBS and the North American Collection Agency Regulatory Association (NACARA) said in a joint comment letter.
The CFPB asked for comments as it considers amending the Fair Debt Collection Practices Act, which governs debt collectors as mandated under the Dodd-Frank Act. In many states, state regulators license and supervise debt collectors. 
In the letter, CSBS and NACARA asked the CFPB to:
Clarify that the rule would allow states to have more stringent rules around disclosures;  
Increase consumer awareness of debt notification and dispute rights under state specific laws by ensuring state law disclosures are prominently referenced and displayed on all types of debt validation notices;
Clarify the ways a consumer can opt out of an electronic communication; and
Limit call attempts by a debt collector on a per consumer rather than a per debt basis and expand that proposal to all methods of communication by a debt collector.

To read the CSBS and NACARA letter, click here.
---
Decoding the Business Cycle
By Thomas F. Siems, PhD
CSBS Senior Economist and Director of Research
Mention of the dreaded "R" word (Recession!) has recently increased following last month's yield curve inversion and the first month of contraction in U.S. manufacturing since January 2016. Searching the "R" word on Google Trends shows that the term has not been mentioned this frequently since the 2008-09 downturn―the economic contraction often referred to as the Great Recession because it was the deepest and longest contraction in the U.S. economy since the Great Depression of the 1930s.
While recessions are typically contractions in GDP that last at least two consecutive quarters, most economists, including the National Bureau of Economic Research's (NBER) Business-Cycle Dating Committee, define a recession as a period of falling economic activity spread across the economy, lasting more than a few months, normally visible in real GDP, real income, employment, industrial production, and wholesale-retail sales.
Based on business cycle dates from the NBER, Chart 1 shows economic contractions (black bars) and expansions (white bars) going back to the 1850s. The current expansion, indicated by the white bar furthest on the right, is now more than 10 years old, making it the longest economic expansion in American history.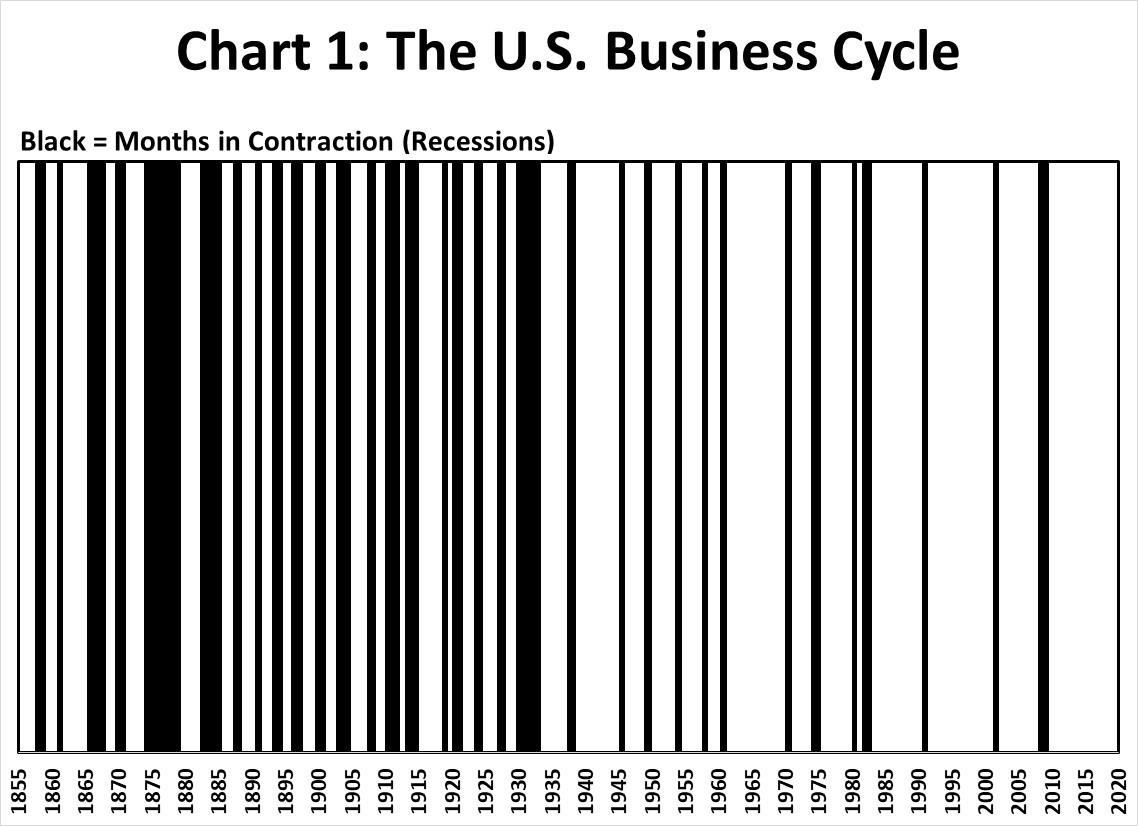 But the length of the business cycle tells only part of the story. Chart 2 shows economic contractions and expansions for the last seven business cycles (excluding the short 1980 recession). As shown, the current expansion (in red), while the longest, has also been the weakest. Indeed, annual real GDP growth averaged 3.6% in the last half of the twentieth century, but since then has averaged only 2% annually.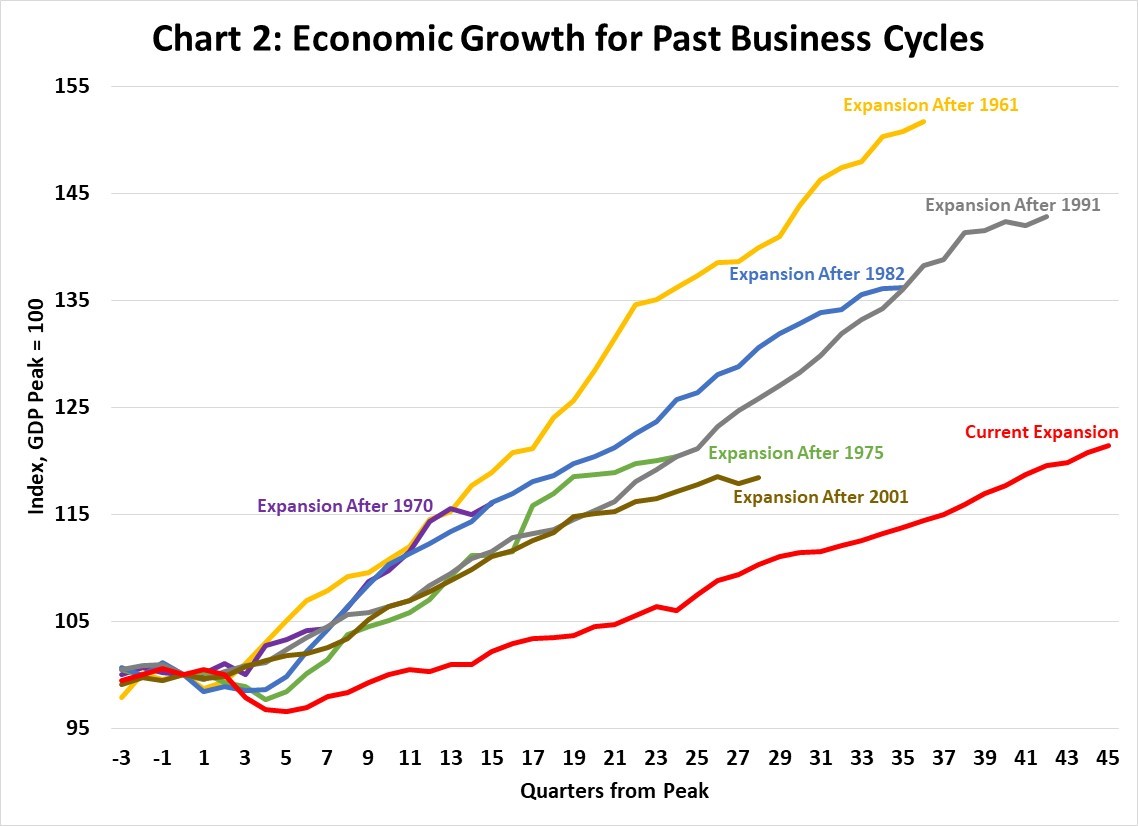 Even so, economic expansions, like bull markets for stocks, typically don't die of old age or because of long-run weaker-than-usual growth rates. Expansions end when economic and policy uncertainty erode business, investor and consumer confidence and thereby curtail investment and spending decisions. There are clearly some economic headwinds worth watching―like the global economic slowdown, weakness in manufacturing, inverted yield curve, and ambiguous trade and monetary policies―but for now, despite these headwinds, the economy is still growing, inflation and interest rates remain low and stable, net job creation is positive, and business, investor and consumer confidence have not yet deteriorated to alarming levels.
---
Podcast #11 - Taking the Pulse of our Economy Using Community Bank Sentiment
By Matt Longacre
Director of Communications, CSBS
Economists, investors, policymakers, and reporters use all sorts of different "indicators" as guideposts to assessing the health of the economy. Some are purely informational and numeric, like job growth numbers and changes in GDP. But others are based on feeling, like consumer sentiment. They're basically asking someone "how's it going?" and compiling all those feelings into a single indicator.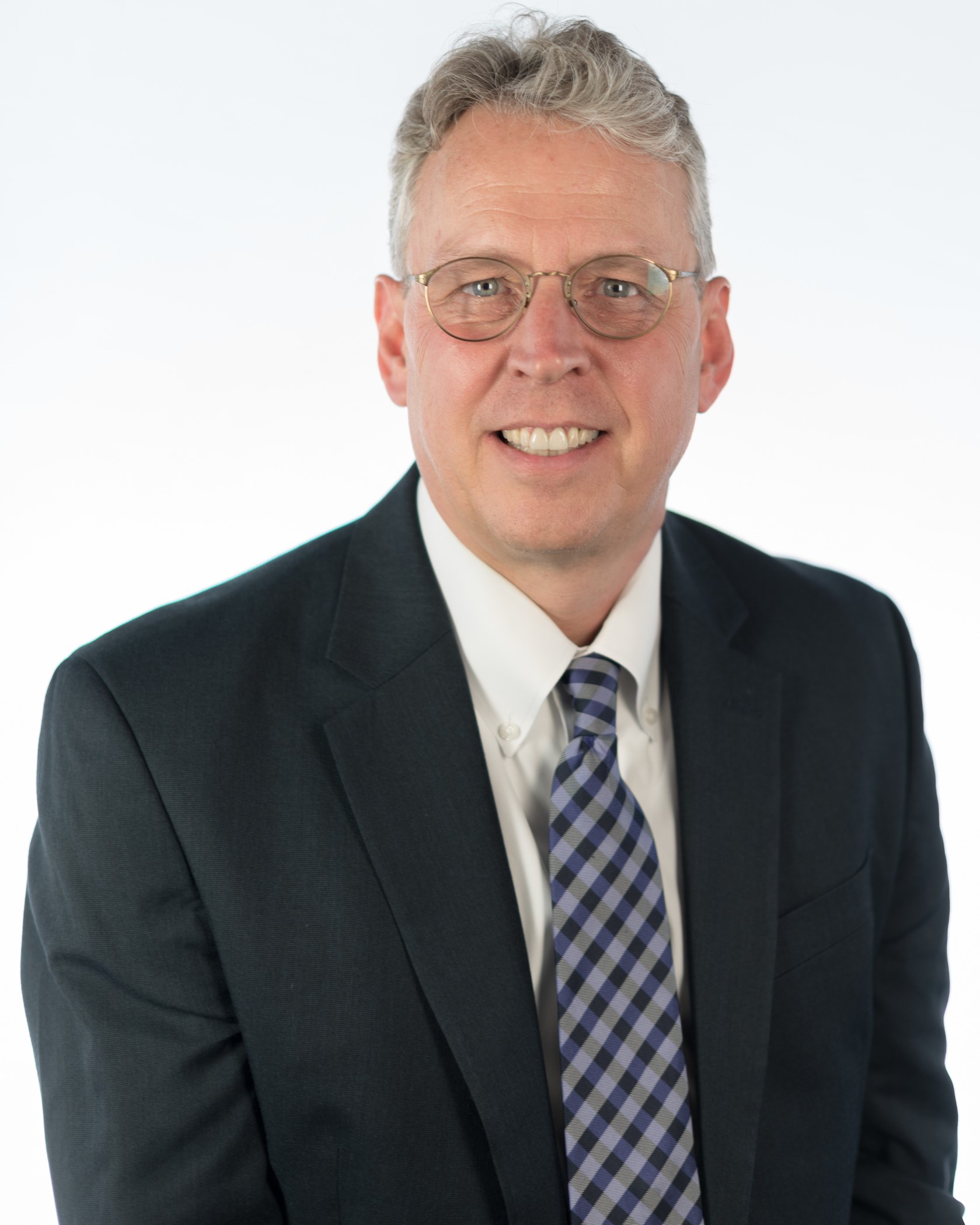 Getting a comprehensive picture across the country can be tough. But, there is one group that is connected to consumers and businesses alike that could provide us this valuable information. Community bankers are some of the most connected individuals in a wide cross-section of society, whose very livelihood relies on the success of neighbors and local businesses – rural, urban and in between.
Today, I want to talk to Mike Stevens, Senior Executive VP at CSBS, who has examined, worked with and promoted research on these community bankers.
And I want to discuss a new economic guidepost six years in the making, designed to use community bankers nationwide to take the pulse of America's economy. It's called The Community Bank Sentiment Index.
---
Follow Simply Stated on your favorite podcast service:
---
Participate in the Community Bank Sentient Index Survey!
For Examiner readers who are community bankers: CSBS released the first ever Community Bank Sentiment Index earlier this month, and you can participate in the next survey and provide your bank's perspective on the nation's economic outlook.
We have issued the third quarter survey for community bankers to complete. All it takes is four minutes to answer 15 questions to share your perspective of the economic outlook. Data will be collected during the month of September with the initial reading released at the Community Bank Research and Policy Conference on October 1. 
This index has the opportunity to be an important indicator of economic activity for policymakers, community bankers and the market. If you are a banker, we need and value your perspective. If you are a regulator or vendor for community banks, please make them aware of the survey and encourage participation. 
Featured Posts
Recent Posts
Email Subscribe Block Newsroom
News to your ears,
New every month.

CSBS Podcasts