Oct 25, 2019
Art is a lie that makes us realize truth.
---
Federal Judge Rules Against OCC in Fintech Charter Case
A federal judge ruled this week that the OCC cannot grant a bank charter to an entity not eligible for federal deposits, significantly hindering the OCC's plans for a federal fintech charter. In the final judgment in the case, the U.S. District Court for the Southern District of New York set aside the regulation that the OCC relied on for the authority to issue fintech charters. The OCC has stated publicly that they intend to appeal the ruling.
The New York DFS issued the following statement after the ruling:
Superintendent of Financial Services Linda A. Lacewell is pleased the Court has entered final judgment in favor of DFS. This decision makes the financial well-being of consumers from New York and around the country a priority. It reflects the rational conclusion that DFS and other state banking regulators have the expertise to provide the strict supervisory oversight and enforcement of anti-money laundering and consumer protection statutes and regulations that non-depository financial service providers are required to follow. The decision stops OCC's attempt to usurp state authority by establishing a federal fintech regulatory framework at the expense of consumers. Going forward, DFS will continue to be a fierce advocate for consumers in New York and nationwide.
John Ryan, CSBS President and CEO, also said:
"State financial regulators from across the country support the ruling of the U.S. District Court for the Southern District of New York that the OCC cannot make a nonbank into a bank. As the court has said, 'Receiving deposits is an indispensable part of the business of banking.'
"CSBS will continue to defend the rights of states to protect local consumers while supporting access to financial services."
---
State Focus: Texas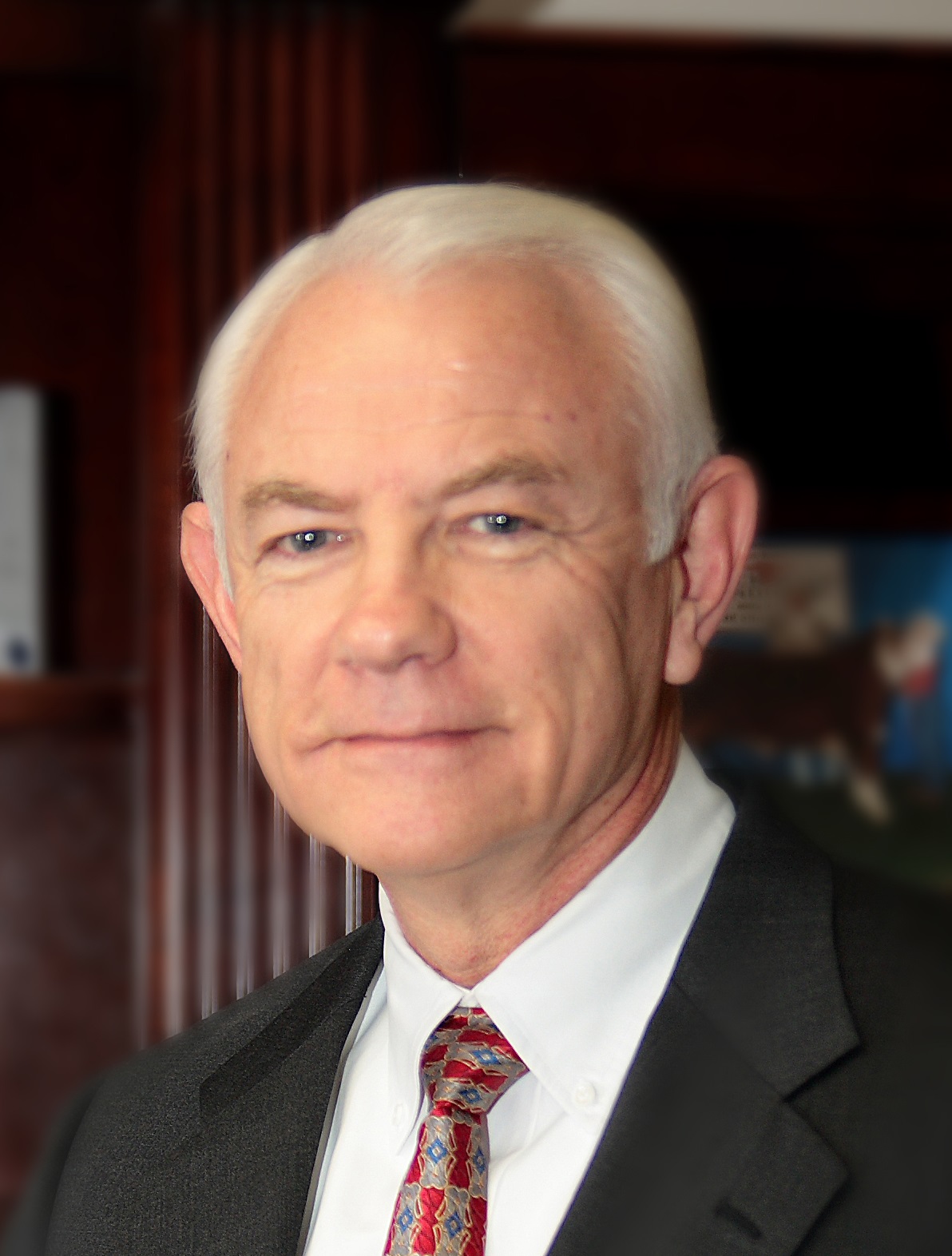 By Texas Department of Banking Commissioner Charles G. Cooper
I am currently serving in my eleventh year as the Commissioner of the Texas Department of Banking (DOB), which is responsible for the supervision, regulation and examination of 228 state-chartered banks with aggregate assets of approximately $276.3 billion. Additionally, the DOB supervises trust companies, money service businesses, foreign bank agencies and branches, perpetual care cemetery trust funds and prepaid funeral contract sellers. I have more than 49 years of experience in the financial services industry – 12 as an FDIC bank examiner, 26 as a banker in both community and large banks, and the last 11 years as the Texas Banking Commissioner. I'm especially proud of the last 11 years, as we have been able to help protect the citizens of Texas while laying the groundwork for a vibrant economy and banking system. 
In banking and regulation, risk mitigation is incredibly important. State statutes give regulators a set of authorities that allow us to help find risk before it develops into a major problem. When Equifax was breached in 2018, I found myself frustrated, as our state code provided the DOB no clear examination authority over consumer reporting agencies except to the extent they could be classified as third-party service providers. Our business and commerce code regulated consumer reporting agencies, but only the attorney general was involved as an enforcement mechanism, meaning there was no active supervision. 
After the breach was announced, my state counterparts and I believed strongly that a targeted regulatory response was required. This resulted in a multistate examination that led to Equifax agreeing to strengthen its data security efforts. Among other things, while our efforts demonstrated the flexibility and responsiveness of the state financial regulatory system, I still felt that the Texas Legislature needed to act to give the DOB clearer statutory authority to examine consumer reporting agencies moving forward.
Our legal staff and I worked with bill sponsor State Senator Donna Campbell to pass S.B. 1823. The bill recognizes the significant relationship between banks, consumers and consumer reporting agencies and gives my agency the necessary tools to oversee these companies and protect consumers. Fundamentally, the bill expands the definition of third-party service provider to include credit reporting agencies and further subjects a third-party service provider that refuses to submit to an examination by the banking commissioner to an enforcement action under the Texas Banking Act or Texas Trust Company Act. 
We faced stiff lobbying opposition from consumer reporting agency advocates, and I testified multiple times when the bill was in committee. Still, we had tremendous support in the legislature. The legislature shared our frustration over Equifax's cyber negligence. The bill passed and was signed into law by Gov. Greg Abbott in June 2019.   
Our original third-party service provider statute was the result of a lengthy effort from CSBS to create a model law. I worked very closely with my fellow states to develop the model law and then partnered with legislators and third-party service provider executives in Texas to ensure its passage.
Banks outsource a wide variety of critical business services to third-party service providers, including when they adopt cloud computing solutions or partner with innovative fintech companies. Third-party service providers are coming to the forefront at CSBS as the legislative committee has been advocating for the bipartisan H.R. 241, the Bank Service Company Examination Coordination Act. Introduced by Rep. Roger Williams (R-Texas) along with Rep. Gregory Meeks (D-N.Y.), this bill enhances state and federal regulators' ability to coordinate examinations of and share information on banks' technology vendors in an effective and efficient manner. 
Texans and all Americans should know that the DOB and state banking departments across the country, along with leaders like Reps. Williams and Meeks, are working to keep the system safer. I cannot stress enough the importance of both S.B. 1823 and H.R. 241 as we seek to keep our citizens' data secure and ensure bank service providers are supervised appropriately.
---
What's Behind Slower Economic Growth? A Look at Labor
By Thomas F. Siems, CSBS senior economist and director of research 
In my last blog, I examined the U.S. business cycle's expansions and contractions going back to the 1950s. (There's also a chart that goes back to the 1850s!) The data clearly show that the current expansion, while the longest in American history, has also been the weakest. Computing average annual real GDP growth rates during the last half of the twentieth century with the nearly 19 years of growth thus far in the twenty-first century highlights the overall slowdown. Annual real GDP growth averaged 3.6% in the last half of the twentieth century, compared to only 2% annually since 2000.  
Moreover, as shown in Chart 1, there has been a general and almost systematic decline in cumulative average real GDP growth rates over the eight expansions since 1961, falling from about 5% to 2.3% in the current expansion. What are some of the key factors behind slower economic growth? And what can be done about it?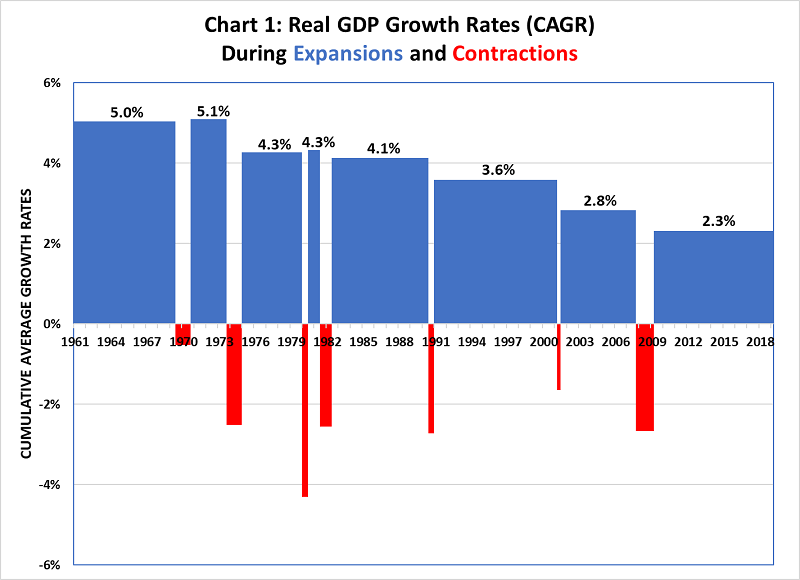 While there are many factors that have contributed to the secular decline in economic growth over the past 60 plus years―including, but not limited to, technology, globalization, monetary and fiscal policies, government debt levels―in this blog I will look only at demographic trends, and more specifically, at labor force growth. 
GDP growth is the sum of labor force growth and growth in labor productivity. Chart 2 shows that, like GDP growth, cumulative average job growth rates during job market expansionary periods have declined from rates above 3% in the 1960s and 1970s, to rates between 2% and 3% in the 1980s and 1990s, to rates well below 2% during the last two expansions since 2000.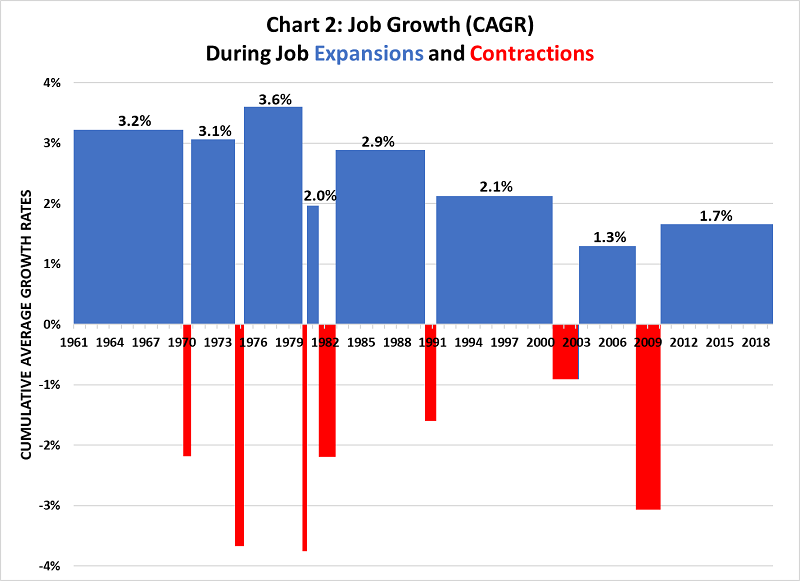 All else being equal, unless slower rates of labor market growth are offset by improvements in productivity growth, GDP growth will also be slower. And, when comparing Charts 1 and 2 to each other, it appears that slower labor market growth rates have been a key force contributing to slower rates of GDP growth. 
To reverse this trend, policymakers and business leaders are looking at the following ideas to create incentives that grow the workforce:  
Incentives to keep workers in the workforce longer: As the population ages and lives longer and baby boomers reach traditional retirement milestones, incentives that encourage older workers to stay in the workforce longer could keep the labor force participation rate, now at around 63%, from falling further.   
Incentives to prepare workers with the right skills: For younger people preparing to join the workforce, incentives that encourage new workers to pursue skills-training and careers that better match labor needs demanded in the economy is an investment in knowledge-based capital that more efficiently allocates resources and boosts productivity.   
Incentives to attract skilled labor: Immigration policies designed to be skills-based and more employer-based, and yet cognizant of any negative impact to domestic workers, can help attract and retain workers that businesses need. 
Fundamentally, it appears that one of the most important determinants behind slower rates of real GDP growth is declining rates of U.S. job growth. And while there may be several factors that negatively impact the labor market (technology, globalization, etc.), long-run demographic trends that have led to longer life spans, an ageing population, and the baby-boomer generation leaving the workforce through retirement have likely contributed the most to this decline. Unless policymakers and business leaders find ways to grow the workforce, we should expect that persistent slowing workforce growth will be a drag on U.S. economic growth. 
The views expressed in this blog are those of the author and do not necessarily reflect those of the Conference of State Bank Supervisors or its members. 
---
Research Survey Highlight: Use of Technology
Below is an excerpt from the 2019 Community Bank Research Conference publication, highlighting one finding from the Community Bank Survey. You can read the full publication here.
Community banks have long been on the cusp of a technological revolution that would require either a radical change in their business models or, possibly, a merger partner to help them achieve the scale necessary to offer the technology that customers expect. In the 2016 survey, bankers noted that they faced, but "had yet to feel the full effects" of, growing competition from data-driven loan underwriting technologies. The threat, in other words, appeared to be postponed. The question then, as well as today, is "for how long?"
Key Points:
Remote deposit capture was offered by 79% of banks, the same percentage reported in the 2018 survey. As was the case then, about 8% of banks this year said they planned to introduce this service in the future. Responses to supplemental questions indicated that matching the competition trumped profitability in motivation. One banker noted that remote deposit capture was instrumental in attracting new commercial customers.
Electronic bill presentment was offered by 83% of banks, which is within the range observed in prior surveys. This may suggest that community bankers are not conceding leadership in this area to peer-to-peer competitors; in fact, several bankers said they are introducing new digital payment networks.
Mobile banking is expanding to the point of saturation, as more than 97% of banks either offered these services or planned to do so in the future. In the 2014 survey, less than 60% of banks said they offered mobile banking. The rate of expansion has slowed in more recent years.
Nearly 59% of banks said they have adequate relationships with outside providers of digital banking products and services. 
Featured Posts
Recent Posts
Email Subscribe Block Newsroom
News to your ears,
New every month.

CSBS Podcasts