Nov 1, 2019
Intuition can tell you, of the doors that are open to you, which one you should walk through. But intuition cannot prepare you for what's on the other side of that door.
---
State Regulators Support the COUNTER Act (H.R. 2514)
CSBS President and CEO John Ryan applauded Chairwoman Waters, Ranking Member McHenry and Rep. Cleaver for their work on a bill to modernize BSA/AML laws.
"The bill recognizes the valuable role of state regulators in fighting financial crime and improving our BSA/AML regime," said Ryan. "The COUNTER Act represents significant improvements to the BSA/AML regime, and state regulators are resolute in our commitment to continue working with Congress, FinCEN, federal regulators and law enforcement to protect American citizens and the financial system from bad actors." 
Background: 
State regulators supervise the largest number of financial institutions, both banks and nonbanks such as money services businesses (MSBs), subject to BSA/AML requirements.
State regulators are often the first point of contact for financial services providers and law enforcement on BSA compliance issues.
In 2018, state regulators conducted roughly 1,600 BSA exams at state-chartered banks Last year, state-chartered banks filed 234,262 Suspicious Activity Reports (SARs). 
Over the same period, MSBs filed 873,203 SARs. Together, this amounts to more than half of the total number of SARs filed in 2018. 
More information on CSBS's position on the COUNTER Act is available here. 
---
Community Bank Impediments to Attracting and Retaining Core Deposits
By CSBS Senior Economist and Director of Research Thomas F. Siems
In the 2019 CSBS National Survey of Community Banks, "cost of funds" (35.4%) was the highest-rated answer by 571 community banks to the question of "what is likely to have the biggest influence on profitability over the next 12 months" (see Chart 1). In a related question, nearly one-third of the community bankers ranked "core deposit growth" (22.8%) or "cost of funds" (8.2%) as the "single greatest challenge" facing their institutions. 
Deposit growth and funding risks are clearly a priority for community banks. And how these banks respond to the strategic challenges of attracting and retaining core deposits is an issue of interest to regulators, policymakers and bankers themselves.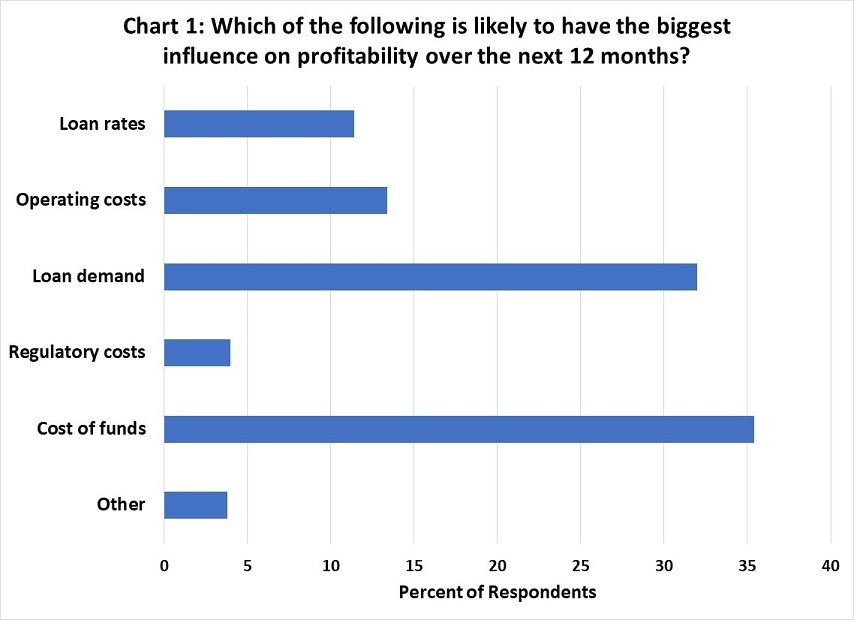 I joined William C. Dunkelberg, chief economist at the National Federation of Independent Business, Jonathan A. Scott, a professor at Temple University in a recent working paper to explore these issues in greater detail by taking the individual bank survey scores and matching respondents (where possible) with relevant call reports to integrate financial performance data into the analysis. This working paper is being released with this blog post. As a working paper, we welcome and appreciate comments and feedback on this ongoing research.
In this blog, I will explore one important finding from this research: examining answers to the question of "what is the most important impediment to attracting and retaining core deposits."
Overall, market competition is the most important impediment to attracting and retaining core deposits, with nearly 92% of respondents rating it as "very important" or "important" in their ability to attract and retain core deposits. Digging deeper, this is also the case irrespective of bank size, urban versus rural, or geographic location (as defined by CSBS district boundaries). 
The next two highest-rated factors impeding community banks' ability to attract and retain core deposits are other market demographics and depopulation. Approximately 39% of respondents rated other market demographics as "very important" or "important," and like market competition, there was no differentiation among respondents based on bank size, urban versus rural, or geographic location.  
However, depopulation, the third-highest ranked factor overall, with roughly 30% of community banks rating it as "very important" or "important," was far more important to bankers in rural areas (see Chart 2). There have been well-documented shifts in population from rural to urban locations, so it is not surprising to see this reflected in the CSBS survey, but it bears watching as this trend continues to develop.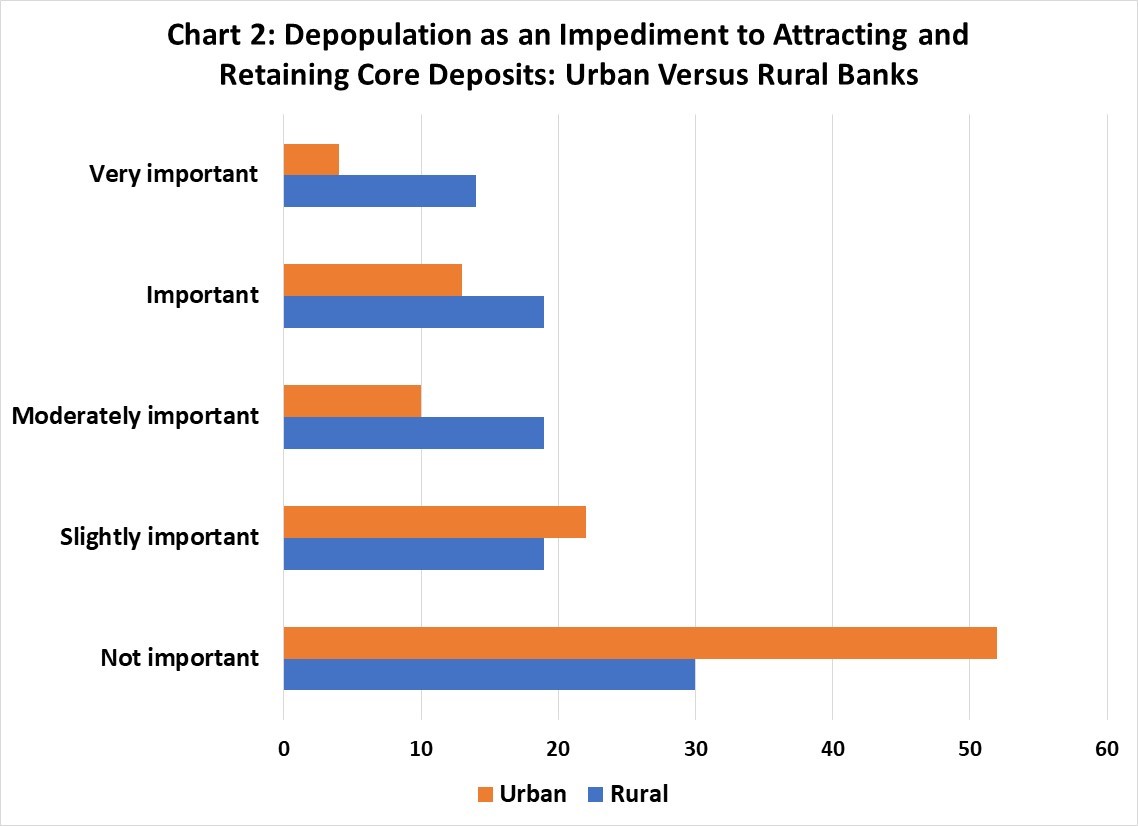 Indeed, banks reporting depopulation as "very important" or "important" to attracting and retaining core deposits more frequently experienced negative asset growth during the previous year. Banks with asset growth less than -3% more frequently report depopulation as "very important" or "important" (46% versus 30% overall). Relatedly, these banks also more frequently report capital constraints as "very important" or "important" (29% versus 14% overall).
Moreover, the importance of capital as a constraint to attracting and retaining core deposits is also negatively associated with profitability. The least profitable banks (ROAs less than 0.50%) more frequently report capital constraints as a "very important" or "important" (25% versus 13% overall) impediment to attracting and retaining core deposits. In contrast, the most profitable banks (ROAs greater than 1.75%) more frequently report capital constraints as "not important" (60% versus 48% overall). 
Again, these results should not come as a surprise. Banks that experience declining deposits are typically purposefully shrinking their asset base and would tend to identify depopulation and capital constraints as critical factors in maintaining core deposits. Shrinking the asset base may help improve capital ratios, but it challenges a bank's ability to maintain core deposits, profitability and franchise value.
Using the CSBS National Survey of Community Banks and the research included in the working paper cited above, I plan to write two additional blogs that highlight these secular changes that may be impacting the future funding model for community banks. The next blog will explore factors driving banks to follow a core deposit growth strategy versus those that pursue a loan growth strategy. Following that, an additional blog will examine wholesale funding strategies as they relate to funding and liquidity.
To comment on this working paper, please email me at: TSiems@csbs.org. 
---
Community Bank Case Study Competition Interest Deadline is November 22
There is now less than one month remaining for professors and sponsors to submit a statement of interest for the 2020 Community Bank Case Study Competition. 
Submit Your Statement of Interest
This Year's Topic
This year's competition will focus on the impact of the Bank Secrecy Act and Anti-Money Laundering requirements on community banks. Student teams will examine compliance challenges, associated time and costs and identify potential regulatory reforms.  
Eligibility
The annual competition is open to undergraduate students in all fields of study as an opportunity to gain valuable first-hand knowledge of the banking industry. Student teams partner with local community banks to conduct original case studies.  
Prize
Each student member and faculty advisor of the first-place winning team will receive a $1,000 scholarship and be invited to present at the CSBS-Federal Reserve-FDIC Community Banking in the 21st Century Research and Policy Conference. Their work will be published in the CSBS Journal of Community Bank Case Studies. Teams that place second and third will also receive scholarships and have their works published in the journal. 
---
State Regulators Advise Licensees to Renew Early to Avoid Delays
CSBS announced this week the start of the license renewal period for individuals and businesses that provide mortgage, money transmission, debt collection and consumer financial services to consumers. These individuals and businesses are required to maintain and renew licensure through NMLS.
Renewals in most states run November 1 to December 31. State regulators encourage licensees to renew by November 30 to avoid delays in having their renewal requests processed.  
More than 185,000 MLOs and companies are licensed to conduct business, accounting for more than 615,000 state licenses eligible to be renewed. MLOs must also have completed annual continuing education requirements before they can submit for license renewal. 
"The benefit of licensees submitting their renewal requests early is they have a far greater chance of being approved in time to keep doing business starting January 1," said Kelly O'Sullivan, chair of the NMLS Policy Committee and deputy commissioner of the Montana Division of Banking and Financial Institutions. "We like to remind licensees, your license is your business." 
Typically, more than 90 percent of November renewal requests are approved by December 31, but only about half of renewals requested after December 15 are approved in time for licensees to do business on January 1.  
More information on each state's renewal period, state-specific requirements and free renewal courses is available on the Annual Renewal Information page of the NMLS Resource Center. Those that do not renew on time run the risk of losing their ability to conduct business in 2020.  
Federally registered MLOs and institutions must also renew their registrations via NMLS by December 31. More information for federal registrants, including free renewal courses, is available on the NMLS Federal Registry Resources page.  
---
Last Chance to Register for the National Mortgage Policy Summit!
Members of congress, policymakers, and the leading regulators in the mortgage space will gather November 13 for the AARMR-CSBS National Mortgage Policy Summit. Interested attendees have until November 8 at Noon to register.
About the Summit
The summit event will include keynote presentations and panels representing viewpoints on mortgage policy at the national level. Invited speakers include members of Congress, federal agency leadership, industry leaders, consumer advocates, state regulators and other policy stakeholders. 
Speakers Include:
Charlie Clark - Director, Washington State Department of Financial Institutions, President, AARMR
Rep. Bill Huizenga (R-MI) - Ranking Member, Financial Services Subcommittee on Investor Protection, Entrepreneurship, and Capital Markets
Robert D. Broeksmit, CMB - President & CEO, Mortgage Bankers Association
Faith Schwartz - President, Housing Finance Strategies
Susan Wachter - Albert Sussman Professor of Real Estate, Professor of Finance, The Wharton School, University of Pennsylvania
Mark Calabria - Director, Federal Housing Finance Agency   
Rep. Patrick McHenry (R-NC) - Ranking Member, House Financial Services Committee
Edward Pinto - Director, AEI Housing Center at the American Enterprise Institute
Laurie Goodman - Vice President, Housing Finance Policy, Urban Institute
Eric Kaplan - Director, Housing Finance Program, Milken Institute/Center for Financial Markets
Bill Matthews - President, NMLS
Bret Afdahl - Commissioner, South Dakota Division of Banking, CSBS Chairman
Eric Stein - SVP, Self-Help/Center for Responsible Lending (CRL)
Michael Drayne - Incoming Acting Executive Vice President, Ginnie Mae
Nancy Wallace - Professor & Chair of Real Estate Group, University of California, Berkeley
Raj Date - Managing Partner, Fenway Summer
Featured Posts
Recent Posts
Email Subscribe Block Newsroom
News to your ears,
New every month.

CSBS Podcasts