Blog post
Inflation Overtakes Cyberattacks and Regulation as Community Bankers' Top Concern
Apr 19, 2022
By CSBS Chief Economist Thomas F. Siems, Ph.D. 
With inflation hitting a 41-year high at 8.5% from a year earlier (according to the headline consumer price index), it comes as little surprise that inflation is community bankers' top concern in the first quarter 2022 survey used to compute the CSBS community bank sentiment index (CBSI). As shown in the nearby chart, community banker concerns about inflation topped the list of anxieties that includes government regulation, cyberattacks and the cost and availability of labor.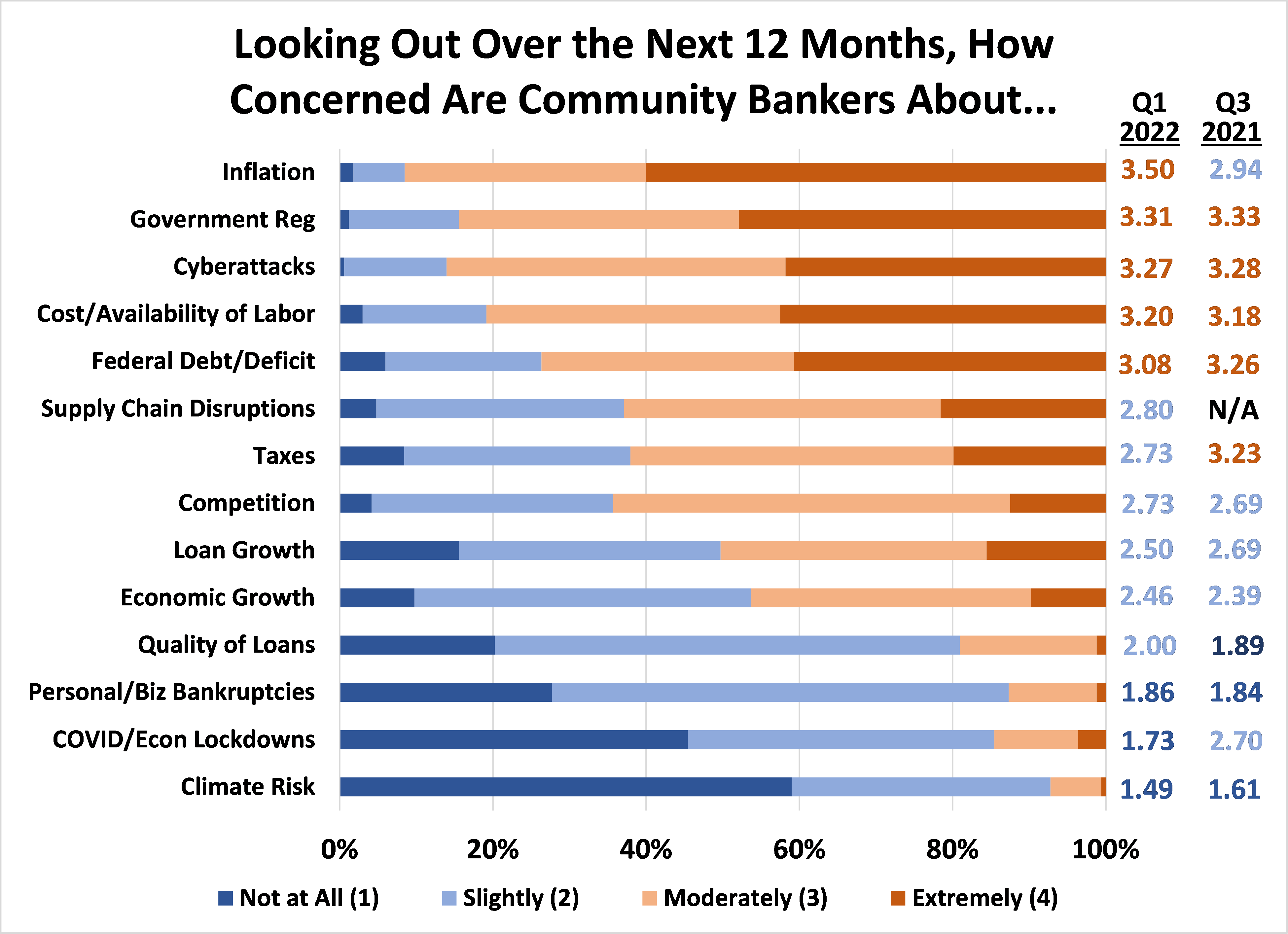 Using a 4-point Likert scale with 1 as "not at all" concerned and 4 as "extremely" concerned, the weighted-average calculations show that these four responses are all rated 3.20 or higher, indicating a much higher percentage of "moderately concerned" and "extremely concerned" responses.  
Uneasiness about inflation tops the list of concerns at 3.50, which is also the highest level recorded for any answer to this question over the past year, and by far the largest increase over the past six months (rising from 2.94 in the third quarter 2021). Indeed, 60% of community bankers are "extremely concerned" about inflation. When combining the "moderately concerned" and "extremely concerned" responses, nearly 92% of community bankers rate inflation as their top concern, compared to 84% for government regulation and 86% for cyberattacks. 

Community banker worries about inflation are consistent with the top concerns of small business owners and consumers. According to the March 2022 NFIB Small Business Optimism Report, inflation overtook the quality of labor as the top business problem. For consumers, the Federal Reserve Bank of New York's March 2022 Survey of Consumer Expectations shows that short-term inflation expectations reached a new high as food and energy prices surged. Moreover, according to Google Trends, during February and March 2022, the word "inflation" was used as a search term more than 2.5 times as much as during the previous 17 years (when they first started tracking the data). 
So, what can be done to combat inflation? While an end to the war in Ukraine would likely bring about lower and more stable energy prices, and improvements in returning industry supply chains back toward normal would help suppliers meet demand and offer lower prices, the Federal Reserve's monetary policy decisions are arguably most important for fighting inflation.  

As we noted last week, the most recent CSBS community bank sentiment index (CBSI) turned slightly pessimistic at 97 (neutral value = 100). And by investigating community bankers' expectations about future business conditions, we concluded that "how the Federal Reserve navigates the economy through its monetary policy decisions will play an important role in community banker sentiment."  
Indeed, by slicing the CBSI responses in a different direction, we find that the first quarter 2022 CBSI shows a fairly even split on how community bankers view the expected impact from monetary policy. Roughly three out of ten community bankers (29%) expect the Fed's monetary policy decisions to improve their market outlook over the coming year, while 34% believe the Fed's decisions will negatively impact their market outlook. Another 25% think monetary policy decisions will not change their market outlook and 12% are unsure. 
A deeper dive into these responses shows that the 29% of community bankers expecting improvements from monetary policy decisions have an overall optimistic CBSI of 120, and they expect future business conditions to improve, with a component index of 117. But for the 34% of community bankers expecting worse economic conditions from monetary policymakers, their overall CBSI was a far more pessimistic 72, and with expectations for very unpleasant future business conditions (index value = 44). 
Right now, community banker sentiment appears to be largely dependent on how they view the impact from the Fed's monetary policymakers. Clearly, the Fed's credibility is at stake. 
Related Posts
Oct 19, 2023

Oct 10, 2023

Jul 26, 2023
Get Updates
Subscribe to CSBS
Stay up to date with the CSBS newsletter