Blog post
Main Street Banks Share Outlook for Interest Rates
Aug 20, 2019
After raising its policy rate nine times (from near zero beginning in late 2015), early in January the Federal Reserve Bank suspended its planned normalization of interest rates and credit conditions, ending plans to further raise rates and reduce the size of its portfolio of government bonds and mortgage backed securities. This was in response to increasing concerns about economic "weakness" in the press and a negative response in the equity markets in late December that also reflected some liquidity concerns. The financial press reported rate cuts are "priced in" on Wall Street and markets "expect" the Fed to deliver as early as the July meeting. The markets' expectations were met.
For many observers, this has been a surprise because the economy is doing very well, is at full employment based on labor market measures, and surveys of business optimism such as the National Federation of Independent Business Small Business Optimism that are flashing "expansion" or "growth" readings (even if slower). Among small business owners who account for about half of private employment and gross domestic product, Chart 1 show that only 4% expect credit conditions to ease, while 14% expect conditions to tighten and 64% expect no change in the July survey.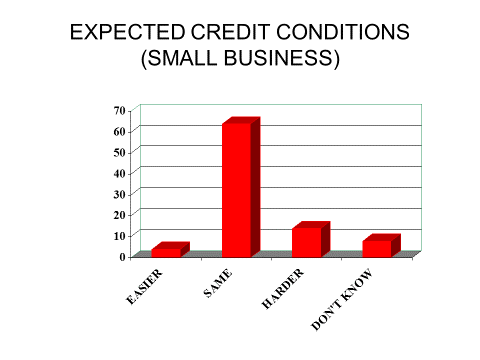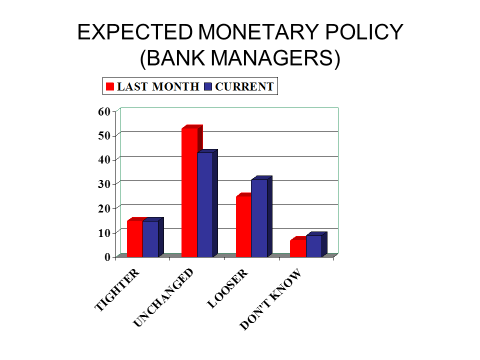 Among bankers, CSBS found that relatively more bank managers expect credit conditions to ease than expect more tightening in their annual survey conducted during the second quarter. The survey was conducted in preparation for the Community Bank Research and Policy Conference at the Federal Reserve Bank of St. Louis in October. Surveys were received before and after the Fed announcement on June 6 regarding a weaker outlook for economic growth. Thirty-three percent of the banks that responded after this announcement expected the Fed to ease (compared to 23% of those that replied before June 6). Most of the change in sentiment about the Fed came from those who reported no change, declining from 53% for all respondents before June 6 to 43% after adding respondents who answered after the announcement.
The direction of the change in monetary policy can affect bank profitability through two channels: negatively if net interest margins fall or positively if an improving economy results in increased loan demand. Table 1 below shows a mixed message. Those banks expecting a looser policy more frequently report (39% versus 32% overall) worse future profitability, which supports the narrowing net interest margin story. Tighter policy expectations show no significant association with expected future profitability.

If loan demand is a function of the economy's growth prospects, we can also look at the association between expectations about future business conditions and expectations about future monetary policy. Views about the strength of the economy impact expectations for Federal Reserve policy. Among bank managers expecting the economy to improve (13% t of banks), 27% expect the Fed to ease, compared to 35% expecting the Fed to ease among those expecting business conditions to weaken (28% of banks). These bank managers are in agreement with some Federal Open Market Committee members who argue that the economy will weaken and needs a stimulus. Others argue that the most important goal is to create inflation.

Wall Street clearly favors a cut in interest rates because lower interest rates inflate the values of financial assets, other factors unchanged. When Fed Chairman Jerome Powell indicated in Chicago that the Fed would consider lower rates, the S&P rose 500 points. When the jobs report turned in a very positive number recently, markets closed lower because a good economy lowers the chance that the Fed will cut rates. For bankers, the issue is less clear, as a Fed rate cut puts a downward pressure on loan rates and supports a deterioration in expectations for business conditions. 
The CSBS 2019 Community Bank Survey results will be released in early October as part of annual Community Banking in the 21st Century Research and Policy Conference held at the St. Louis Federal Reserve and hosted by CSBS, the Federal Reserve System and the Federal Deposit Insurance Corp.  
Featured Posts
Recent Posts
Email Subscribe Block Newsroom
News to your ears,
New every month.

CSBS Podcasts