Oct 8, 2020
By CSBS Senior Economist and Director of Research Thomas F. Siems, Ph.D.
If the old expression "hindsight is 20/20" is true, then as we look back on this year of the pandemic/lockdown, uncertainty is sure to be an overriding theme. And community bankers would seem to agree. Their responses to CSBS's third quarter 2020 survey used to compute the Community Bank Sentiment Index (CBSI) express more uncertainty now than ever before. 
As shown in the nearby chart, the overall level of community banker uncertainty leapt in the third quarter by 12 points to an index of 44, a rating that is even higher than the assessment of 42 recorded in the first quarter 2020 survey. The "uncertainty index" is calculated by summing the percent of "Don't Know/Not Sure" responses for each of the seven questions that makeup the CBSI.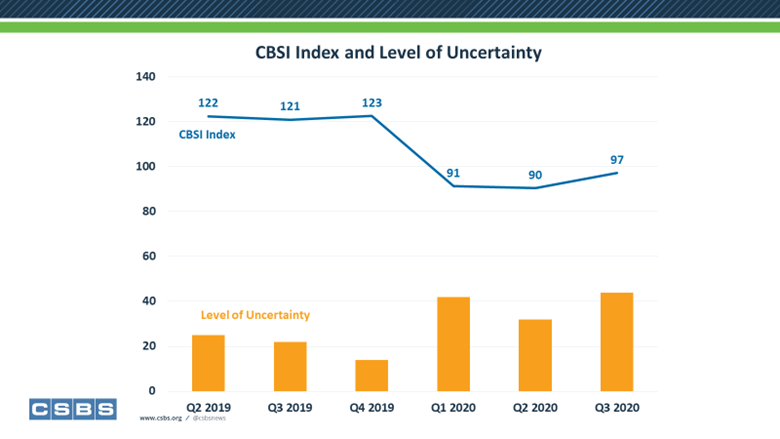 So, what are bankers in angst about the most? 
A deeper dive into bankers' "uncertainty" reactions to each CBSI survey question can provide some clues. The chart below shows that the upsurge in the third quarter 2020 uncertainty index is driven primarily by an increase in regulatory burden uncertainty (green bars). The regulatory burden uncertainty index spiked to 13 in the third quarter 2020 from levels of between 1 to 4 for previous surveys.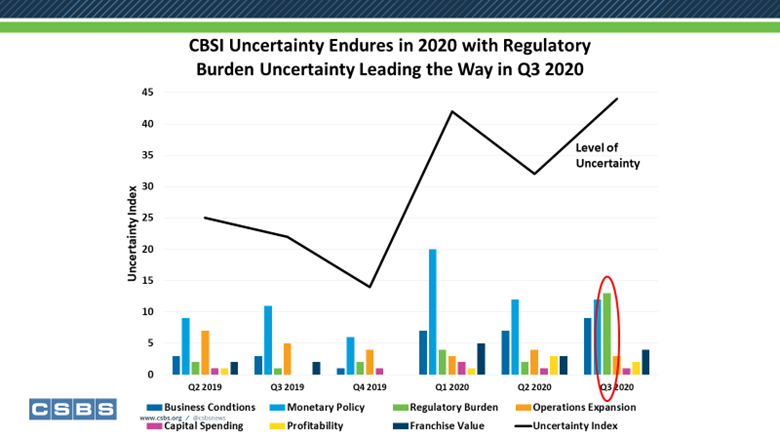 Indeed, the table below compares the uncertainty indices for all seven CBSI components for the second and third quarters of 2020. The components with the greatest levels of uncertainty in the third quarter 2020 are Regulatory Burden (13), Monetary Policy (12) and Business Conditions (9). With a sum of 34 points, these three components comprise 77% of the total (44).
Uncertainty Values for CBSI Component
| CBSI Component | Q2 2020 | Q3 2020 | Change |
| --- | --- | --- | --- |
| Business Conditions | 7 | 9 | 2 |
| Monetary Policy | 12 | 12 | 0 |
| Regulatory Burden | 2 | 13 | 11 |
| Operations Expansion | 4 | 3 | -1 |
| Capital Spending | 1 | 1 | 0 |
| Profitability | 3 | 2 | -1 |
| Franchise Value | 3 | 4 | 1 |
| CBSI | 32 | 44 | 12 |

But perhaps more importantly, since the second quarter, uncertainty in Regulatory Burden has been the driving force behind this recent historic high level of uncertainty, covering 11 points out of the total quarterly increase of 12 points. Bankers are clearly concerned that regulators will use a heavier hand in evaluating the safety and soundness of their banks as they work through an expected increase in problem loans and a more difficult financial environment.
Moreover, the overall outlook regarding regulatory burden for community bankers is dismal. The Regulatory Burden component for the third quarter 2020 is 57, the same as it was in the second quarter 2020, and the lowest value of the seven factors that comprise the CBSI.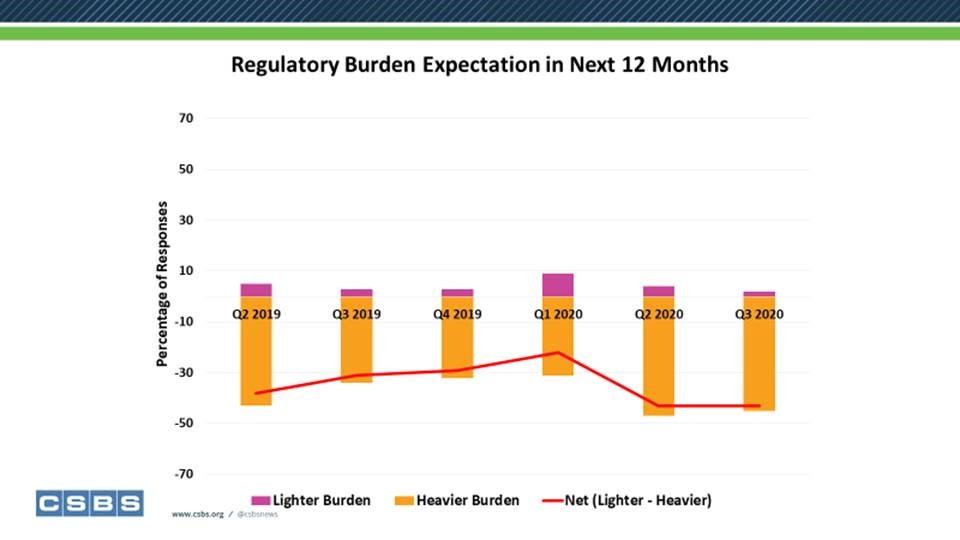 In the third quarter 2020, 45% of community bankers expect regulatory burden to be heavier, 2% expect it to be lighter, 40% said it would remain the same, and the remaining 13% were unsure. Interestingly, community bankers who expect a heavier regulatory burden had an overall CBSI of 85, whereas the others had a CBSI of 106, where 100 is the neutral level. Bankers expecting a harsher regulatory environment also expect future business conditions, profitability, and monetary policy to be significantly worse than their peers who do not expect a more burdensome regulatory environment.
And community bankers are not alone. The chart below shows that U.S. economic policy uncertainty has risen to unprecedented levels in 2020. This index is constructed from three underlying components: (1) news coverage about policy-related economic uncertainty, (2) federal tax code provisions set to expire and (3) the dispersion of disagreement among professional economic forecasts. The scholars who created this index have found a significant dynamic relationship exists between their index and real macroeconomic variables. A sustained increase in their economic policy index tends to foreshadow a decline in future economic growth. The good news is that this measure has generally declined from its peak in May 2020. However, it is still running well above past levels and continues to signal heightened uncertainty.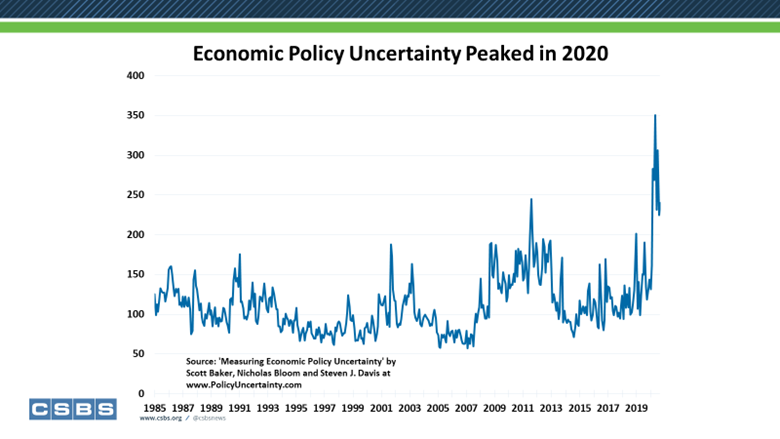 Most of us cannot wait for 2020 to be over. Following the announcement of the COVID-19 global pandemic and subsequent economic shutdown in March, all of us have had to deal with greater uncertainties in our homes, at work, how we buy and sell, how we interact with others, etc. Uncertainty is a major cause of stress and anxiety. Uncertainty proliferates with imperfect and unknown information. And uncertainty is the enemy of economic growth.
Even so, I am confident that we are past the worst of this crisis and that stronger economic growth and more jobs are in our future. And although community bankers have some concerns about how they will be handled by their regulators and how they will manage to maintain profitability during these difficult times, I am encouraged from this quarter's survey that also shows that they plan to expand operations, increase capital spending, and foresee increases in franchise values as business conditions improve.
Community bankers, with their emphasis on developing and building relationships, are well positioned to help consumers and businesses in their local communities get through these times. And America will heal and be better as a result. 
Related Posts
Jan 19, 2021

Jan 6, 2021

Dec 10, 2020
Email Subscribe Block Newsroom
News to your ears,
New every month.

CSBS Podcasts