Blog post
Banker Outlook for Economic Sectors More Optimistic
Mar 23, 2021
By Thomas F. Siems, Ph.D., CSBS Senior Economist and Director of Research
CSBS is currently collecting survey responses for its first quarter 2021 Community Bank Sentiment Index (CBSI). The index is based on responses to seven questions that gauge how community bankers feel about future business conditions, profitability, capital spending plans, operations expansion, franchise value, regulatory burden and the expected impact of monetary policy.
In addition to these core queries, CSBS asks a few supplementary questions each quarter that help us assess the economy, financial markets and other areas of concern. While these results are not final, an early look at community bankers' outlooks for 10 economic sectors indicates the potential for a big optimistic bump on the horizon.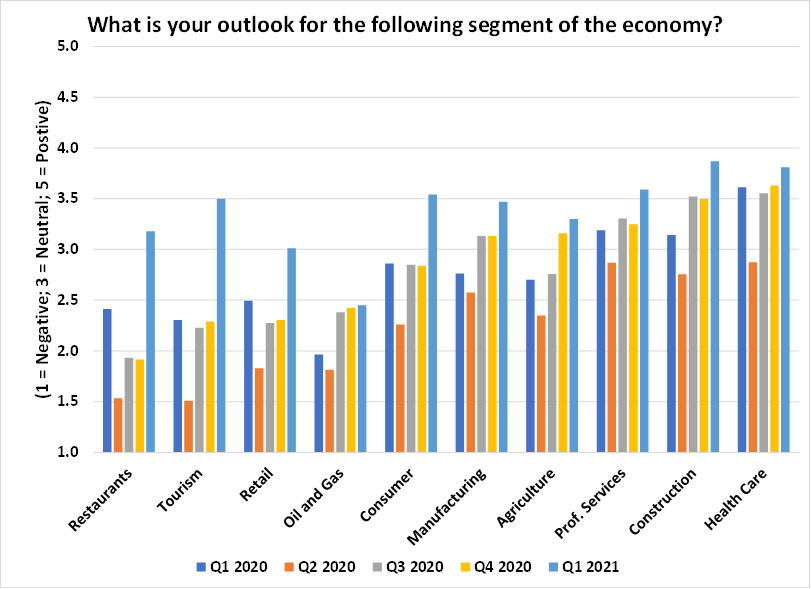 Bankers' outlooks for all 10 economic sectors are up quarter-over-quarter and year-over-year. Importantly, the strongest comebacks are expected in the tourism, restaurant, consumer and retail sectors, all of which have suffered the largest employment losses. And optimism remains high for the construction, health care, professional services and manufacturing sectors. The two sectors showing the smallest expected improvements are agriculture and oil and gas.
The first quarter 2021 CBSI is open until March 31. If you are a community banker, we look forward to including your responses and insights. The survey takes less than five minutes and can be accessed here. We plan to release the results on April 6.
Related Posts
Jul 8, 2021

May 6, 2021

Apr 19, 2021
Get Updates
Subscribe to CSBS
Stay up to date with the CSBS newsletter