Blog post
Bankers See Improved Outlook for Economic Sectors with a Long Path Ahead
Oct 2, 2020
By CSBS Senior Executive Vice President Michael L. Stevens
CSBS recently closed its third quarter survey for the Community Bank Sentiment Index. The final results will be announced on Tuesday, Oct. 6. This will be a very important read of how bankers are feeling about the economy as communities have cautiously and carefully opened-up the last few months.  
The first release of the index in the second quarter of 2019 was very positive at 122 and held consistent for the next two quarters. The index cratered to negative territory in the first quarter of 2020 and remained steady in the second quarter as the pandemic unfolded and the economy suffered. 
There is some interesting data from the survey to share in the meantime. The survey asks bankers their outlook for ten key sectors of the economy. The chart below shows the progression of this outlook from the first quarter of 2020 to the third quarter. There has been a noticeable rebound in the outlook across the board from where we were in the second quarter. The bright spots are construction and health care, followed by professional services and manufacturing. As expected, restaurants, tourism, and retail are the laggers. 
While the improved outlook is a good sign, none of the sectors are close to the positive end of the spectrum.  It is going to take some time to build momentum and fully recover. 
At least that is the view of 334 community bankers from 40 states.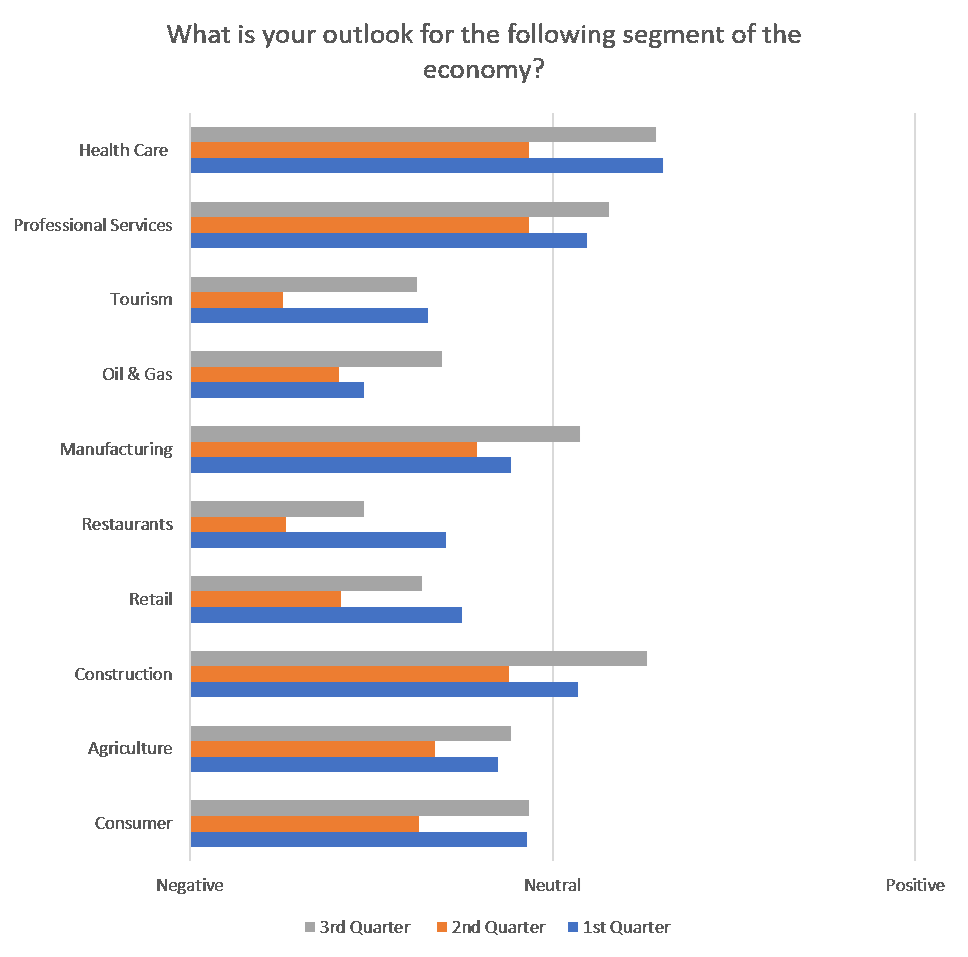 Related Posts
Oct 8, 2020

Oct 6, 2020

Jul 27, 2020
Email Subscribe Block Newsroom