Blog post
Community Banker and Consumer Outlooks Align
Oct 15, 2020
By CSBS Senior Economist and Director of Research Thomas F. Siems, Ph.D
Community bankers, with their relationship-oriented business model, talk to everyone. They have keen insights about commerce and trade in communities, advance knowledge of how and when area companies plan to expand or contract and are genuinely concerned for consumers and small businesses in the economies they serve. With their ears to the ground and eyes wide open, community bankers are well-suited and qualified to opine on the health and outlook of the economy. 
Through the quarterly CSBS Community Bank Sentiment Index (CBSI), we can see community bankers' economic outlook from a broader level. What are community bankers saying now? And how do their responses align with other surveys of consumers and business leaders?
Current Community Banker Sentiment
As shown in the nearby chart, the headline number from CSBS's third quarter 2020 Community Bank Sentiment Index was 97, an increase from 90 in the previous quarterly survey. The seven-point increase in the index from last quarter's historic low level is encouraging and nearer the neutral value of 100; however, several concerns persist.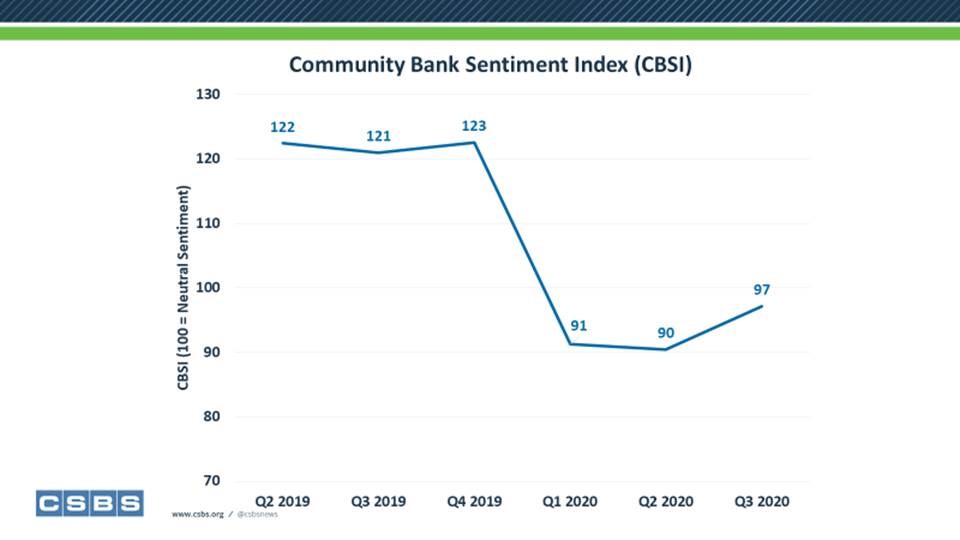 The CBSI is comprised of seven components that assess community banker's sentiment of future market conditions and the expected impact on their banks. The chart below shows the response percentages to each of the seven questions used to create the CBSI for each of the last two quarters. The index for each factor is calculated by subtracting the percentage of negative responses (red bars) from the percentage of positive responses (green bars) and adding 100 (to make 100 the neutral value). The grey bars are the "Don't Know/Not Sure" responses. A recent blog examined these "uncertainty" responses and what drove the CBSI Uncertainty Index to an historic high.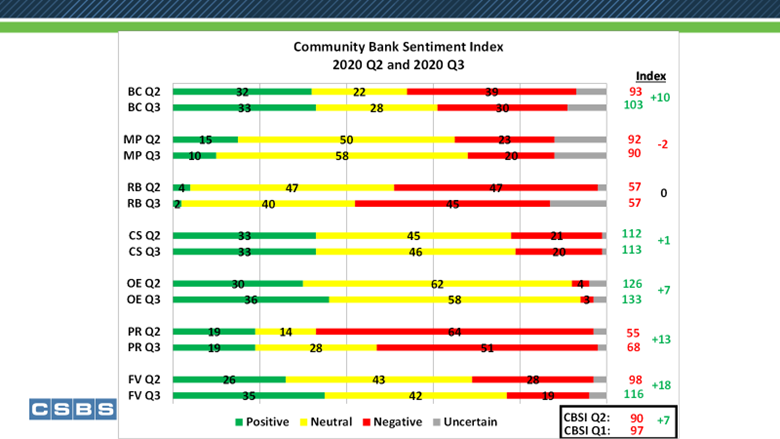 Some of the good news from this quarter's CBSI is that four of the seven components are above the neutral level of 100: Operations Expansion (OE=133); Franchise Value (FV=116); Capital Spending (CS=113); and Business Conditions (BC=103). Two of these factors, franchise value and business conditions, were below 100 in the previous quarter's survey. Bankers appear to be more optimistic that the future value of their institutions will improve and that better business conditions are on their way. 
However, three factors in the third quarter survey are below 100 and have been in negative territory in all three 2020 quarterly surveys: Monetary Policy (MP=90); Profitability (PR=68); and Regulatory Burden (RB=57). Even with hopes for better future business conditions, bankers are clearly concerned about long-run profitability and these concerns appear to stem from low interest rates and margins from extreme monetary policy actions from the Federal Reserve, as well as an overall expected heavier regulatory burden over the next year, albeit with a raised level of uncertainty surrounding this factor.
In addition to the levels of each factor in the CBSI, we examine the change in the component values over time. The above chart shows that five of the CBSI components rose in the third quarter from the second quarter, one remained the same, and one declined slightly. The factors that increased the most from second quarter 2020 to third quarter 2020 are franchise value (FV; +18 points); Profitability (PR; +13 points); Business Conditions (BC; +10 points); and Operations Expansion (OE; +7 points). The other three factors were essentially unchanged: Capital Spending (CS; +1 point); Regulatory Burden (RB; no change); and Monetary Policy (MP; -2 points).
So overall, community bankers are more optimistic than earlier in the year during the depths of the economic wallop following the pandemic/lockdowns. But many concerns remain, particularly regarding future profitability, regulatory burden and monetary policy. 
CBSI with Respect to Other Confidence Surveys
Immediately after COVID-19 was declared a global pandemic and the economy was subsequently locked down in mid-March 2020, the CBSI fell 32 points (26%). The CBSI is now up 7 points (8%) from its nadir. As shown in the charts below, the abrupt negative impact to community banker sentiment in the first quarter of 2020 and subsequent rebound has been more consistent with surveys that assess consumer sentiment about the economy (left panel) than those that assess business leader sentiment (right panel).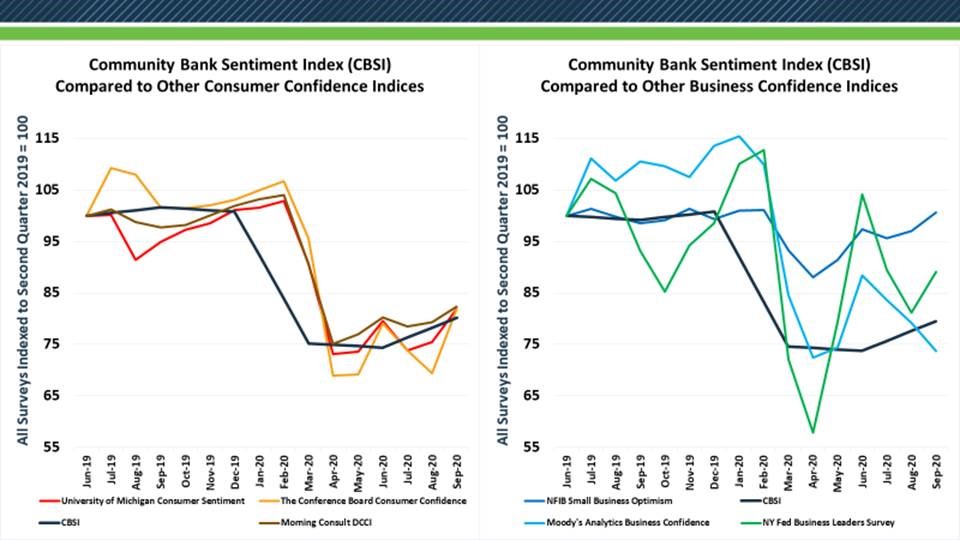 For instance, the University of Michigan's April 2020 Consumer Sentiment Index dropped 29 points (29%) from the February reading. Through September, it has rebounded 12%. Similarly, the Conference Board's Consumer Confidence Index plunged 47 points (35%) from February to April, and has since recovered 19%. The monthly average of Morning Consult's Daily Consumer Confidence Index fell 32 points (28%) from February to April 2020, and has subsequently regained 10%.
Most business sentiment indices fell after February 2020 but have proven to be more volatile and less stable than consumer sentiment indices. From February to April 2020, Moody's Analytics Business Confidence Index dropped 38 points (34%) and has recovered by 2%. The New York Fed's Business Leaders Survey (Future Business Climate) plunged 55 points (49%) and has climbed 54% from its low. And the National Federation of Independent Business' (NFIB's) Small Business Optimism Index sank 13 points (13%) and has almost completely rebounded to above its pre-pandemic level, rising 10%.
If you want to know what is going on in your local economy, talk to your nearby community banker. They watch and listen and know the pulse of community marketplaces, perhaps better than anyone else. By sticking to the fundamentals of lending―often referred to as the "four C's": credit, character, capacity and collateral―community bankers recognize and understand the health of consumers and businesses in their neighborhoods. 
Email Subscribe Block Newsroom
News to your ears,
New every month.

CSBS Podcasts