Blog post
Community Bankers Adjusting to a New Reality
Jul 15, 2020
By Thomas F. Siems, Ph.D., CSBS Senior Economist and Director of Research
CSBS recently reported that the latest quarterly value for the Community Bank Sentiment Index (CBSI) was 90. This is mostly unchanged from the previous historic low reading of 91 in March 2020, and down considerably from last year's index of 122. The latest survey indicates that community bankers from across the nation remain unsettled and continue to have a mostly negative sentiment as a result of the COVID-19 pandemic and subsequent economic disruptions. 
Even though the overall CBSI was relatively unchanged from last quarter, five of the seven components that make up the index fell, and only two improved. As shown in the chart below, the business conditions and the monetary policy components both rose significantly from very low levels―60 and 69, respectively―to readings in the low 90s. While these values are still below the neutral level of 100, the considerable improvement in these factors suggests that bankers do not foresee future business conditions worsening by nearly as much as they implied last quarter, nor do they think monetary policy decisions will degrade the economic outlook as much as they did previously. The chart also shows that the improvement in the business conditions and monetary policy factors were offset by declines in the other five components, and most notably in franchise value (falling from 121 to 98), regulatory burden (falling from 78 to 57) and profitability (falling from 66 to 55).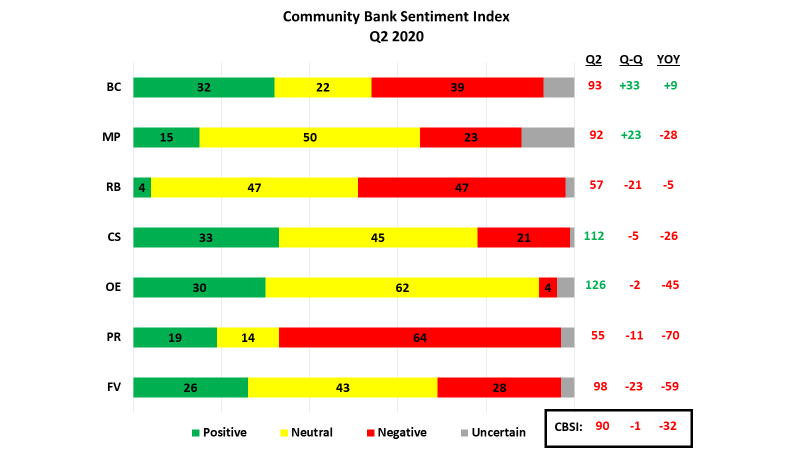 The quarterly improvement in the business conditions component resulted in an interesting distribution of responses from community bankers: 32% foresee business conditions getting better, 22% say they will stay the same, 39% believe they will worsen, and 7% are unsure. With more than 30% of community bankers thinking the economy will get better and another group of more than 30% thinking it will be worse, I thought it might be interesting to compare the responses from each group. 
Not surprisingly, the nearby chart shows that community bankers who expect business conditions to improve in their markets are more optimistic overall. The CBSI for bankers expecting business conditions to improve is 120, compared to just 66 for those who think business conditions will worsen, a difference of 54 percentage points. Moreover, the more expectant community bankers are more optimistic across all the other six CBSI components. The greatest differences between the two groups―which are all statistically different from each other―are in three factors: monetary policy (130 versus 69), profitability (71 versus 30), and franchise value (115 versus 76). The mean values between the two groups for the other three factors are not statistically different from each other: capital spending (122 versus 107), regulatory burden (65 versus 54), and operations expansion (135 versus 125).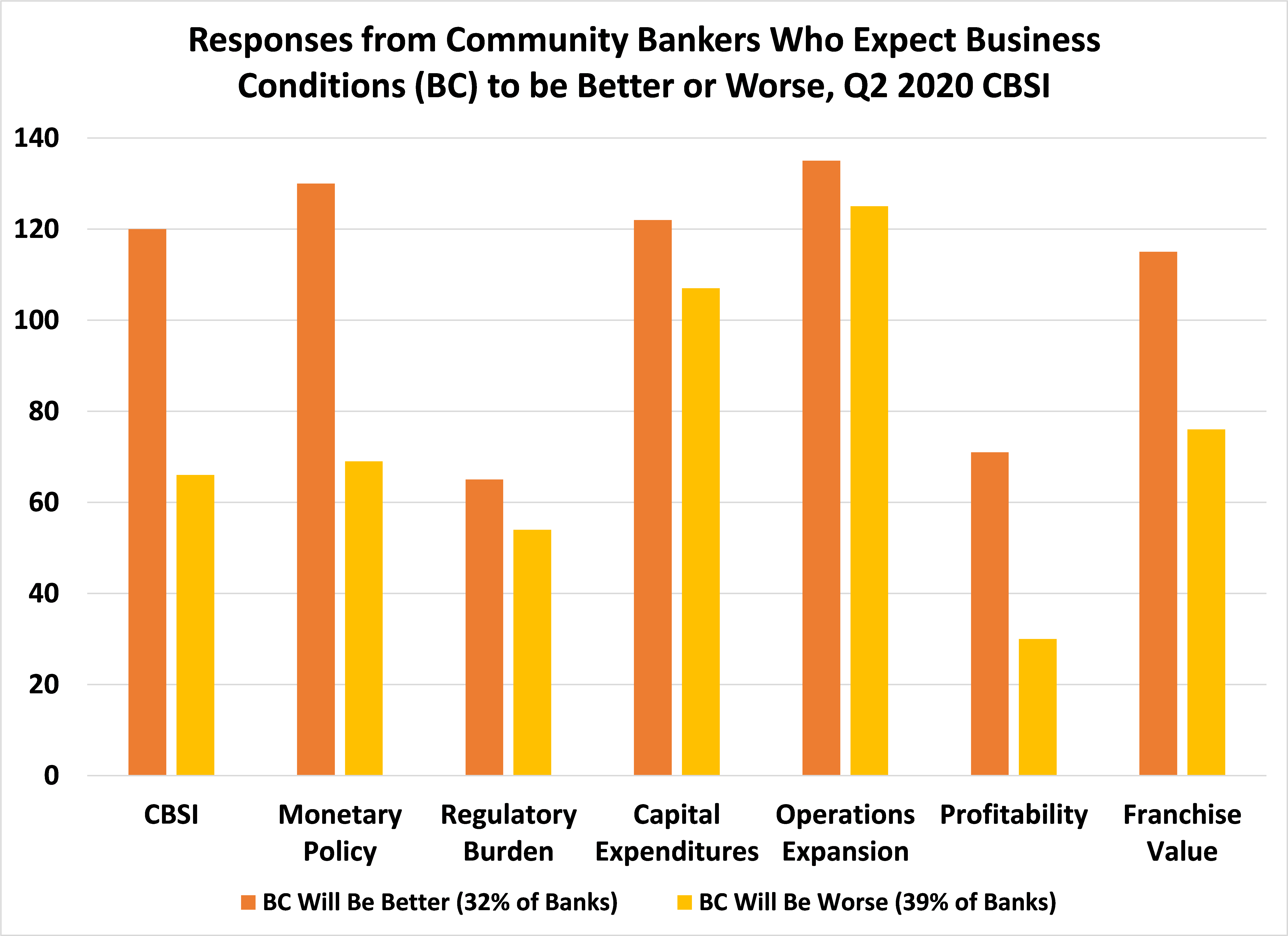 What can we conclude from this? Community bankers who expect business conditions in their markets to improve appear to be encouraged by a monetary policy that is helpful; whereas those who expect business conditions to worsen seem to be discouraged by monetary policy actions. Community bankers who expect business conditions to improve also expect to increase their franchise value; whereas those who do not expect conditions to improve expect their franchise value to weaken. And community bankers in both camps―those who expect conditions to improve and those who expect them to worsen―presume profitability will suffer, although the more optimistic bankers' expectations are not nearly as gloomy. 
Furthermore, it appears that community bankers in both groups anticipate they will increase capital spending and expand operations. This is good news, although the levels are down from previous surveys. And finally, community bankers in both clusters expect the regulatory burden to be heavier. While this component has been a drag on the overall index since its inception last year, it has reached a historic low and is a concern going forward as community bankers deal with the inevitable loan problems that will occur as the nation finds its way out of this pandemic and economic crisis.
In conclusion, while the overall second quarter 2020 CBSI stayed close to the first quarter index value, the makeup of the seven components is telling a new story. The responses to the most recent survey seem to imply that community bankers have accepted that they will need to adjust to lower profitability and a reduced franchise value, while also having to deal with a heavier regulatory burden. But they also appear to be more optimistic that business conditions will improve, and that monetary policy will be more beneficial. Community bankers envisaging better business conditions ahead are more optimistic across all factors in the survey, but especially with respect to monetary policy, profitability, and franchise value. 
At some point, this crisis will end, and the economy will recover. In the meantime, community bankers have stepped forward to help consumers and businesses bridge the gap. In the future, bank profitability may decline, but community bankers will continue to serve their communities and their customers, adding value in a myriad of ways.
Related Posts
Apr 19, 2022

Apr 12, 2022

Apr 6, 2022
Get Updates
Subscribe to CSBS
Stay up to date with the CSBS newsletter