Blog post
Community Bankers' Prospects on Profits Drive Outlook
Apr 19, 2021
By Thomas F. Siems, Ph.D., CSBS Senior Economist and Director of Research
Community bankers are expecting higher profits, which in turn is making them more optimistic about the future economy.
The headline number from CSBS's first quarter 2021 Community Bank Sentiment Index (CBSI) was 115, up significantly from the fourth quarter 2020 reading of 98, and meaningfully above the neutral reading of 100. Six of the seven components that make-up the index improved, with bankers' expectations for higher profitability rocketing up from 62 to 105 and contributing the most to driving overall sentiment upward. Bankers expecting higher profits are more optimistic overall, with an average CBSI score of 142. The average CBSI for bankers expecting profits to remain the same was 115, while those expecting lower profits averaged 84. 
As shown in the nearby chart, the first quarter 2021 component that assesses "future profitability" is only marginally above the neutral level of 100. At 105, the component index indicates that community bankers expect future profits to be higher for the first time since the fourth quarter 2019 survey. The 43-point quarterly surge in the index was the largest quarterly increase among the seven components since the inception of the CBSI in early 2019. CBSI readings can range from 0 to 200, where values above 100 indicate positive sentiment and those below 100 point to negative sentiment.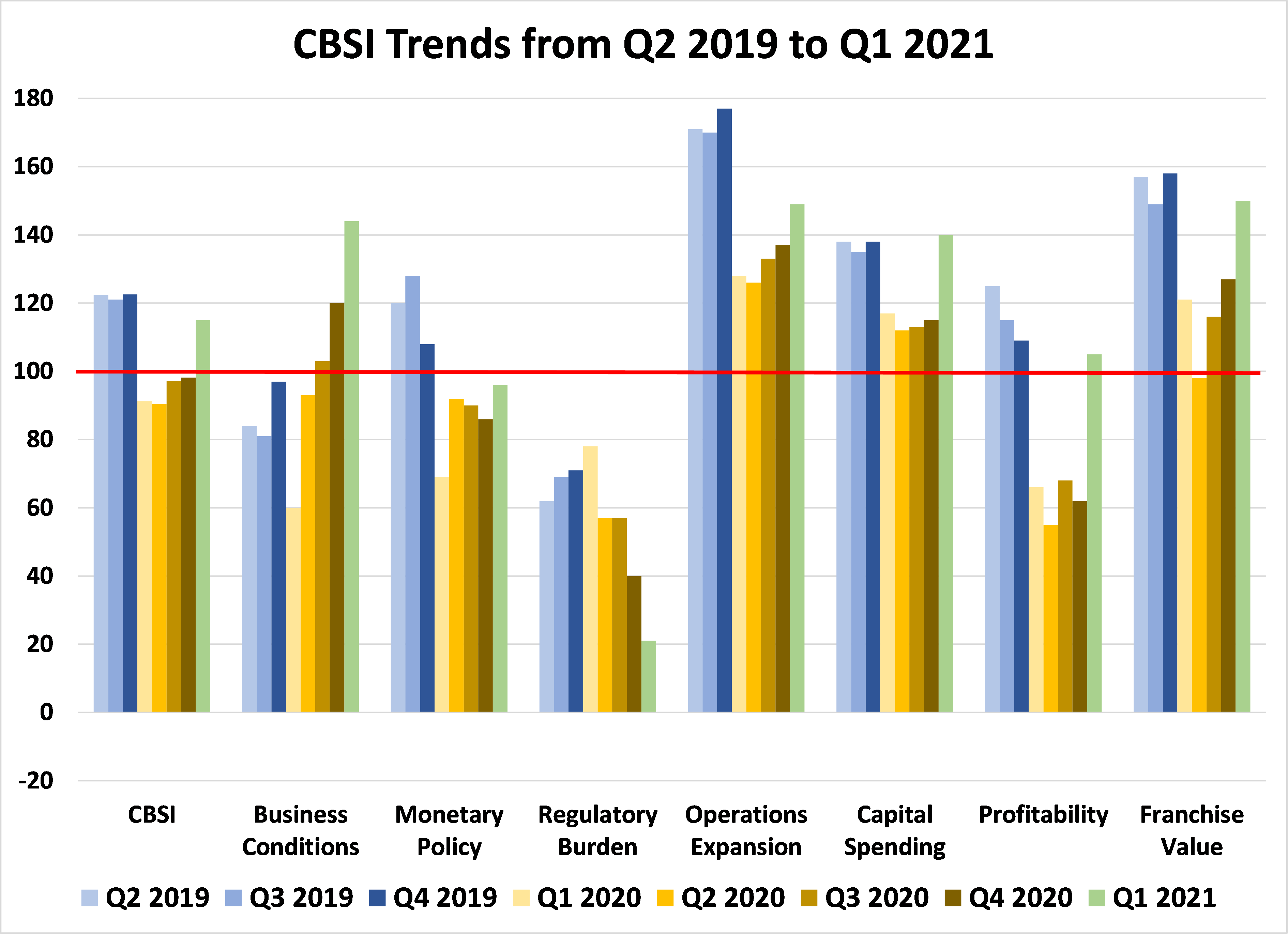 A deeper dive into the first quarter 2021 CBSI responses shows that 38% of community bankers expect their profits to increase in the coming months, 29% say they will stay the same, and 33% presume their profits will decline. This fairly-even split gives us an opportunity to test for statistical differences between the groups (particularly between the group of bankers expecting higher profits from those anticipating lower profits) for responses to other questions we include in the survey. 
CBSI and Component Sentiment
The chart below shows the average values for the components that make up the CBSI and the first quarter 2021 CBSI for the three groups of bankers described above; that is, for those bankers who expect their profitability to increase (black bars), remain the same (grey bars), or decline (red bars). As shown in the chart, community bankers who are optimistic about their future profitability tend to also be optimistic about the other CBSI components, except for the "regulatory burden" component where there was no statistically significant difference between the groups.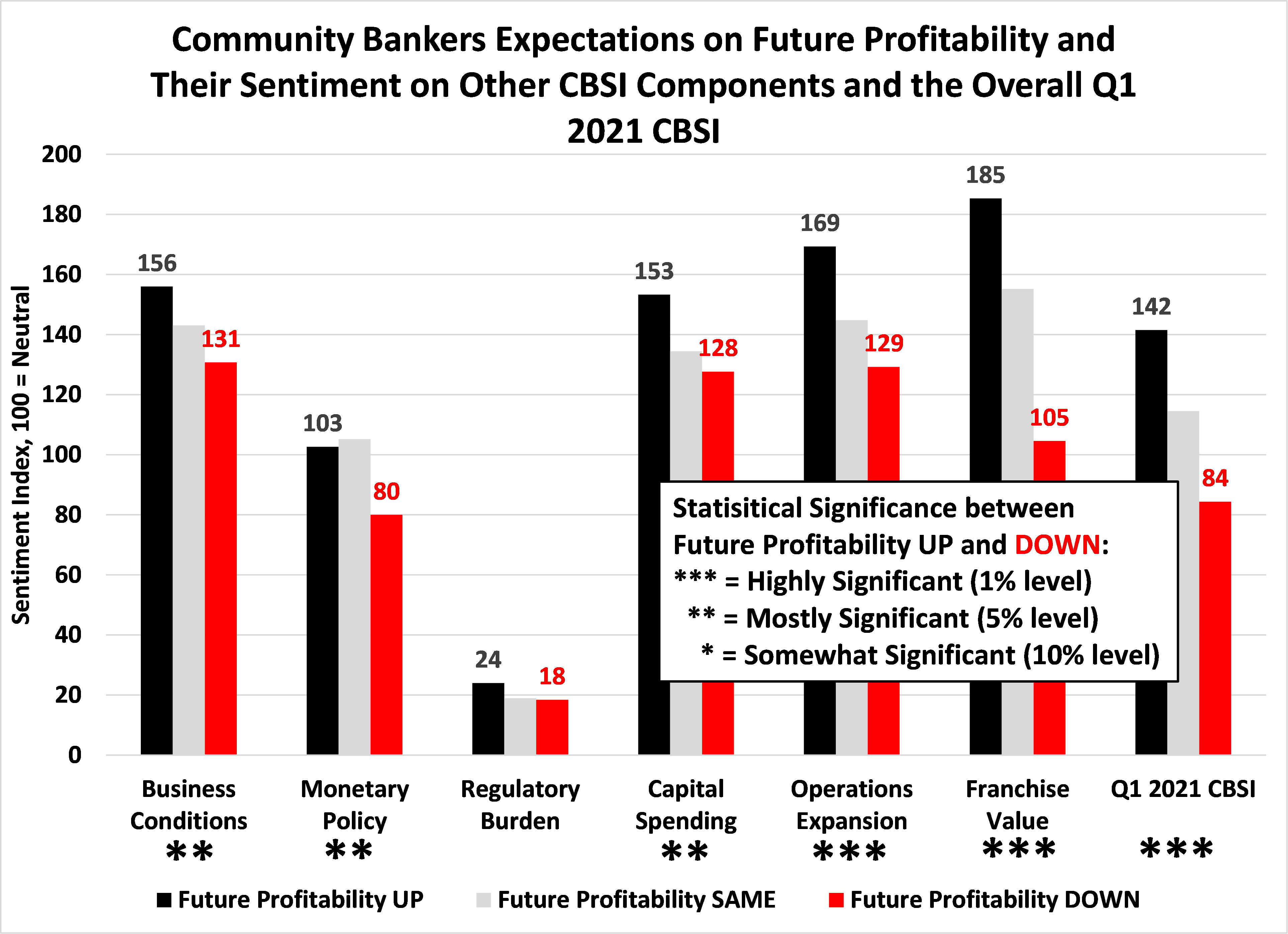 For the overall CBSI, the average sentiment scores of bankers expecting higher future profitability from those anticipating lower profitability were statistically different at a highly significant level. The components with the most significant statistical differences were "franchise value" (185 versus 105) and "operations expansion" (169 versus 129). Three other components also had statistical differences in average values, but at slightly less significance: "business conditions" (156 versus 131), "monetary policy" (103 versus 80) and "capital spending" (153 versus 128). Again, the only component that did not show any statistical difference in mean values was "regulatory burden" (24 versus 18). 
On the one hand, these results might not seem too surprising because bankers who are optimistic about future profitability seem more likely to expand their operations, increase capital spending, expect better business conditions and ultimately increase their franchise values. They are the bankers driving the overall index higher and, for this quarter, back into positive sentiment territory. Compared to last quarter, the percentage of bankers in the "higher profits expectations" group increased from 20% to 38%, while those in the "lower profits expectations" group declined from 58% to 33%. 
On the other hand, the results also show no statistically significant difference between the two groups for the "regulatory burden" component, which, at 21 for all 200 bankers surveyed this quarter (shown in the first chart above), has fallen to an historic low. Community bankers' concern over a heavier hand in regulation is not new, but the latest survey―with 81% of bankers expecting a greater regulatory burden―is dramatically more downbeat than in all our previous surveys. 
Conclusion
It is encouraging that all three groups of bankers examined herein―those expecting higher profits, those assuming profits will remain the same, and those presuming lower profits―are anticipating better future business conditions, with plans to increase capital spending and expand operations and ultimately have higher franchise values. But, as we have shown, there are statistically significant differences in these components between bankers expecting higher profitability from those expecting lower profitability. And these differences bring about a big divergence in overall sentiment, ranging from an optimistic value of 142 for bankers planning on higher profits to a pessimistic index of 84 for those expecting profits to fall.
There is one component in the CBSI that is not different between these two groups of community bankers. Bankers expecting higher profits as well as those expecting lower profits are very concerned that the regulatory burden will be heavier in the future. Because community bankers know a lot about the financial health of businesses and consumers in their communities, they are in the best position to help them monitor and manage these risks. 
This should ring a bell for financial regulators to encourage communications with the banks they regulate. What exactly are the specific concerns in that region? How can regulators encourage banks to continue to help their communities while ensuring safety and soundness? By supporting these bankers, communities across America will benefit.
Related Posts
Sep 6, 2022

Jul 19, 2022

Jul 8, 2022
Get Updates
Subscribe to CSBS
Stay up to date with the CSBS newsletter