Blog post
COVID-19 and the Value of Community Banks
Apr 13, 2020
By Thomas F. Siems, Ph.D., CSBS Senior Economist
The potential economic impact from COVID-19's spread into the United States has unsettled community bankers across the nation. Responding to CSBS' first quarter 2020 survey used to compile the Community Bank Sentiment Index (CBSI), community bankers judged that business conditions and profitability will be significantly worse in the future as an unprecedented number of companies suspend economic activity. Not only have concerns over economic disruptions been felt on Wall Street, but many Main Streets across America have turned into ghost towns in a very short time. 
Overall, for this survey, the CBSI dropped an alarming 32 points from an index reading of 123 last quarter to 91 currently. As shown in the chart below, six of the seven components that make up the index declined, with five components plummeting more than 35 points each. The three components with the lowest index readings include business conditions, falling 37 points from 97 to 60; profitability dropped 43 points from 109 to 66; and monetary policy dove 39 points from 108 to 69. Even with these momentous falloffs, there is some good news in this survey. Community bankers maintain a positive sentiment, albeit by not as much as in the previous survey, to expand operations, increase capital spending, and boost franchise value.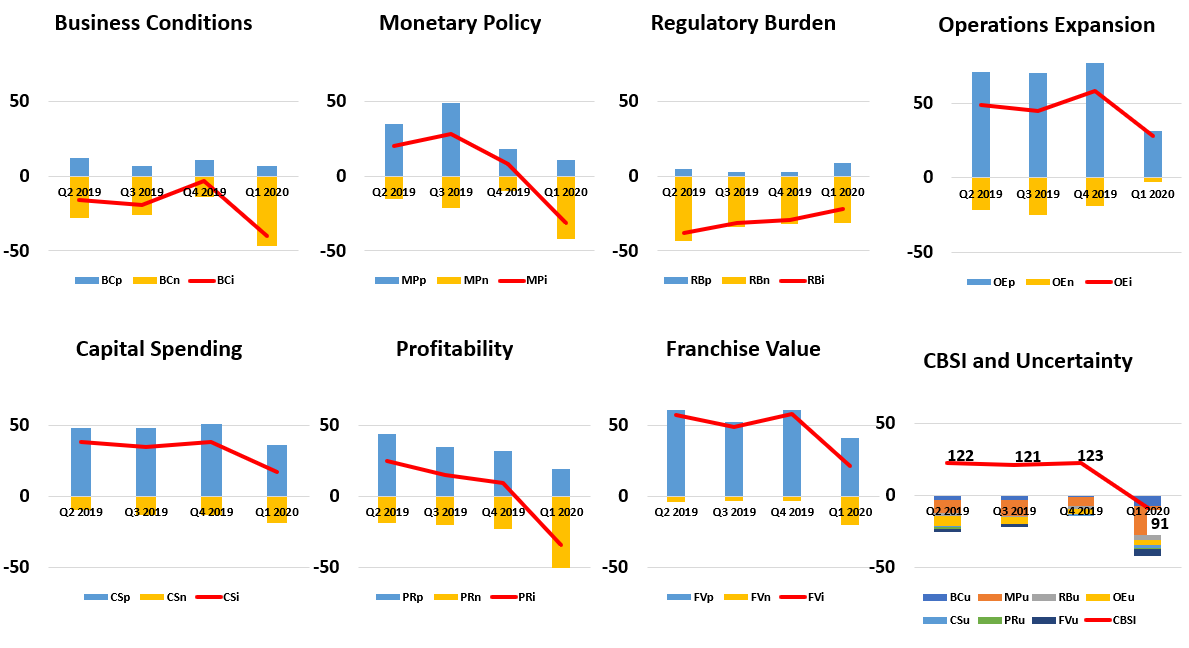 What industries are community bankers most concerned about? Our survey included a special question asking bankers to provide an outlook for each of 10 economic sectors, ranging from 1 (negative) to 5 (positive). The overall scores using this 5-point Likert scale are shown in the chart below, with the sectors ranked from the highest, or best outlook, to the lowest, or worst outlook. 
Community bankers are clearly most concerned about future economic activity in the energy sector and "high-touch" service industries like tourism, restaurants and retail. And based on the recent monthly payroll employment report and the last two weeks of initial jobless claims, the outlook does indeed seem to be bleakest in these sectors as businesses and consumers learn to adjust to an economy that is, in many ways, shutdown.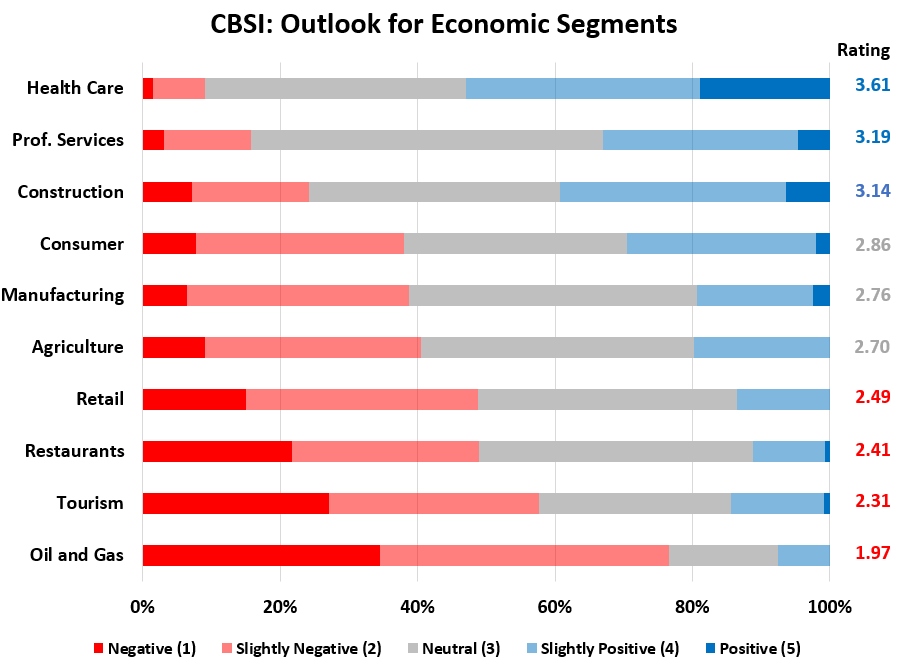 Because our survey accepted responses throughout the month of March, we were able to also track the responses on a weekly basis and found some revealing trends in bankers' outlooks for the various economic sectors. The middle of March―say March 11, when the WHO declared COVID-19 as a global pandemic and many U.S. businesses began postponing and cancelling scheduled events―marks a clear turning point in how bankers reassessed the negative impact from the spread of COVID-19. The chart below shows how bankers judged each of the 10 economic sectors included in our survey on a weekly basis. As shown, the outlook for every economic sector deteriorated during the month across the board, but most significantly for consumers (down 1.65 on the Likert scale), restaurants (down 1.58), and tourism (down 1.45).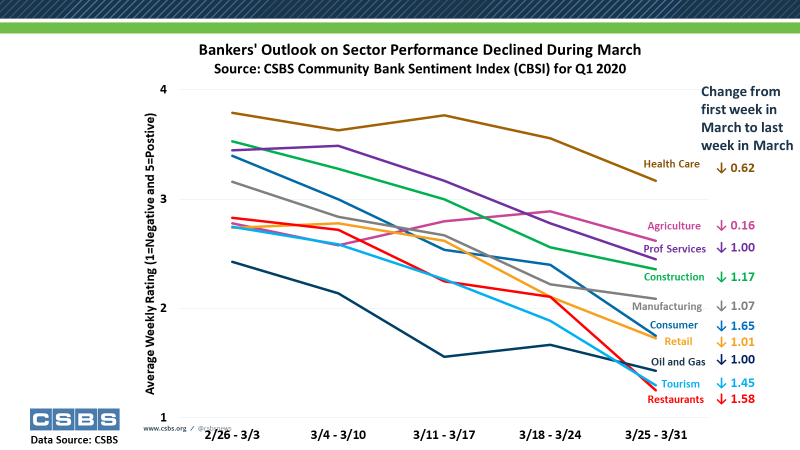 Our economy depends heavily on the health and confidence of consumers. Gross Domestic Product (GDP) is the value of all final goods and services produced in the economy. In the United States, 70% of our GDP comes from consumption. Without a strong, confident, active consumer, our economy will continue to struggle. But, of course, consumers rely on businesses, both large and small, to provide them with the goods and services they most desire and need. Yet with most businesses forced to shutter, or significantly scale-back operations, revenues have stalled, and cash flow problems have intensified.
And this is where the banking industry can step in and help. I have been greatly encouraged by stories from my friends who are community bankers. For them, this is a great opportunity to help their customers, especially small businesses in their communities, work through a really, really, really tough time. 
COVID-19 will end. The economy will recover. In the meantime, as we all navigate the fires of hell from COVID-19's economic destruction, celebrate and thank your local community banker for helping bridge the gap.    
Related Posts
Jun 22, 2022

Jun 14, 2022

May 5, 2022
Get Updates
Subscribe to CSBS
Stay up to date with the CSBS newsletter