Blog post
COVID-19 Continues to Wreak Havoc on U.S. Employment
Apr 9, 2020
By Thomas Siems, CSBS Senior Economist and Director of Research
Here we go again. After nearly 10 million Americans lost their jobs during the previous two weeks of March, this week's initial weekly jobless claims added another 6.6 million. With these additional job losses, total nonfarm payroll employment in the United States has likely fallen to around 135 million workers, a level not seen since early 2013. Moreover, a rough calculation suggests the U.S. unemployment rate would immediately rise from its February level of 3.5%, a 50-year low, to roughly 13.6% today, an unprecedented monthly increase of more than 10 percentage points. 
Similar to my blog from last week, I've examined the impact these job losses might have on state-level unemployment rates. I've provided snapshots over the last three weeks to illustrate the devastating blow that voluntary and forced business closures and shelter-in-place measures have had on employment levels from the spread of COVID-19. Chart 1 shows the state-level unemployment rates for February 2020, before COVID-19 was generally considered a major concern; Chart 2 shows the potential unemployment rate for each state projected by factoring in the March 21 initial jobless claims data; Chart 3 shows the potential unemployment rates projected by including last week's (March 28) initial jobless claims data; and Chart 4 shows the potential unemployment rates by adding in this week's (April 4) initial jobless claims numbers.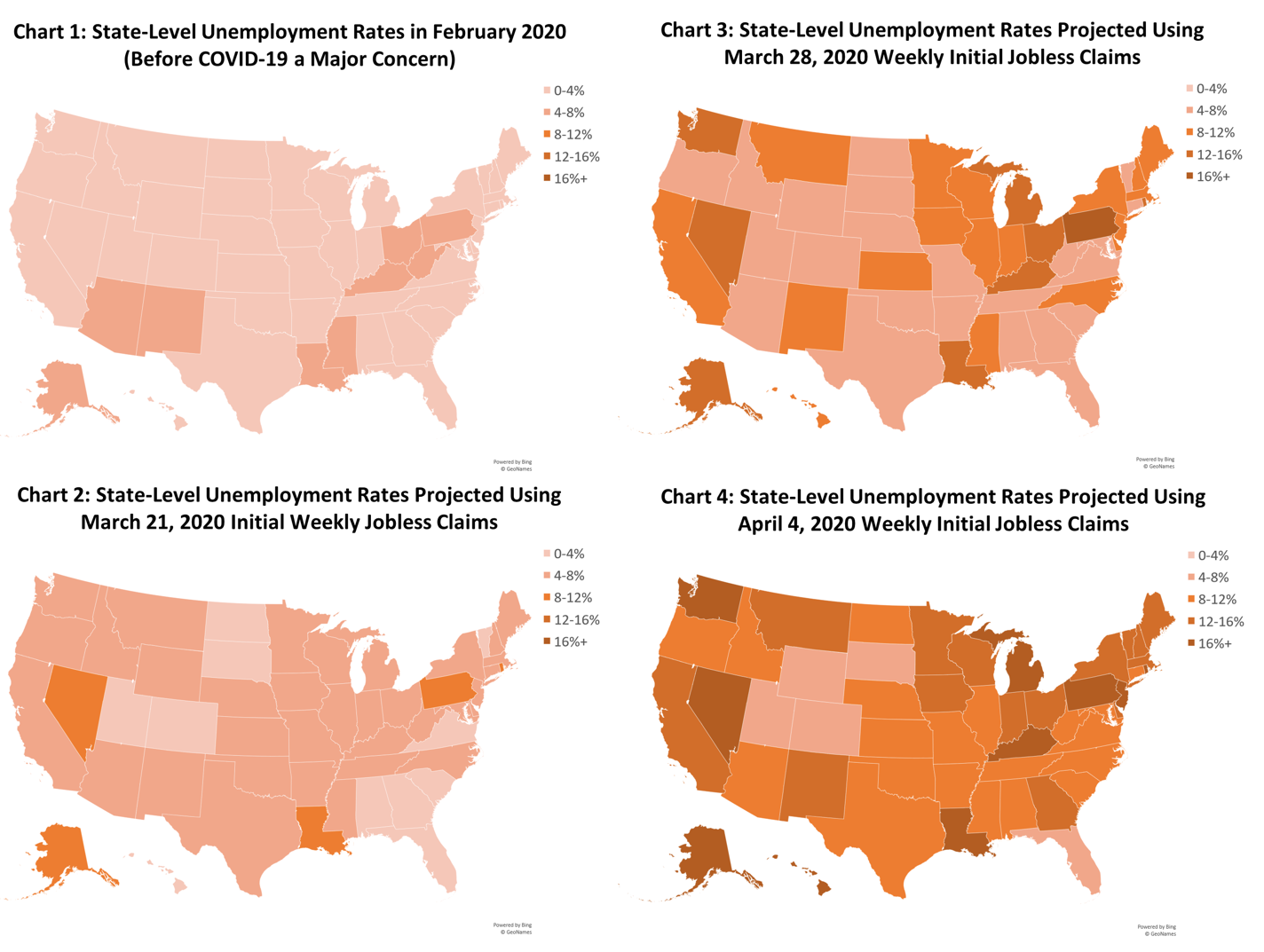 Based on these calculations, 10 states currently have unemployment rates exceeding 16%. Even during the worst period of job losses in the 2008-09 financial crisis, no state exceeded a 14% unemployment rate. The states with the largest projected unemployment rate increases are expected to be Michigan (3.6% to 20.3%), Hawaii (2.7% to 19.2%), Rhode Island (3.4% to 19.8%), Pennsylvania (4.7% to 21.0%) and Nevada (3.6% to 19.3%). These five states are also projected to be have the highest state-level unemployment rates in the union. For the most populous states, the projected unemployment rate increases are as follows: California (3.9% to 14.1%), Texas (3.5% to 8.7%), Florida (2.8% to 7.3%) and New York (3.7% to 12.0%).
Job losses are likely to continue to mount throughout April while the government's COVID-19 social distancing guidelines remain in effect. As long as businesses stay closed and consumers stay home, decreases in spending and incomes will continue to result in economic contraction and more job losses.
But at some point―hopefully this month, maybe next month, conceivably later―the U.S. economy will reopen for business. I remain optimistic that interventions by the Federal Reserve and the federal government will provide a necessary bridge for consumers and businesses to weather the significant economic retrenchment caused by the spread of COVID-19 across America. And I am encouraged by news of the nation's new patriots―health care workers, grocery store clerks, delivery folks, bankers, etc.―who are stepping up to help their fellow Americans make it through this crisis. Together, we will overcome. Take care of yourself and take care of others.
My thanks to Brennan Zubrick and Jake Vick on the CSBS Data Analytics Group for their help creating these charts.
Related Posts
Sep 14, 2020

Jun 17, 2020

May 12, 2020
Email Subscribe Block Newsroom