Apr 2, 2020
By CSBS Senior Economist and Director of Research Thomas Siems
If you thought last week's 3.3 million initial weekly jobless claims were extraordinarily extreme, the 6.6 million individuals added to the unemployment rolls for the most recent week ending March 28 are astronomical (see Chart 1). According to the U.S. Department of Labor, nearly 10 million Americans filed for unemployment insurance over the last two weeks. By comparison, during the 2008-09 financial crisis, the U.S. economy lost 8.7 million jobs. Let that sink in. More people have been removed from payrolls in the last two weeks than the number of jobs lost over two years during the nation's most severe recession since the Great Depression of the 1930s.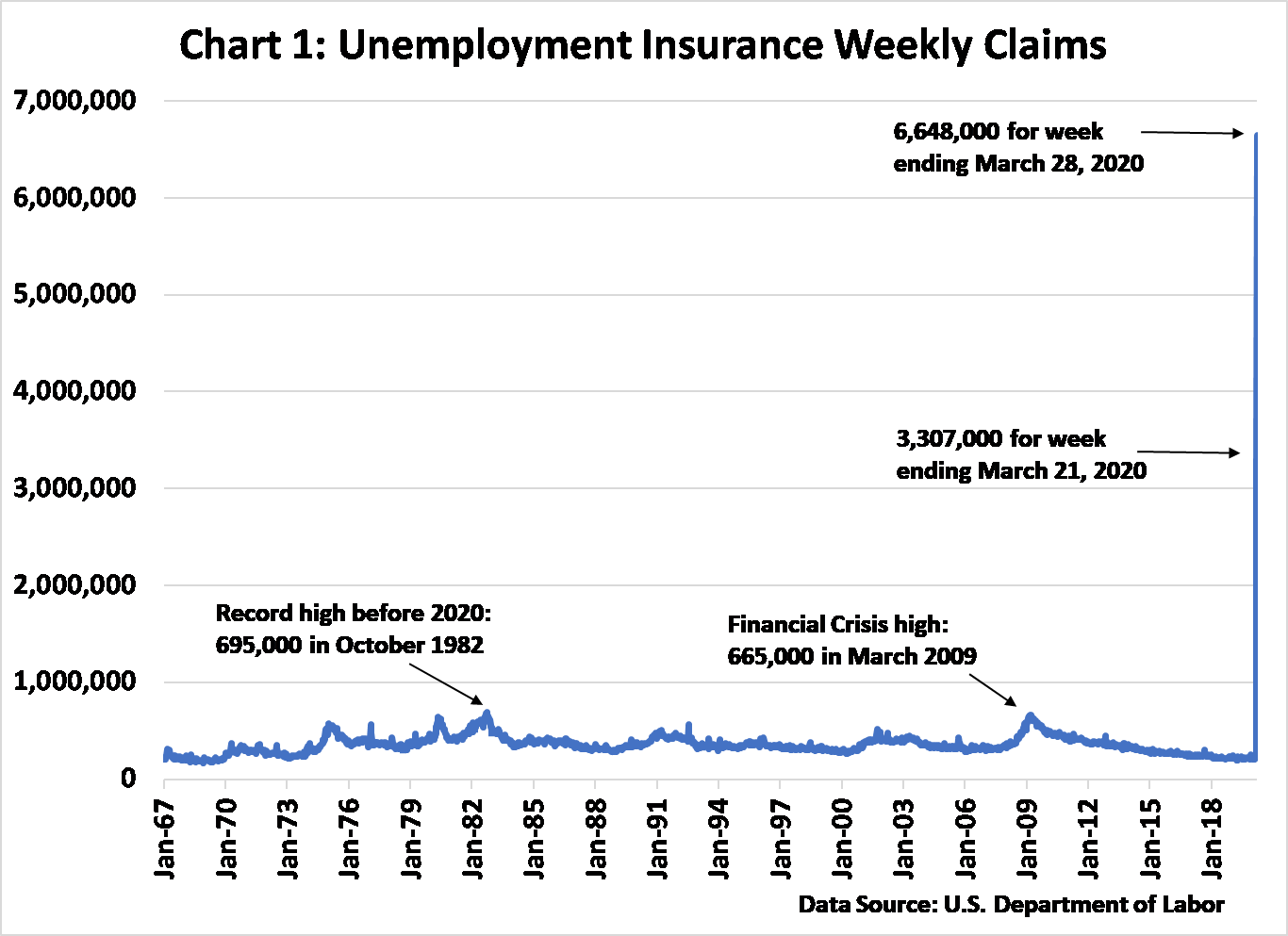 Like I did in last week's blog, using only the new initial claims data from the past two weeks, a rough calculation suggests the U.S. unemployment rate would immediately rise from its February level of 3.5% to roughly 9.6% today, an increase of 6.1 percentage points. USA Today estimates that 36 states have some kind of "stay-at-home" order in place, affecting nearly 90% of the population. The spread of COVID-19 has led to the closing of many nonessential businesses which has resulted in an overwhelming number of employee layoffs.
The impact on employment has been felt across all 50 states and the District of Columbia. As an update to last week's blog, I add one additional chart to show the expected immediate impact on state-level unemployment rates using the March 28 numbers. Chart 2 shows the state-level unemployment rates for January 2020, before COVID-19 was generally considered a major concern; Chart 3 shows the potential unemployment rate for each state projected by factoring in last week's (March 21) initial jobless claims data; and Chart 4 shows the potential unemployment rate for each state projected by factoring in this week's (March 28) initial jobless claims data. Chart 5 shows the expected change in the state-level unemployment rates between January 2020 and today.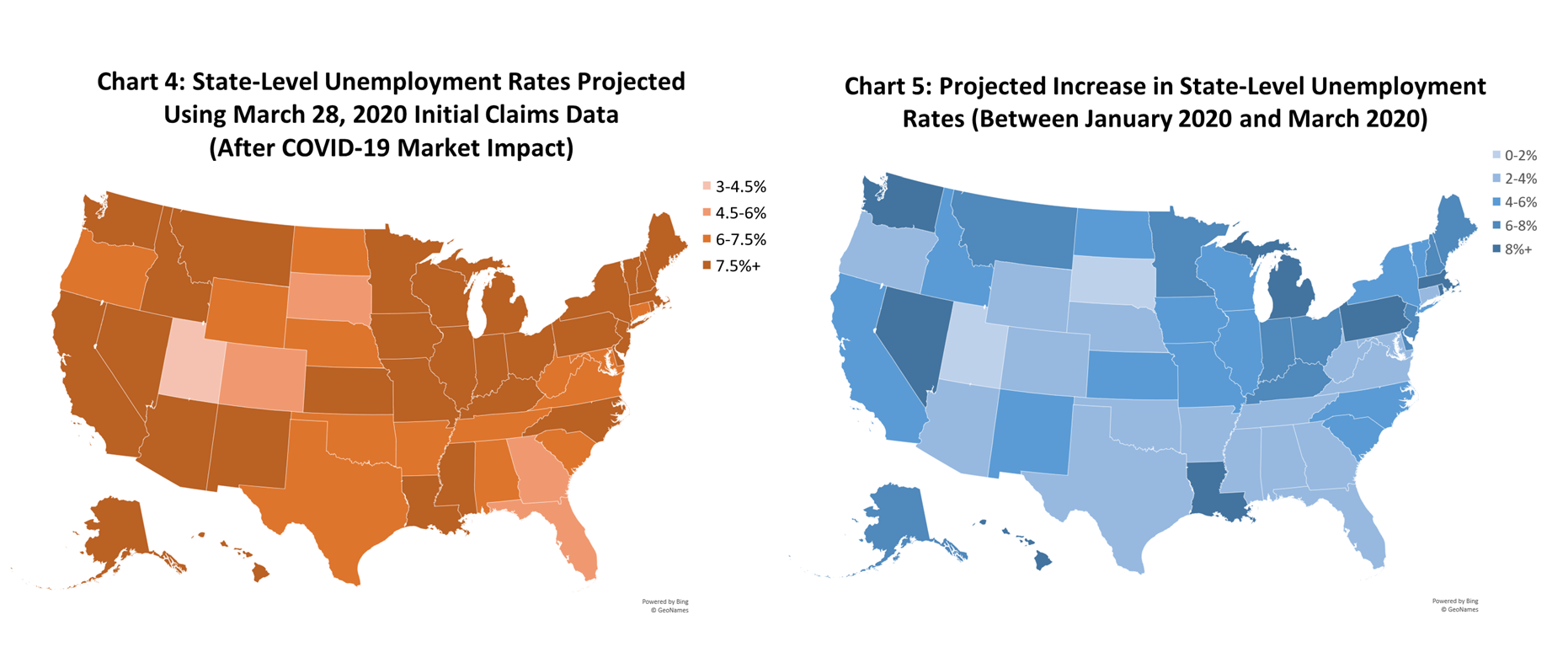 Based on these calculations, through March the states with the largest projected increases in state-level unemployment rates are expected to be Pennsylvania (4.7% to 16.7%),  Rhode Island (3.4% to 14.8%), Nevada (3.6% to 14.2%), and Michigan (3.8% to 12.7%). These four states are also projected to be among the five states with the highest unemployment rates, along with Louisiana which is expected to rise from 5.3% to 13.4%. For the most populous states, the projected unemployment rate increases are as follows: California (3.9% to 9.3%), Texas (3.5% to 6.5%), Florida (2.8% to 5.7%) and New York (3.8% to 8.5%). 
Earlier this week, President Trump extended his administration's COVID-19 social distancing guidelines to go through April 30. As a result, and because the number of COVID-19 cases and deaths continue to rise, the economic pause around the world will continue and we should expect higher unemployment rates still to come. Some estimates for the overall U.S. unemployment rate run as high as 32%, above the peak rate of 24.9% in 1933 during the Great Depression. An unemployment rate of 25% today would result in layoffs of nearly 38 million Americans, returning the total number of U.S. jobs back to 1994 levels.
But if there is any good news it is that going into this crisis the economy was doing reasonably well. Indeed, just over a month ago the major stock indices were hitting all-time highs, the U.S. unemployment rate was at a 50-year low, and the economy added more than 270 thousand jobs. With this foundation and swift action by monetary and fiscal policymakers, many economists expect the downturn to be followed by a quick and strong recovery. Of course, that remains to be seen because the open question is "how long will this go on?" which no one can clearly answer. 
Even so, I remain confident that as a nation we will come through this stronger and better. It has been awe-inspiring as individuals and businesses step up to face the challenge we are all experiencing. Continue fighting this invisible enemy. Take care of yourself and take care of others.
My thanks to Brennan Zubrick and Jake Vick on the CSBS Data Analytics Group for their help creating these charts.
Related Posts
Sep 14, 2020

Jun 17, 2020

May 12, 2020
Email Subscribe Block Newsroom