Blog post
Declining Profit Expectations Dim Community Bankers' Outlook
Oct 19, 2021
By Thomas F. Siems, Ph.D., CSBS Senior Economist and Director of Research 
Community bankers indicate greater concern that their profitability will decline next year, which has made them less optimistic than they were earlier in 2021, according to the CSBS third quarter Community Bank Sentiment Index (CBSI). Compared to the second quarter survey, all seven components that comprise the index dropped, with nearly 90% of the decline coming from three factors―profitability, business conditions, and franchise value―with most of the drop due to falling profit expectations. 
Community bankers are clearly concerned about how they will earn profits in an economic environment characterized by high deposit levels, low loan demand and compressed net interest margins. Moreover, the third quarter CBSI also suggests that community bankers remain uneasy about a potential heavier-handed regulatory environment and prospects of a worsening economic outlook from monetary policy decisions  
100
The current Community Bank Sentiment Index Number. Anything above 100 indicates a positive sentiment and anything below 100 indicates a negative sentiment. Last quarter's number was 115.
The headline number from the third quarter 2021 CBSI was 100, down 15 points from the first and second quarter 2021 readings but still higher than the record low sentiment scores registered during each quarter of 2020 (see Chart 1). With a value of 100 considered neutral, Chart 1 shows that community bankers currently are less optimistic than they were earlier this year, with sentiment closer to levels recorded in the second half of 2020.  
The chart also shows the level of uncertainty for each quarter―derived by adding up all of the "Don't Know/Not Sure" responses to the seven questions―and indicates less uncertainty now than since the start of the COVID-19 pandemic and subsequent economic lockdowns that began in early 2020. While this quarter's level of uncertainty is basically unchanged from readings earlier this year, more research is needed to understand the effect of uncertainty on the headline index and its components.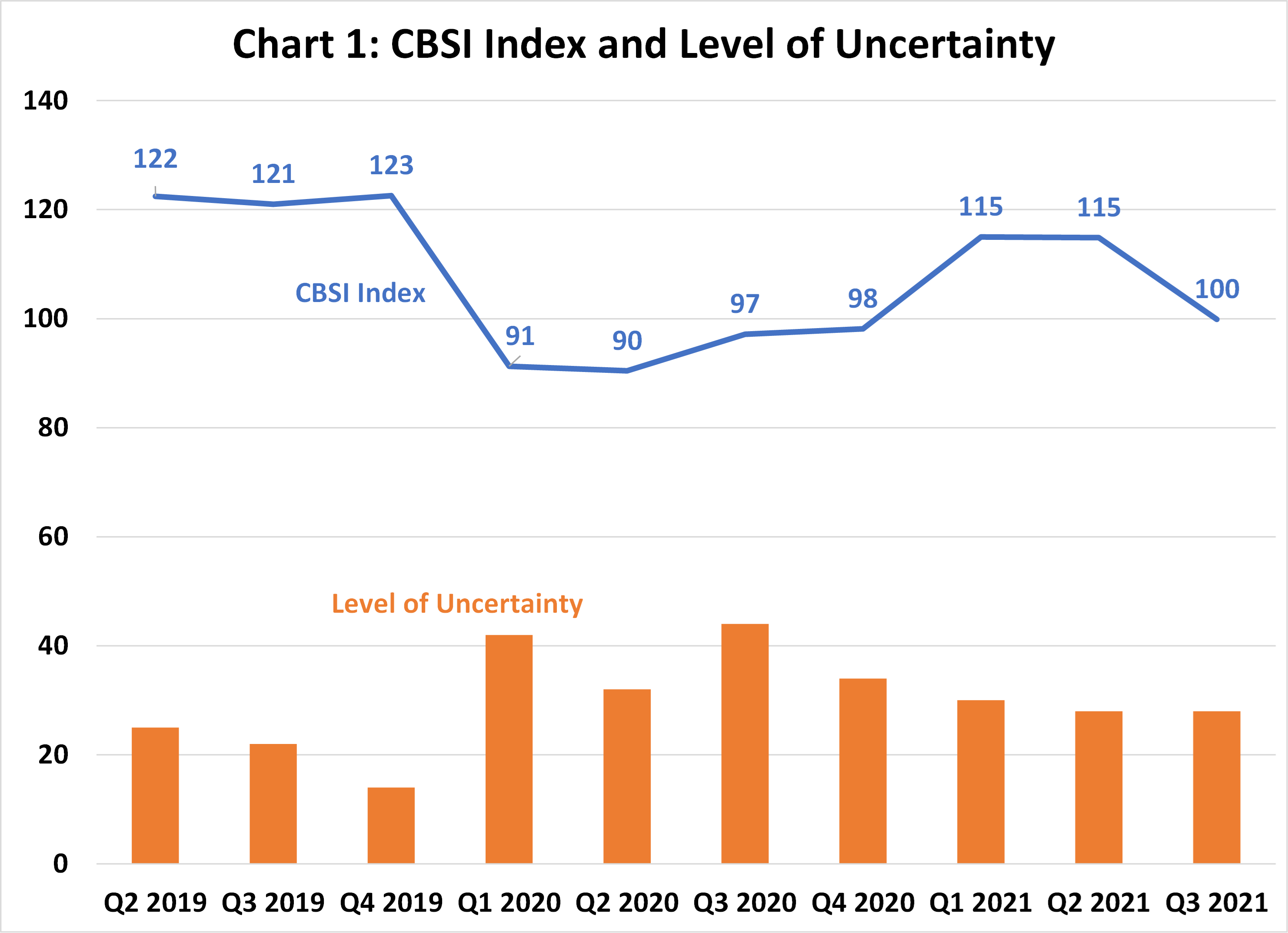 Chart 2 shows the share of positive (green bars), neutral (yellow), negative (red), and "I don't know" (grey) responses to the seven questions that comprise the index. All seven components that make-up the index fell from last quarter's levels. The abbreviations and quarterly component changes are as follows: BC = business conditions (-32); MP = monetary policy (-2); RB = regulatory burden (-4); CS = capital spending (-3); OE = operations expansion (-1); PR = profitability (-41); and FV = franchise value (-20). 
As shown, compared to last quarter the CBSI was driven 15 points lower primarily by future expectations regarding profitability (down 41 points), business conditions (down 32 points), and franchise value (down 20 points). Two of these components managed to stay above the neutral threshold of 100, but profitability fell from 107 to 66. Indeed, earlier this year I wrote that community bankers' expectations on profitability seem to drive the headline index. At that time, the CBSI leapt from 98 to 115, while the profitability component rose from 62 to 105. Now, it seems the opposite has happened.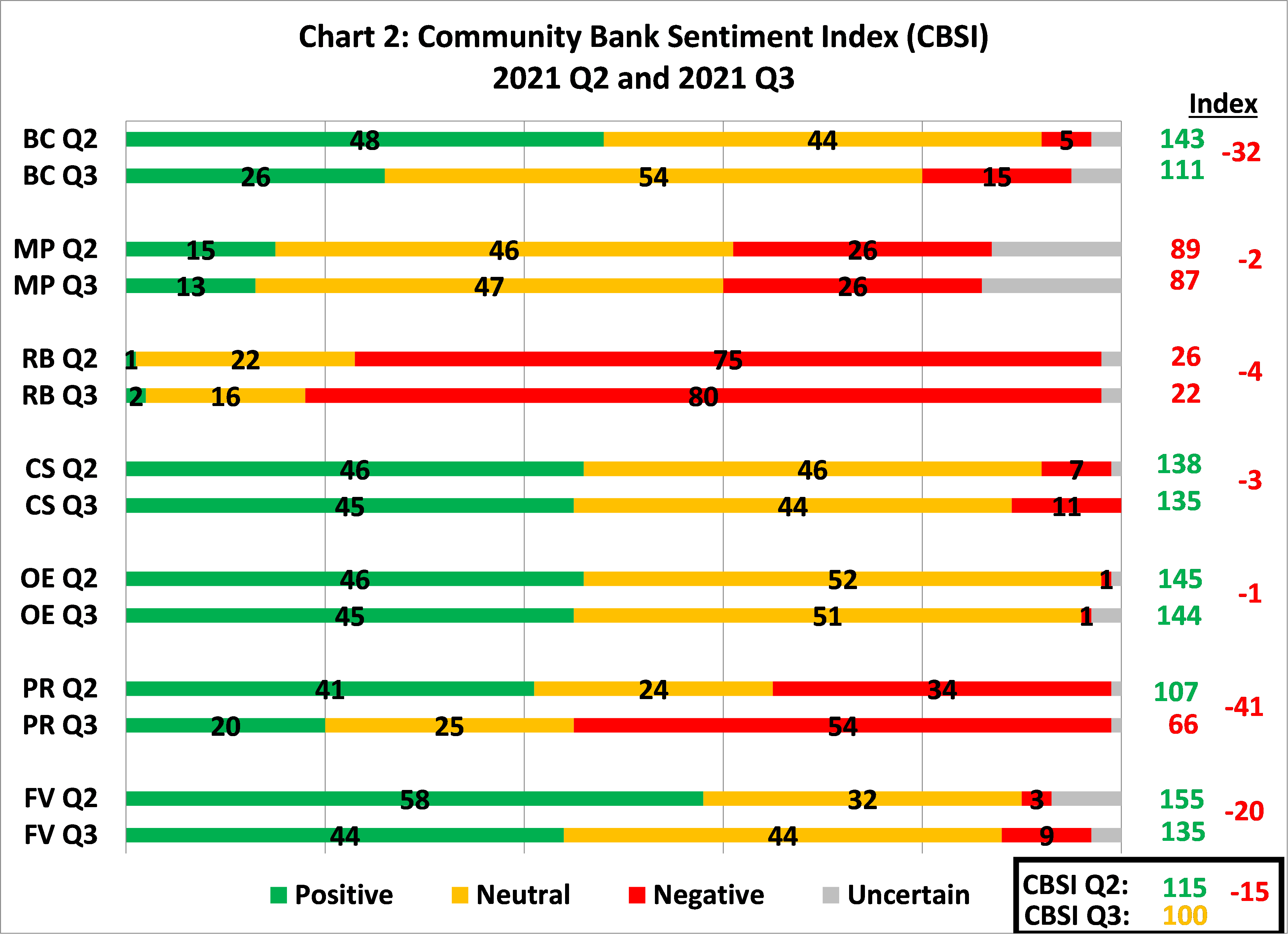 Like previous surveys, results from the third quarter CBSI show that community bankers who expect future profitability to improve are significantly more optimistic than those who expect profits to decline over the coming year. The 20% of bankers with higher profit expectations have an average CBSI of 138; the 26% of bankers expecting no change in profits have a CBSI of 106; and the 54% of bankers expecting lower profits have a CBSI of 83. 
This quarter's survey also shows that community bankers continue to expect a heavier regulatory burden, as well as monetary policy decisions that will worsen their outlook. These components continue to indicate negative sentiment, with the regulatory burden falling from 26 to 22 and monetary policy from 89 to 87. 
Overall, our third quarter survey suggests that community bankers are less optimistic about the future economic environment than they were earlier this year. This decline is driven mainly by expectations that future profits will be lower, as well as a less-optimistic view of future business conditions and franchise values. We also find that community bankers' pessimistic views on regulatory burden and monetary policy continue to negatively weigh on the headline index. 
Related Posts
May 2, 2022

Apr 26, 2022

Apr 19, 2022
Get Updates
Subscribe to CSBS
Stay up to date with the CSBS newsletter