Jun 24, 2021
By Thomas F. Siems, Ph.D., CSBS Senior Economist and Director of Research
The Sorting Hat in J.K. Rowling's Harry Potter book series was a magical hat placed upon the heads of incoming students to determine into which of four houses they would be placed. Right now, it seems that we are in a time where many people―particularly those employed prior to the 2020 recession and still not working today―continue to sort things out with a new perspective on safety and security as they consider how best to implement changes that upended their pre-pandemic home, work and commuting routines. As a result, while many employers indicate a desire to hire more workers, there is growing evidence of labor shortages in several industries across the nation.

As shown in the charts below, the national unemployment rate dropped last month to 5.8%. That is 0.2 percentage points lower than the long-run average rate of 6.0% from 1960 until February 2020, when the unemployment rate was 3.5%. On the flip side, the total number of workers on payrolls remains 7.6 million below its peak level hit in February 2020. 

In other words, while the employment picture is improving and the level of unemployment is arguably better than the U.S. long-run average, we still have a long way to go to get back to the peak payroll employment level reached 15 months ago. Indeed, even by adding an average 500,000 new jobs each month, it could be late 2022 before payrolls notch a new record highpoint.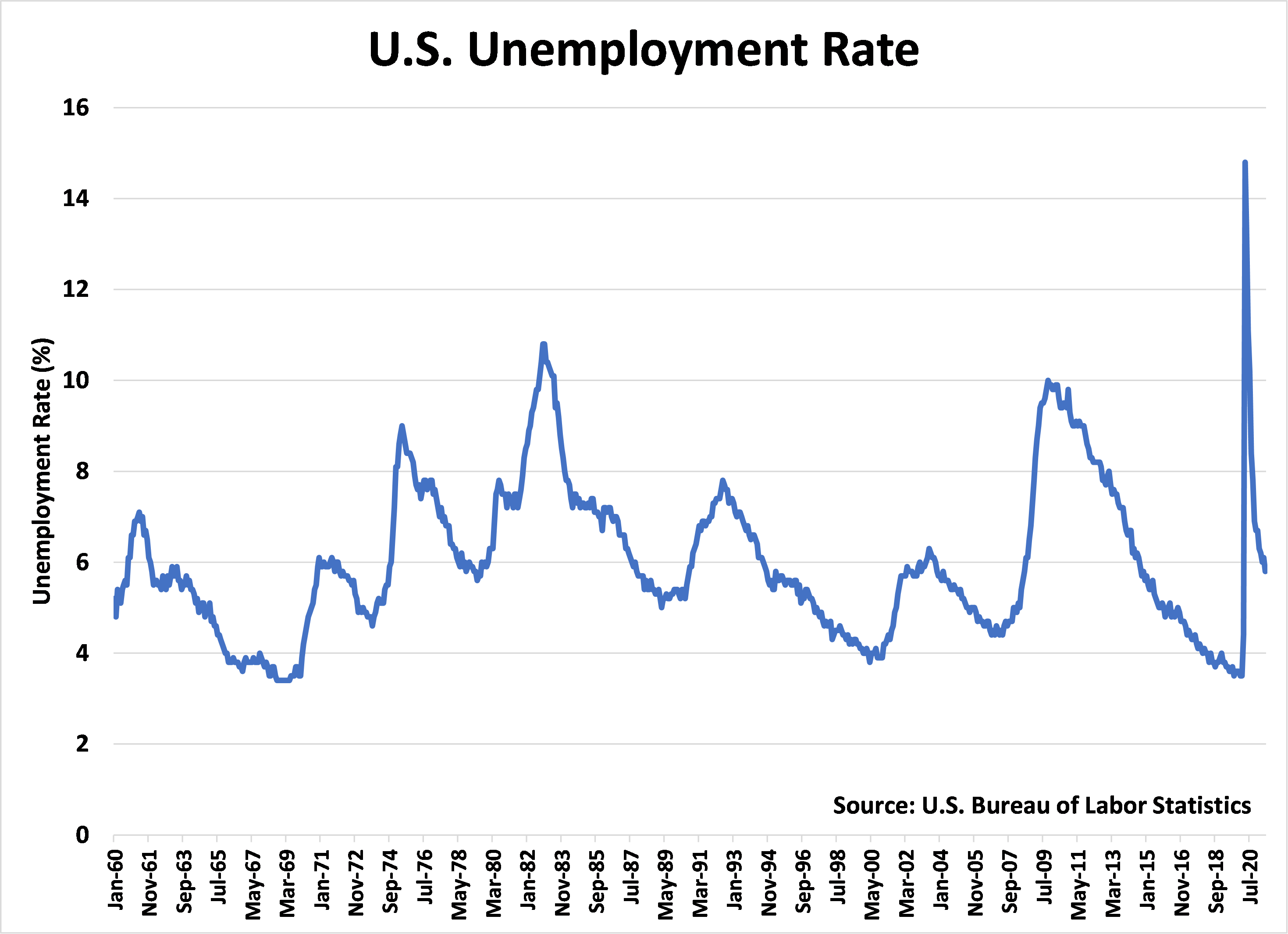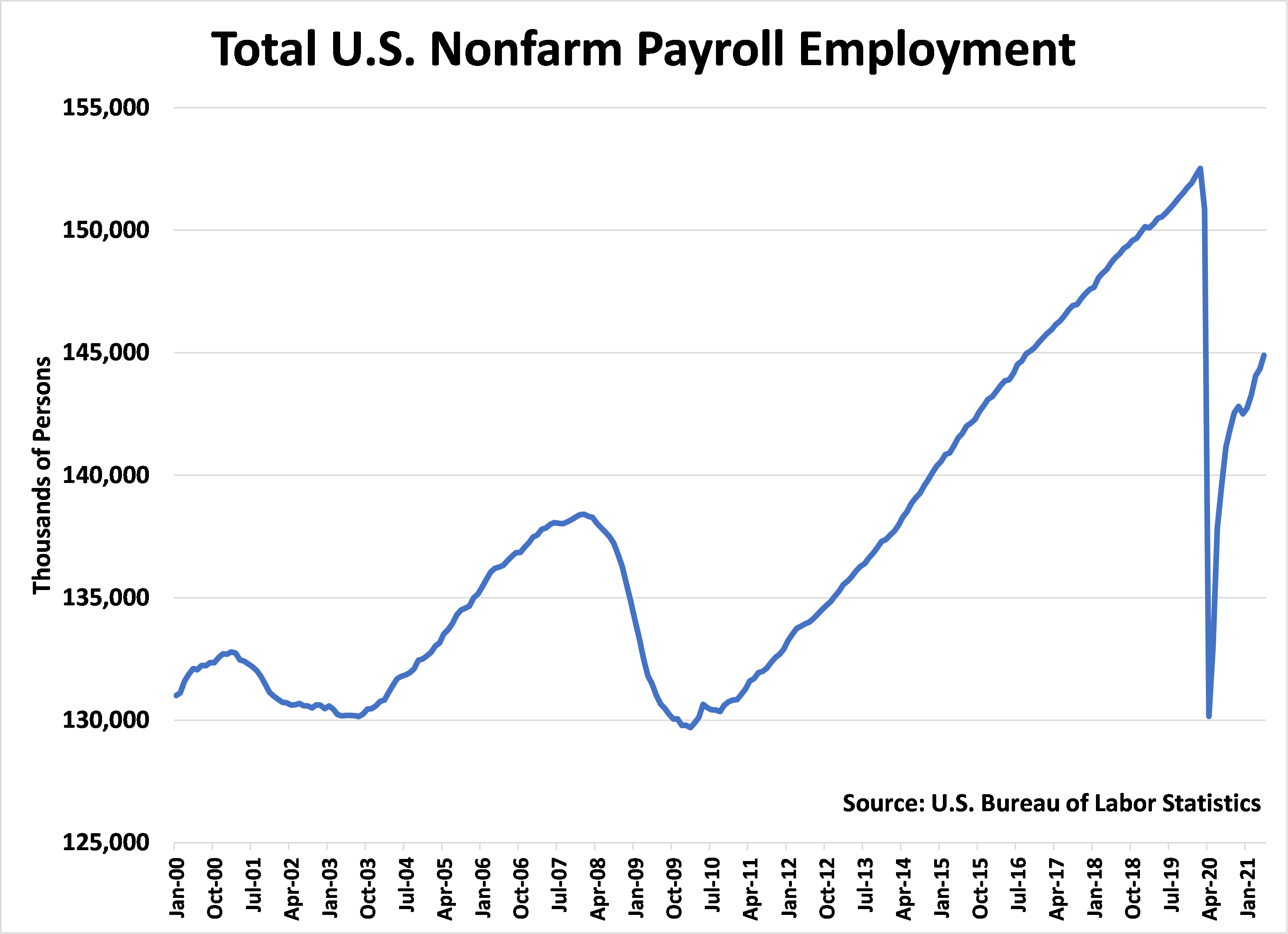 The Employer Perspective
From the employer perspective, filling job vacancies has reportedly become very challenging. In the most recent Beige Book summary of current economic conditions published by the Federal Reserve System, employers indicated difficulties in hiring new workers, especially low-wage hourly workers, truck drivers and skilled tradespeople. As a result, some businesses said they were unable to increase production; others disclosed reducing their hours of operation. Most business leaders expect strong labor demand to continue into the foreseeable future, but with labor supply constrained as it is, a growing number are offering signing bonuses and increasing starting wages to attract and retain qualified workers.

The most recent Job Openings and Labor Turnover Summary data confirm these reports. The number of job openings reached a new record of 9.3 million at the end of April, an increase of one million job openings over the previous month. With hiring remained flat at six million, the jobs available-to-jobs accepted gap widened further. 

Moreover, the National Federation of Independent Business recently related that a record-high 48% of small business owners in May reported unfilled job openings. This statistic is 26 percentage points higher than its 48-year long-run average of 22%. In short, the single greatest concern among small business owners right now is finding and hiring qualified workers. Twenty-six percent of survey respondents listed "Quality of Labor" as their number one concern; taxes (22%) were the second highest concern, and government regulation (13%) third.
The (Potential) Employee Perspective
As expected, and as usual, the demand for workers is increasing as the economic recovery picks up steam. But with almost 12 million fewer workers today than a year ago, why are there shortages in the supply of available labor? Why aren't workers quickly returning to work? 

There are several possible explanations, four of which are suggested here. 

First, Morning Consult tracks consumer confidence on a daily basis and, as shown in the nearby chart, noticed that this daily indicator turned flat in April and May, suggesting a slowdown in hiring and economic growth. In April, they published a report that suggested some barriers to unlocking the full potential of the workforce. That is, childcare and elderly-care responsibilities, personal health concerns, elevated fears of catching the virus through face-to-face interactions, nervousness about the effectiveness of vaccines, new workplace protocols for social distancing, or uneasiness about how to safely commute may have kept many would-be workers on the sidelines.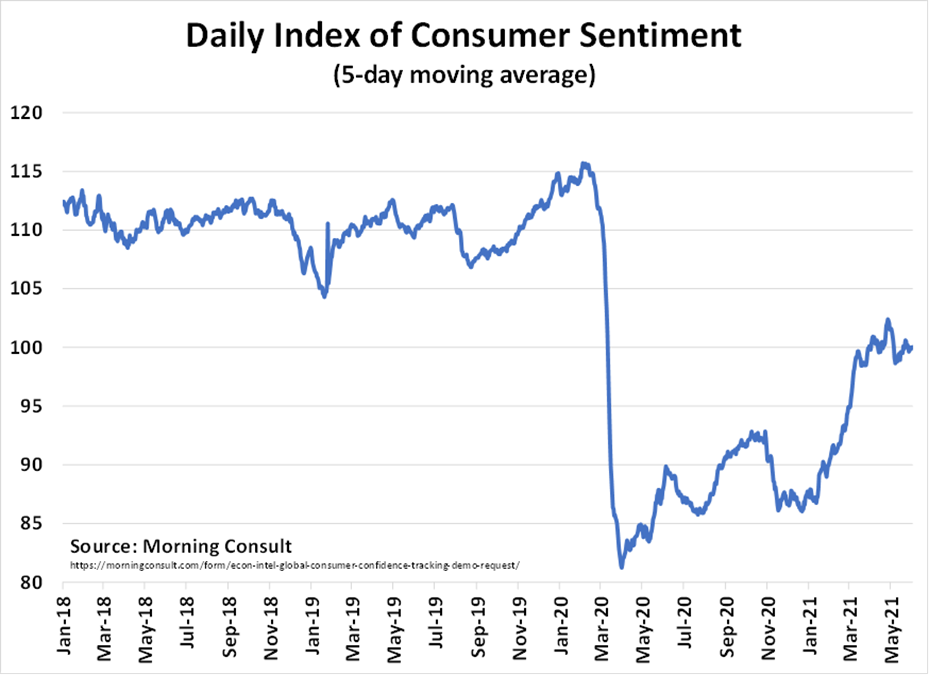 Second, federal government stimulus checks received over the past year or so, plus reduced personal spending at restaurants and entertainment, have helped to increase personal savings for many individuals who may now be living off these "excess" savings. A recent New York Fed blog examined the large "excess" savings held by U.S. households since the start of the pandemic (an estimated $1.6 trillion as of December 2020) and whether these monies might be spent as the economy reopens. Their conclusion is that these savings are not excessive "when set against the extraordinary need of many American families and the unprecedented government intervention to support them." That is, spending out of excess savings will not likely drive economic growth, but for those with lower incomes post-pandemic, the funds might be used to provide extra support.

Third, the extension of supplemental unemployment insurance benefits has resulted in some unemployed people taking home more pay than if they were working. Moody's Analytics reported that "about one-fourth of the unemployed are receiving unemployment insurance  benefits that are greater than the wages they received in their last job." The good news is that this gives them time to find the best job that matches their skills and interests. The bad news is that it can keep would-be workers off payrolls for much longer than needed, keeping the economy from returning to full employment as quickly as it would otherwise.

Fourth, rapidly rising equity prices (up more than 25% year-over-year) and housing prices (up 13% year-over-year) may have made many Americans feel wealthier. A recent MIT study shows that there is some evidence that such a "wealth-effect" leads to increased consumer spending and higher employment. While speculative, it seems possible that in a post-crisis environment, a big wealth increase vis-a-vis rising stock and home prices could cause some people to delay looking for work to generate more income. 

Whatever the reasons, there are still some serious barriers to explaining and releasing the full potential of the U.S. workforce. Some of these reasons are, by nature, personal, and based on one's individual sense of, and need for, security. Other reasons may be due to the implementation of policies designed for large groups of people that look and motivate differently at an individual level. 

To get more people back on payrolls, the right incentives need to be put in place. Typically, these incentives come from employers through higher wages and better working conditions. But government policies also can incentivize or disincentivize work. 

Any lessons learned need to be translated into better policy decisions so that the Employment Sorting Hat can do its magic.
 
Get Updates
Subscribe to CSBS
Stay up to date with the CSBS newsletter