Blog post
February 2021 Economic Update: A Look at Employment, Confidence and the Economy's Distance from Normal
Feb 16, 2021
By CSBS Senior Economist and Director of Research Thomas F. Siems, Ph.D.

After nearly a year, the Covid-19 pandemic and government lockdowns/restrictions continue to viciously assault the U.S. economy. Despite recent improvements, payroll employment and consumer confidence remain far below where these indicators stood this time last year. Adapting to a new normal is proving to be more difficult than most people imagined. Indeed, fears surrounding Covid-19, mandated lockdowns, and social distancing restrictions have changed the way people work, how they shop and how they interact. And now, one year later, the economy and economic activity remain far from normal.
Employment
Many economists and policymakers will be watching the employment situation closely because it can signal the strength of potential economic growth in the months and years ahead. Some good news is that the January 2021 unemployment rate declined sharply to 6.3% from 6.7% in December 2020. The chart below shows steady improvement in the overall unemployment rate from its peak of 14.8% in April 2020. However, total payroll employment remains nearly 10 million below what it was one year ago. And while that is up more than 12 million workers from April 2020, the economy has added only about 1.5 million people to payrolls over the past 6 months.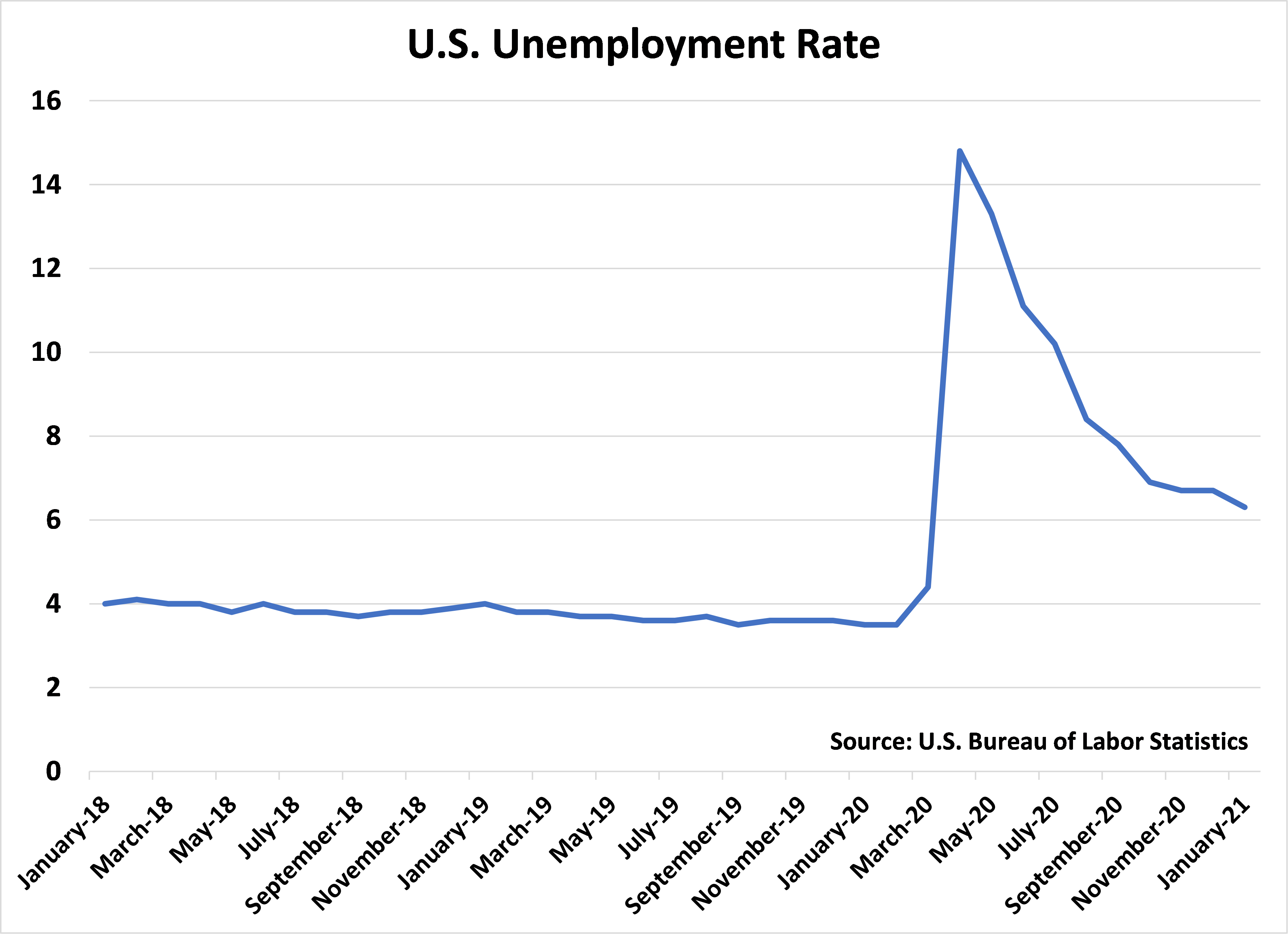 The bad news out of the latest employment report is that despite the large drop in the national unemployment rate, only 49,000 new jobs were added in January. And for the hardest-hit industries like leisure and hospitality, retail, and accommodation and food services, the employment numbers fell further. Moreover, the labor force participation rate dropped further to 61.4%, two full percentage points (or 200 basis points) below what it was one year ago, signaling that fewer people are actively seeking employment.
Confidence
Some other good news is that consumer confidence appears to be on the rebound, gradually improving over the past month as shown in the chart below. Consumer confidence can be a good indicator of future consumer spending and economic growth. Consumption accounts for roughly 70% of overall US economic activity.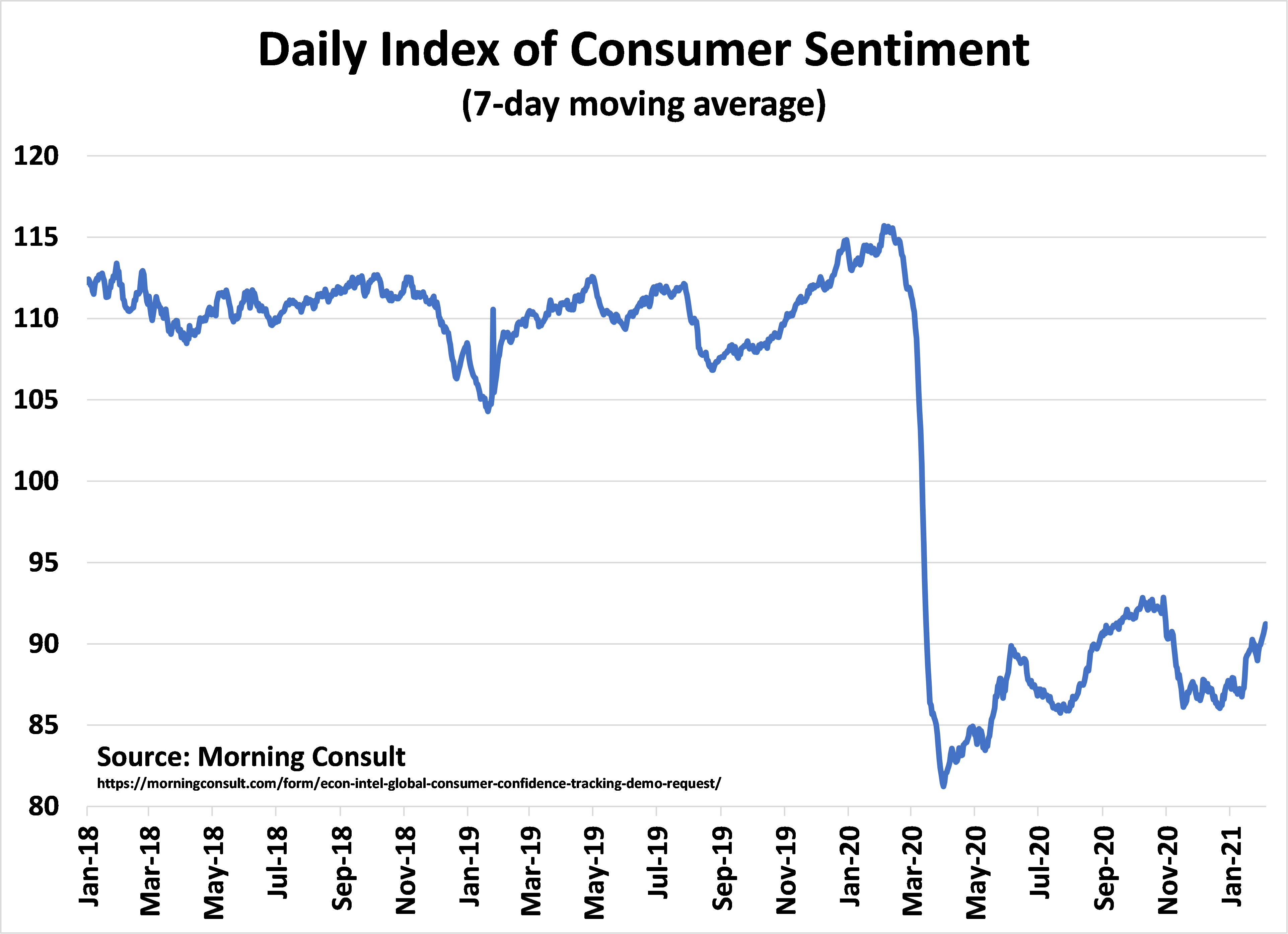 While it can be somewhat of a guess to identify why consumer confidence is on the upswing, some possible reasons are as follows. First, the rollout of the vaccines and expectations that it will result in the economy reopening sooner rather than later is lessening fears of Covid-19 for many Americans. Second, record high stock market prices and the large recent increases in national housing prices has raised the "on-paper" net worth for many Americans, and that makes them feel wealthier and more confident about the future. And third―and this has confidence going in opposite directions but on net improving―concerns the political transfer of power. Following the inauguration, Morning Consult reported that confidence increased for Democrats by 17.5%, and that more than offset the 9.9% confidence decline among Republicans.
One caveat here is that even though consumer confidence has risen recently, it remains well below the levels seen prior to the pandemic/lockdowns. This may indicate that consumers are still experiencing elevated levels of fear and uncertainty and remain in a wait-and-see mode.
Getting Back-to-Normal
To monitor how far away we are from the way things used to be, it is useful to examine the Back-to-Normal Index put together by CNN Business and Moody's Analytics. This index uses several weekly and daily economic metrics to assess how the economy is operating relative to where it stood at the end of February 2020, just before the pandemic really impacted business and economic activity. As shown in the chart below, by that measure the national economy is currently operating at around 80%. While that is up from its nadir of 60% last April and a recent low mark of about 75% in December, it is still slightly below a recent peak of about 84% reached in September and October before the latest surge in reported Covid-19 cases and hospitalizations.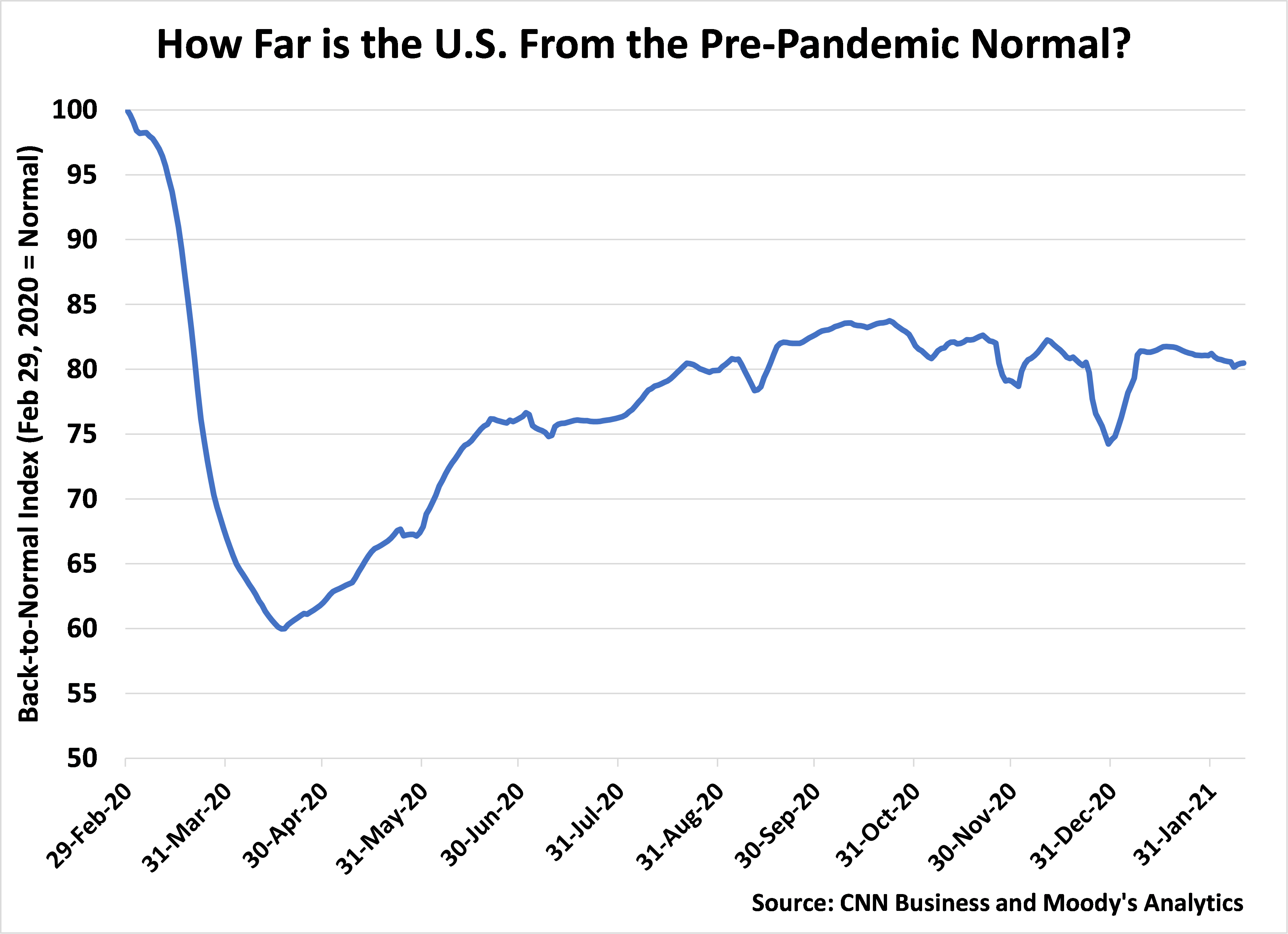 Conclusion
Overall, these three measures should move together. Further boosts to employment will increase consumer confidence and the Back-to-Normal index. But it will be important for employment to improve in the high-touch service industries like restaurants, travel, tourism and retail. It is these sectors that currently remain most out-of-normal, or far-from-normal, and are constraining greater economic growth overall because of the fears of Covid-19 and the lockdowns and restrictions in place.
 
Related Posts
Jan 25, 2021

Jan 19, 2021

Jan 6, 2021
Email Subscribe Block Newsroom