Blog post
March 2021 Economic Update: Hysteresis and the New "Normal"
Mar 11, 2021
By CSBS Senior Economist and Director of Research Thomas F. Siems, Ph.D.
From the February payroll employment report to rising yields on the 10-year Treasury note, many U.S. economic indicators over the past month are pointing to a recovery that is well underway. Consumer and business confidence have been boosted by signs that the economy is reopening because of declines in Covid-19 cases and deaths, and a promising start to the vaccine rollout. In the coming months, as the economy hopefully enters a new phase as a result of herd immunity, consumers, workers and business leaders will begin to learn what the "new normal" economy looks like.
Employment
The most recent payroll employment report from the Bureau of Labor Statistics (BLS) showed an increase of 379,000 jobs in February 2021. This was higher than most economists expected and welcome news, especially since the biggest monthly gain was in the leisure and hospitality sector, as shown in the table below. However, the table also shows how far away the employment situation is from peak employment in February 2020, just before the pandemic and lockdowns and restrictions severely disrupted economic activity. Overall, the U.S. economy has nearly 9.5 million fewer jobs today than one year ago. On a year-over-year basis, the leisure and hospitality sector has been hit the hardest, where nearly 3.5 million workers remain off employer payrolls.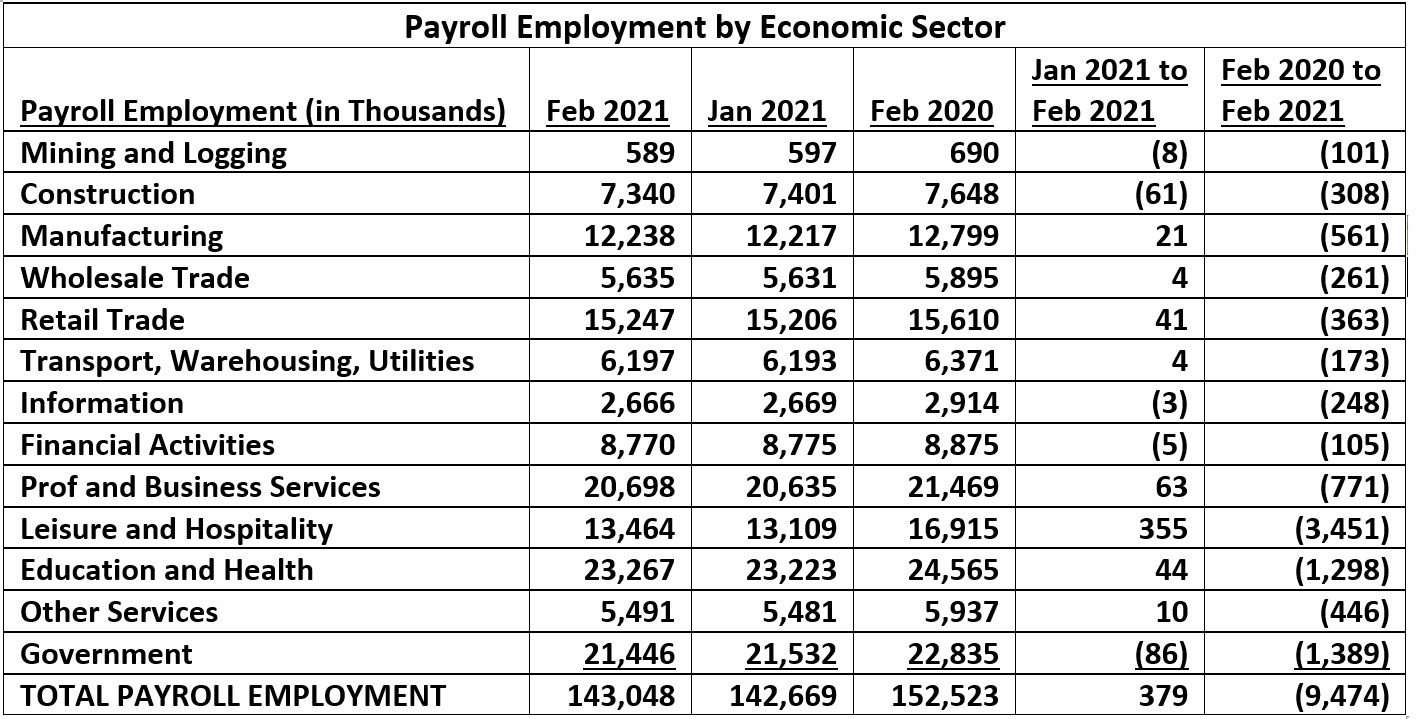 The nearby chart shows the extent of the displaced jobs, by employment sector, since the employment peak from a year ago. Overall, there are 6.2% fewer workers in the U.S. economy today, as denoted by the horizontal red line. In percentage terms, the hardest hit sector is once again leisure and hospitality, which is more than 20% smaller than one year ago.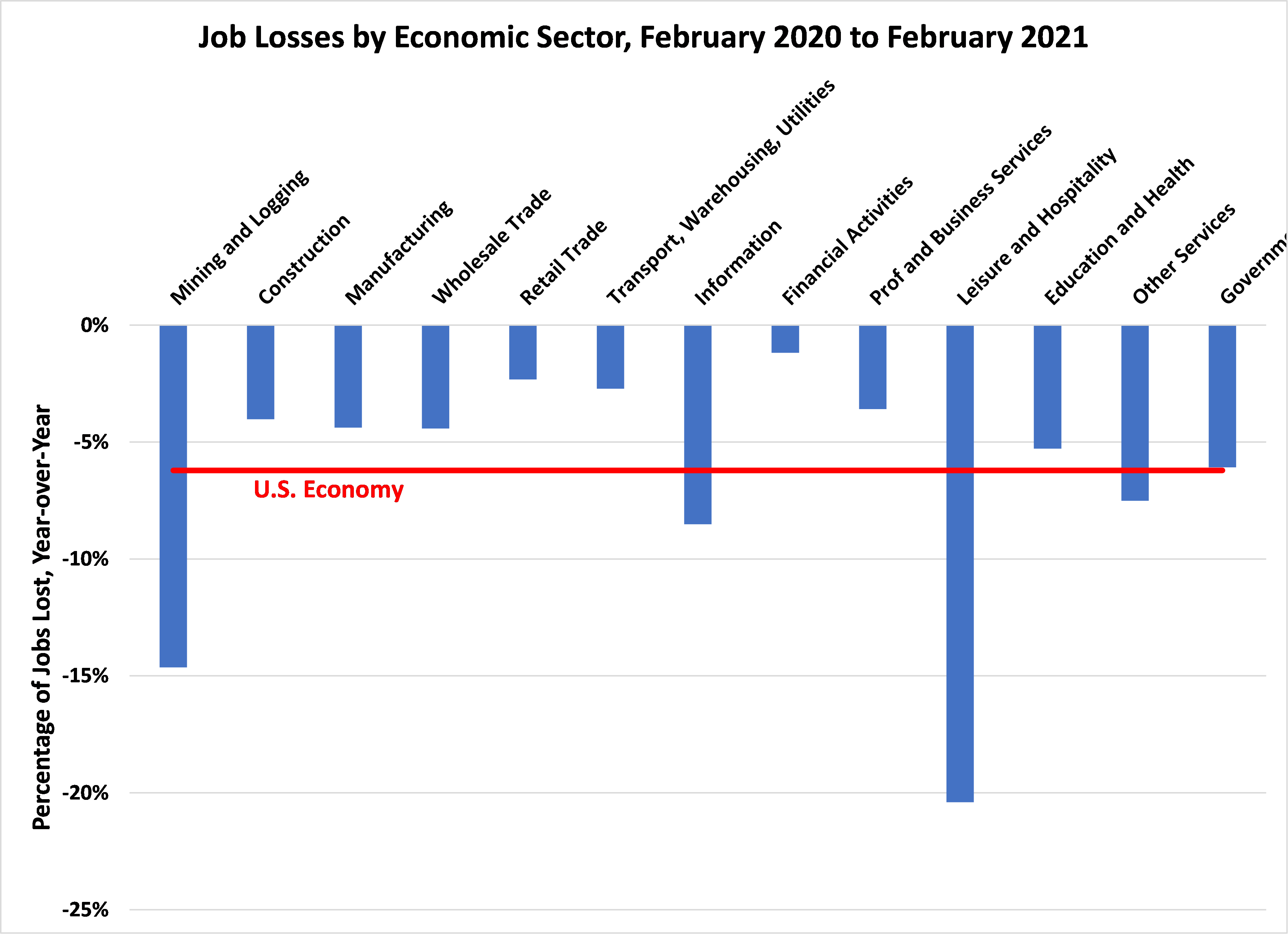 Federal Government Stimulus
The impetus behind most federal government and Federal Reserve stimulus programs over the past year has been largely due to the devastation suffered by employers and workers during the pandemic-induced recession. During March and April 2020, the BLS reported that 22 million jobs, or roughly 15% of the workforce, were removed from employer payrolls. And now, with nearly 10 million Americans still out-of-work, Congress seems likely to pass another massive $1.9 trillion stimulus package. A rough breakdown of the legislation, known as the American Rescue Plan Act, is as follows:
$410 billion for stimulus checks
$360 billion in state and local government aid
$246 billion to extend unemployment benefit programs
$176 billion for education
$143 billion to expand tax credits
$123 billion for COVID-19 treatment/testing
$105 billion for health care
$59 billion for small business assistance
$56 billion for transportation
$25 billion for restaurants/bars that lost revenue
$16 billion for agriculture
$194 billion in other grants/assistance
While stimulus was needed for many businesses that continue to struggle to make ends meet, and for workers in high-touch industries like restaurants, retail and tourism who are still unable to work, the price tag on this bill is staggering, representing about 8.8% of annual U.S. economic output. At some point, Americans will need to pay for this spending bill, either through higher taxes or more government borrowing. 
As shown in the nearby chart, the United States has typically paid for increases in government spending through borrowing. Before the 2008-09 Financial Crisis, the ratio of government debt to GDP was under 60%. After the Financial Crisis, the ratio steadily increased and eventually doubled to around 120% just before the pandemic-induced recession last year. Since then, the debt-to-GDP ratio peaked at 152% in April 2020 and now stands at around 146%.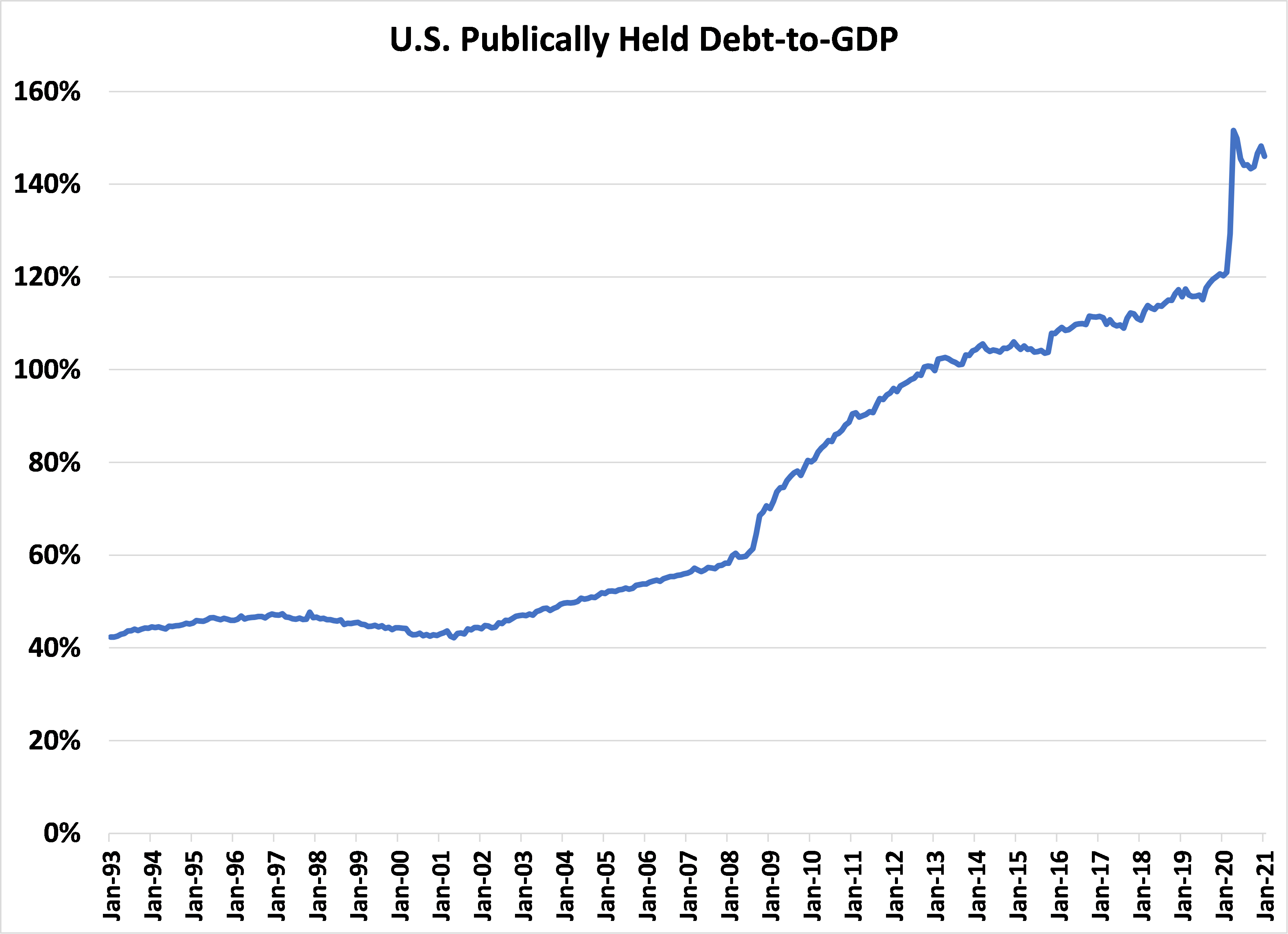 The 10-Year Treasury Note
Over the past couple of months, bond investors have driven up the yield on the 10-year Treasury Note. As shown in the nearby chart, the yield has increased from around 1% at the beginning of the year to close to 1.6% today. Are bond investors more optimistic about future economic growth or more concerned about potential inflationary pressures?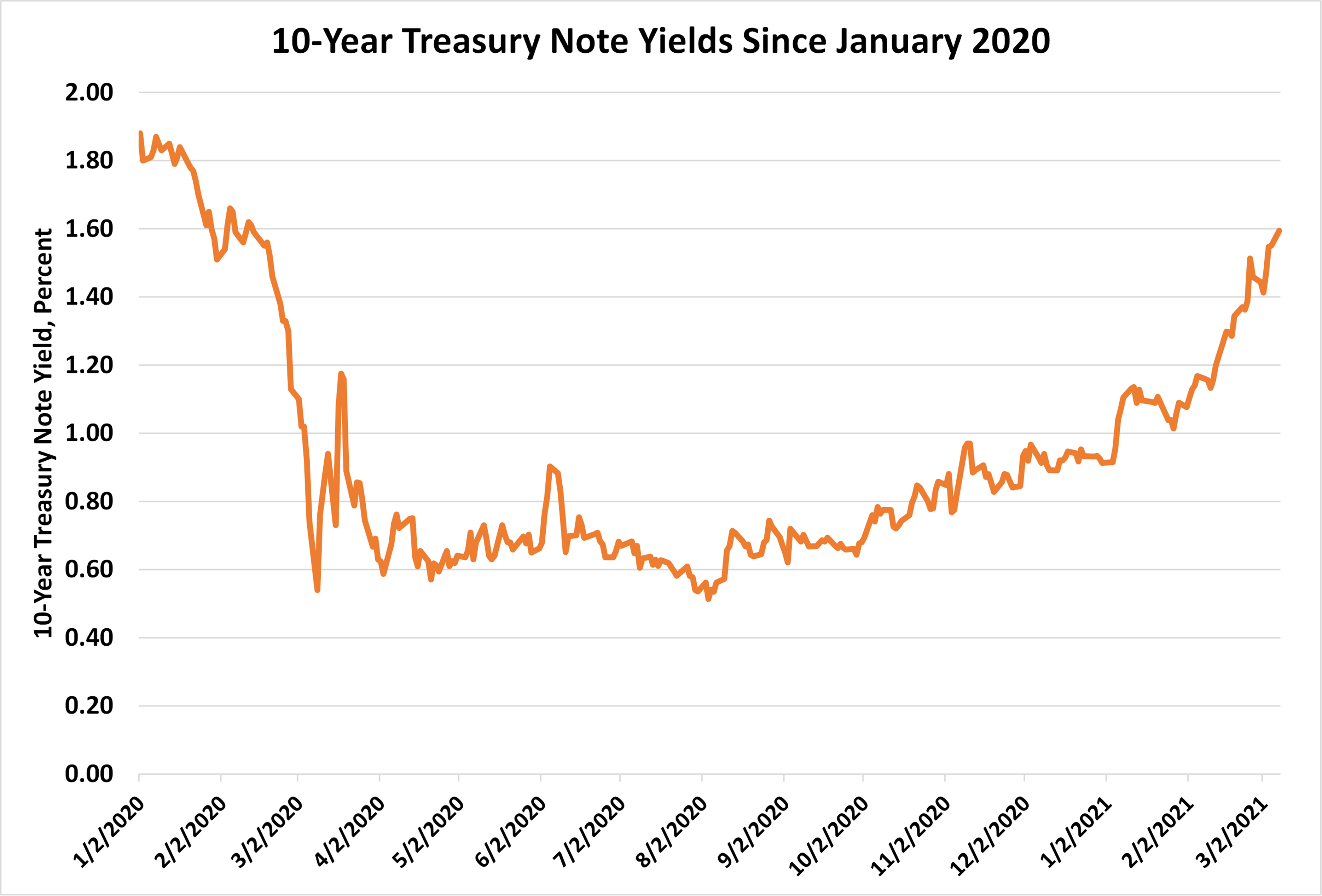 Over the long-run, the 10-year Treasury yield is basically the sum of inflation expectations and real long-term interest rates. Probably half of the recent increase in nominal rates is from a normalization of inflation expectations, and the other half is likely due to an increase in real yields resulting from greater confidence for stronger economic growth. While inflation concerns may be rising, they are probably just going back nearer to the Fed's price stability policy goal of 2%.
Can the Economy Return to "Normal?"
What is ultimately needed for the economy to completely recover is to reopen travel, restaurants, bars, casinos, retail stores, sporting events, concerts, etc. For that to happen, business leaders and consumers need to have confidence that they can interact in a healthy environment in safe ways. This is often referred to as herd immunity. And with a robust vaccine rollout, along with declining coronavirus cases and deaths, many experts expect herd immunity in the United States by this summer. 
Of course, there are risks to getting to herd immunity. A couple of obvious ones are potential vaccine distribution problems or a surge in new cases from a Covid-19 variant that is immune to the vaccine. But there is another, and less obvious risk that the road back to "normal" may not bring us back to the way things used to be, but to a fundamentally different way of living.
The lasting economic scars from going through a full year of this pandemic may mean that things cannot just be simply reversed by taking away the force that put us here. The size of the gap from the old normal to the new normal is based on the notion of hysteresis. This is a concept developed in physics that proves that not all systems bounce back to the beginning after a severe shock. In other words, there can be, and often is, permanent change. For example, if you apply a strong magnetic field to a piece of iron and then remove the magnetic field, the iron can remain magnetized for a long period of time. 
For the U.S. economy, here are several changes that may prevent the economy from returning to the way things used to be. 
First, the extent and cost of business and personal bankruptcies due to the pandemic has been steep. And for those made unemployed, they now have degrading skills, requiring adjustment costs in order to reengineer themselves for the future economy.
Second, consumer behavior has changed, and it remains to be seen what was temporary and what might become permanent. For example, will experiences like more online shopping, more movie streaming, and eating more at home continue?
Third, workplace behaviors have changed. Many more workers have found they are able to work remotely and get more done. If the trend continues, what might be the lasting impact on commercial office space, commuting patterns, travel for business, etc.?
Finally, another adjustment may involve government fiscal policies. With all the consumer, worker and employer changes, governments may need to look at ways to tax entities differently and they may pass new regulations or restrictions, especially for travel and large gatherings.
In summary, no one knows what the "new normal" will look like, but it seems clear that some things will not be totally reversed, and the concept of hysteresis can help economists and policymakers create new paths forward.
For more on how the national economic picture impacts local communities and what state regulators are watching for, listen to Tom Siems on "States of the Economy," a monthly podcast that looks at the economic picture across the country. 
Get Updates
Subscribe to CSBS
Stay up to date with the CSBS newsletter