Apr 8, 2019
By John Ryan
CSBS President and CEO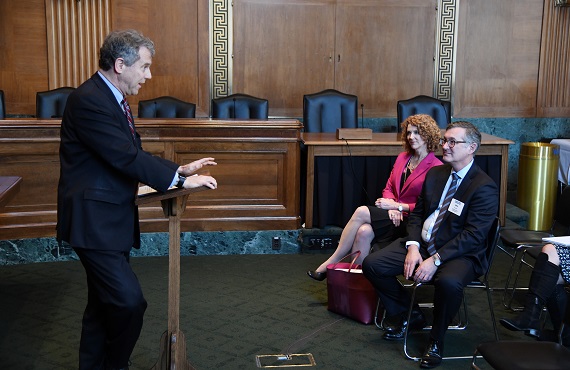 Last week, CSBS hosted 75 regulators from 42 states at our 2019 Government Relations Fly-In. 
Over the course of several days, we met with leaders at the Federal Reserve Board of Governors and FDIC, as well as leadership of key financial services committees in the House and Senate. 
These fly-ins are important. They give us an opportunity to share our top priorities with policy makers, especially the following:
Ensuring a simplified capital framework for community banks: We are concerned that as proposed, the community bank leverage ratio (CBLR) will not provide the relief intended by S. 2155. By proposing an alternative prompt corrective action framework, the agencies are raising capital standards. Last week was a critical opportunity to continue to express our views to the agencies as well as highlight this issue with members of Congress. 
Appointing an FDIC board member with state bank supervisory experience: We want an individual with state bank supervisory experience to be named to the FDIC board, as required by federal law. There are two current vacancies on the board, making this a perfect opportunity. In addition to being federal law, a director with state bank supervisory experience expands the FDIC board's knowledge base to include a practitioner with direct experience of the approximately 4,400 state-chartered banks that make up 79% of the nation's banking system. That is important, as the FDIC coordinates with the states to examine most of these banks.  
Promoting Vision 2020: The initiatives to modernize and harmonize nonbank state supervision are extremely important to CSBS and our members. We want a system that serves local needs but works efficiently. Last month we announced our next steps to create uniform definitions and practices, increase transparency and expand the use of common technology based on recommendations from our Fintech Industry Advisory Panel. We have a number of other initiatives underway that are intended to increase transparency, improve communication and enhance technology and automation. The appreciation and understanding of these initiatives by policy makers are critical to their success. 
Supporting Community Banks and Innovation: This is an important part of Vision 2020. Banks, particularly community banks, rely on outside vendors for a variety of services and look to leverage technology partners. We developed federal legislation (H.R. 241) to amend the Bank Service Company Act to enable state and federal regulators to better coordinate supervision of bank vendors. As currently written, the law effectively impedes coordinated state-federal third-party service provider supervision. We want to build on the momentum from the last Congress, when the House Financial Services Committee approved a similar bill by a vote of 56-0, drawing supportive statements from senior Republicans and Democrats. 
As I said, these fly ins are important. They give state regulators the opportunity to raise the policy issues that are important to us from a local perspective.  Members of Congress appreciate the opportunity to hear from the officials from their states. Additionally, building productive relationships with federal counterparts helps ensure safety and soundness, protect consumers and economic growth and foster innovative, responsive supervision.
Related Posts
Jul 20, 2020

Mar 13, 2020

Mar 12, 2020
Email Subscribe Block Newsroom