Blog post
Tough Times Ahead? Maybe…But Not Yet
Jul 13, 2021
By Thomas F. Siems, Ph.D., CSBS Senior Economist and Director of Research
The CSBS second quarter 2021 Community Bank Sentiment Index (CBSI) indicates that community bankers remain optimistic, but policy concerns persist. Similar to last quarter's survey, community bankers expect better business conditions, higher profitability, stronger capital spending, greater franchise values and plan to expand operations in the coming year. Yet at the same time, community bankers worry about a regulatory environment that is more heavy-handed and harmful longer-run economic outcomes from possible monetary-policy missteps. 
The headline number from the second quarter 2021 CBSI was 115, the same as the first quarter 2021 reading and significantly better than the record low sentiment score of 90 chronicled one year ago at the depths of the 2020 recession. With a value of 100 considered neutral, Chart 1 shows that community bankers in 2021 are far more optimistic than they were in 2020, but not quite back to levels seen in 2019.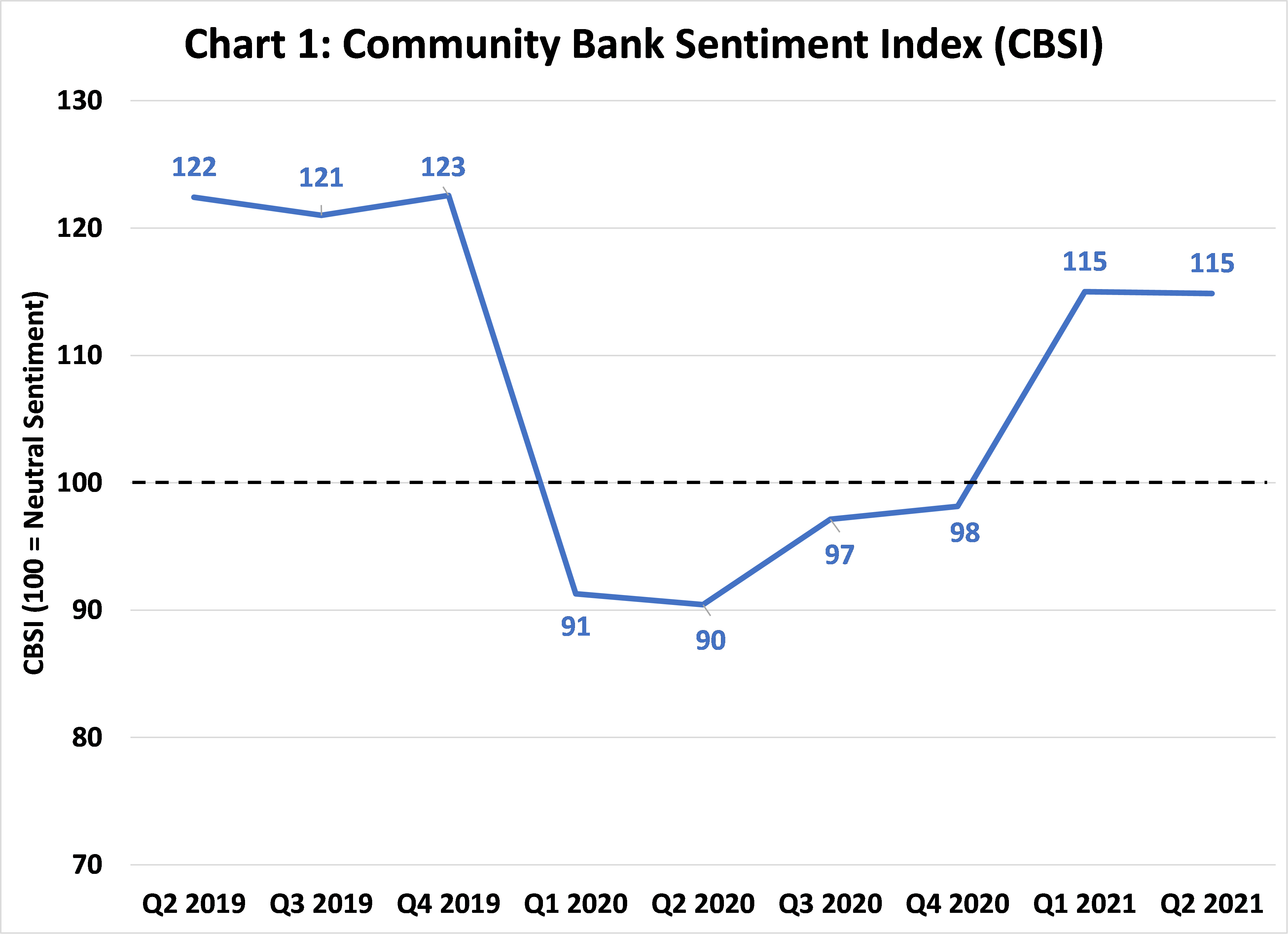 As shown in Chart 2, none of the seven components that make-up the index moved significantly upward or downward from the previous survey. And like the results from the first quarter 2021 survey, five components remain above the neutral level of 100, and two are below. 
Also included on this chart are the positive (green bars), neutral (yellow), negative (red), and "I don't know" (grey) responses to the seven questions that comprise the index. For example, for business conditions (BC), the percentage of both positive and negative responses declined while the share of neutral responses increased, keeping the overall BC index relatively stable at a change of -1. The abbreviations and quarterly component changes for the other six indicators are as follows: MP = monetary policy (-7); RB = regulatory burden (+5); CS = capital spending (-1); OE = operations expansion (-4); PR = profitability (+2); and FV = franchise value (+5).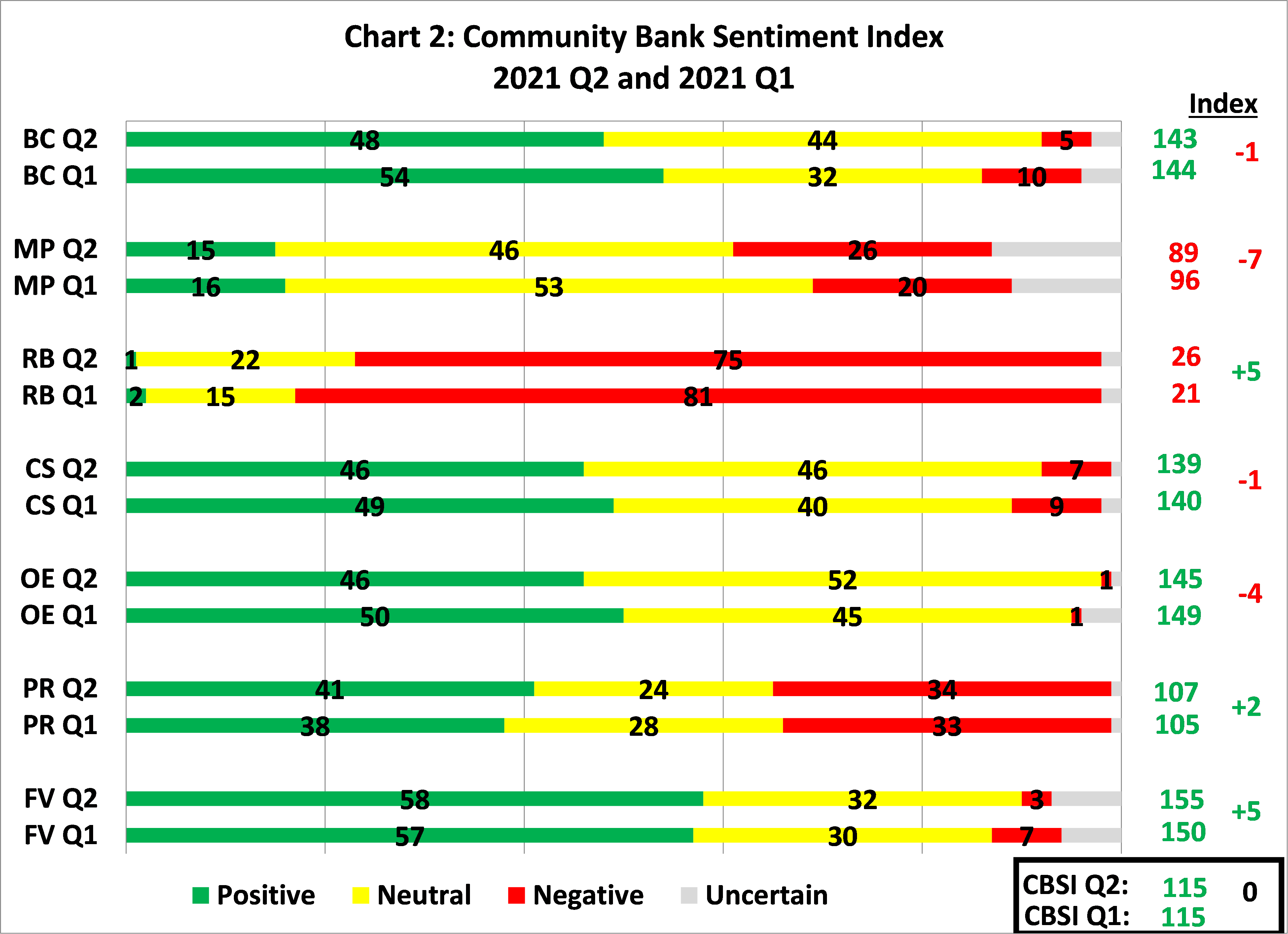 The two components indicating negative sentiment―monetary policy at 89 and regulatory burden at 26―both signal that community bankers are concerned about possible policy missteps and regulatory overreach that could curtail future economic growth and negatively impact the markets they serve. 
The regulatory burden component stands at 26, just 5 points above its historic low of 21 recorded the previous quarter. Chart 3 shows that the regulatory burden component has been trending down since it peaked at 78 in the first quarter 2020. The monetary policy component fell 7 points from 96 to 89, which was the largest point change of any of the seven indicators this quarter. This component has been below 100 since the first quarter 2020.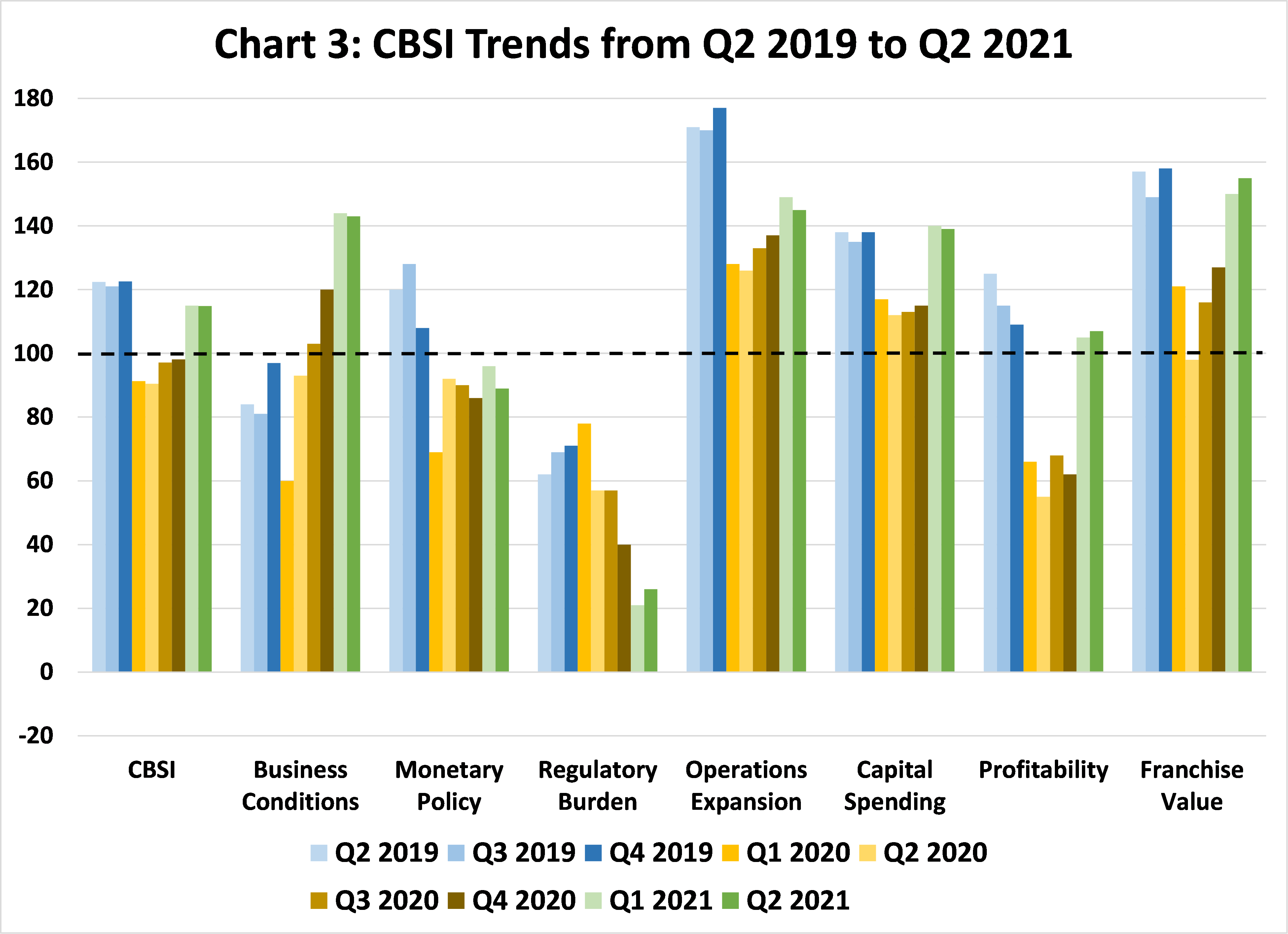 Several bankers included comments in the second quarter 2021 survey that suggested that overall negative sentiment in these two indicators is due to their uneasiness over potential long-run damaging economic consequences from recent federal government and Federal Reserve stimulus efforts which, they say, appear to be leading to rising prices, elevated inflationary pressures, and labor shortages.
On the positive side, community bankers remain upbeat about future business conditions and profitability, with plans to expand operations, increase capital spending, and grow the value of their franchise.
Like last quarter, results from the second quarter CBSI survey show that community bankers who expect future profitability to improve are significantly more optimistic than those who expect profits to decline over the coming year. The 41% of bankers with higher profit expectations have an average CBSI of 138; the 24% of bankers expecting no change in profits have a CBSI of 118; and the 34% of bankers expecting lower profits have a CBSI of 83.
Compared to one year ago, the profitability component is up an astounding 52 points. Other components showing strong year-over-year gains include franchise value (+57), business conditions (+50), capital spending (+27), and operations expansion (+19). 
Overall, our second quarter survey suggests that community bankers expect a strong economic environment over the next year, but that they also have some trepidation that policymakers might make decisions that cause economic difficulties in the future. 
Get Updates
Subscribe to CSBS
Stay up to date with the CSBS newsletter