Oct 26, 2017
For Fintech and Non-Bank Regulation
"Through Vision 2020, state regulators will transform the licensing process, harmonize supervision, engage fintech companies, assist state banking departments, make it easier for banks to provide services to non-banks, and make supervision more efficient for third parties."
~ Texas Commissioner Charles G. Cooper
Fintechs are now integrated into daily life.
Fintech companies - firms that leverages technology to create new business models, new delivery channels, automated decisions, and partnerships with traditional banks - perform an important role in financial services. Operating industries such as mortgages, money transmission, debt, and consumer finance, fintech firms have piqued the interest of consumers and attracted a wide range of investors.
State regulators, who are the primary regulators of non-bank and fintech firms, are committed to fostering the innovation of fintech companies while protecting consumers from predatory products and services. This commitment to efficient but meaningful supervision guides the goals and roadmap moving forward for state supervision of fintechs.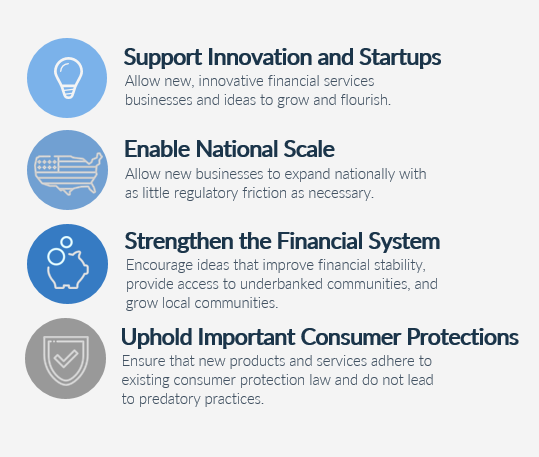 Because of this commitment, state regulators launched Vision 2020, an initiative to modernize state regulation of non-bank financial companies.
"We have a problem with the volume, complexity, and overall approach of our regulatory framework." - Texas Commissioner Charles G. Cooper

— CSBS (@CSBSNews) June 22, 2017
The Path Forward for State Regulation