Feb 25, 2017
Fintech, short for "Financial Technology," refers to companies and products using technology to make financial services more efficient.

Many Fintech companies perform traditional business activities, such as mortgage lending or money transmission. However, some Fintech companies are startups that present themselves as a new business model.
Many new and existing businesses consider themselves part of the Fintech ecosystem.  Online lenders (Quicken Loans), digital wallets (PayPal, Apple Pay), peer-to-peer payments (Venmo), crowdfunding (Kickstarter, Indiegogo), micro-loans (Kiva), marketplace lending (Lending Club, Prosper), and "big data" companies (Mint, Banktivity) all consider themselves Fintech companies.
State regulators are the primary regulatory authority for non-bank activity.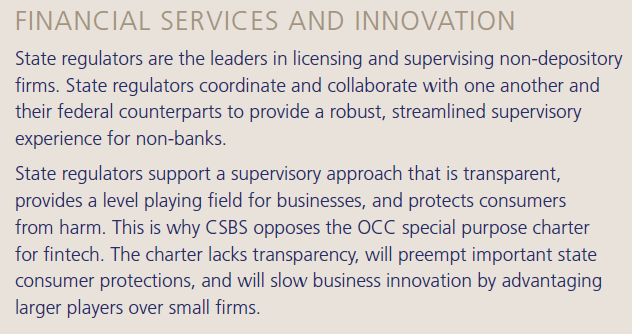 State regulators value innovation, and work diligently to strike the right balance between enabling innovation and protecting consumers from harm. For example, state regulators also encourage innovation through the Emerging Payments and Innovation Task Force. The Task Force works to study how new technologies affect the nation's payments systems and to develop ways to connect emerging technologies with the financial regulatory system.