Jun 1, 2017
Statement from John W. Ryan, President and CEO, Conference of State Banking Supervisors (CSBS), in response to the Office of the Comptroller of the Currency (OCC) decision to move forward with creating national bank charters for financial technology companies and other non-banks, and begin considering applications.
"The announcement by the OCC sets a dangerous precedent. The OCC has acted beyond the legal limits of its authority, bypassed and ignored bipartisan objections from Congress, and created new risks to consumers and taxpayers. The new OCC charter preempts existing state consumer protections without a comparable mechanism to replace them. It also exposes taxpayers to the risk of inevitable fintech failures. This is a dangerous combination."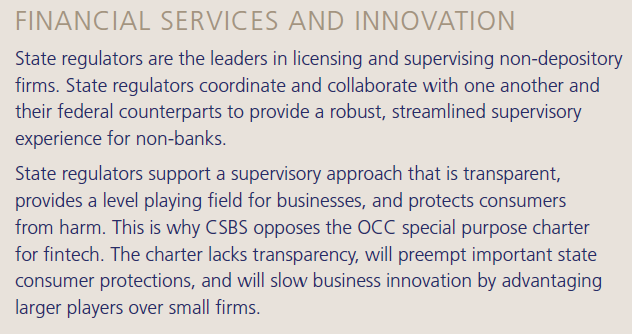 "It is deeply unsettling that the OCC chose to ignore the public record – including letters from Republicans and Democrats in Congress — warning of the harm this action will cause to consumers and the added risks to taxpayers. CSBS is exploring all options. We urge Congress to continue to weigh in on this important issue.
"The OCC charter is a solution in search of a problem. Today, state regulators supervise a vibrant system of non-depository regulation. Tens of thousands of mortgage, money transmission, debt collection, and consumer finance companies operate under state charters. Through a nationwide licensing system, supported by Congress, these non-banks have access to a streamlined process to obtain licenses to operate in one or more states. State regulators continuously improve this process – having slashed approval times by half in recent years – and lead the way in developing model frameworks and consumer protections for cutting-edge areas like virtual currency. And by its very nature, state regulation limits systemic risk."
CSBS submitted a detailed comment letter to the OCC in January, raising numerous concerns regarding a federal charter.