Vision 2020 for Fintech and Non-Bank Regulation
Jan 8, 2018
---
"Through Vision 2020, state regulators will transform the licensing process, harmonize supervision, engage fintech companies, assist state banking departments, make it easier for banks to provide services to non-banks, and make supervision more efficient for third parties."
~ Texas Commissioner Charles G. Cooper
Fintechs are now integrated into daily life.
Fintech companies - firms that leverages technology to create new business models, new delivery channels, automated decisions, and partnerships with traditional banks - perform an important role in financial services. Operating industries such as mortgages, money transmission, debt, and consumer finance, fintech firms have piqued the interest of consumers and attracted a wide range of investors.
State regulators, who are the primary regulators of non-bank and fintech firms, are committed to fostering the innovation of fintech companies while protecting consumers from predatory products and services.
When speaking with fintech companies, state regulators heard some common challenges faced when looking when getting licensed. Fintech companies are looking for a more streamlined licensing process, more clarity on if and where they need licenses, and more freedom to try out new and innovative ideas. 
State regulators have taken notice.
October 26, 2017
"We have a problem with the volume, complexity, and overall approach of our regulatory framework." - Texas Commissioner Charles G. Cooper

— CSBS (@CSBSNews) June 22, 2017
State regulators are uniquely positioned to best supervise fintech firms in a meaningful and effective manner. Based on feedback from fintech firms, state regulators have identified several common goals shared between regulators and the industry that will help guide improvements to the state supervisory process.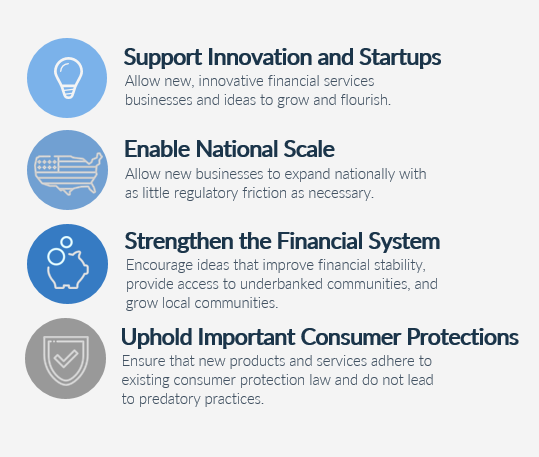 Building off these goals, state regulators launched Vision 2020, an initiative to modernize state regulation of non-bank financial companies.
The Path Forward for State Regulation
Vision 2020 is a series of initiatives from the Conference of State Bank Supervisors (CSBS) to modernize state regulation of non-banks, including financial technology firms. By 2020, state regulators will adopt an integrated, 50-state licensing and supervisory system, leveraging technology and smart regulatory policy to transform the interaction between industry, regulators and consumers.
Achieving this vision should result in a regulatory system that makes supervision more efficient by recognizing standards across state lines.  These actions will better support start-ups and enable national scale while protecting consumers and the financial system.
Vision 2020 will focus on 6 major initiatives to transform state supervision of non-bank and fintech companies.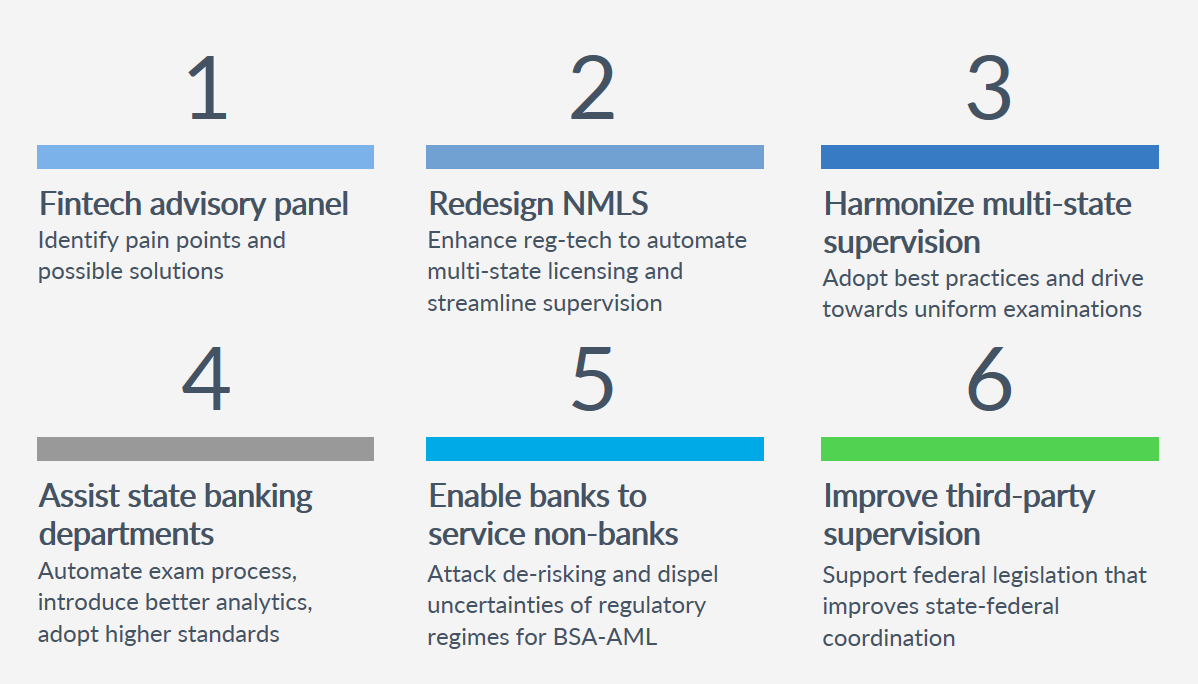 The 

Fintech Industry Advisory Panel

provides industry input to help states: modernize regulatory regimes; identify points of friction in licensing and multi-state regulation; and discuss a wide array of solutions.  The panel will focus on payments and money transmission; lending; and community banks and innovation.

Redesigned Nationwide Multistate Licensing System (

NMLS)

– the common platform for state regulation – will transform the licensing process thru data/analytics; automate most new applicants; and enable states to focus more on higher-risk cases while streamlining state regulation on a multi-state basis.

Harmonize Multi-State Supervision

by establishing model approaches enhancing uniformity in examinations; facilitating best practices; and identifying and reporting non-bank violations.  CSBS is also building a new technology platform for state exams.

Assist State Banking Departments

, through

education programs,

analytics and stronger standards, CSBS is helping state departments: identify their weaknesses; put expertise where it is most needed; update supervisory processes; compare and learn from other states; and validate higher performance thru accreditation.

Enable Banks to Service Non-Banks

, through enhanced industry awareness campaigns to address de-risking practices --

where banks are cautious about doing business with non-banks – CSBS is increasing industry awareness that strong regulatory regimes exist for compliance with laws for money laundering, the Bank Secrecy Act, and cybersecurity.

Improve Third Party Supervision

through CSBS support of federal legislation to amend the Bank Services Company Act to allow state and federal regulators to better coordinate supervision of TSPs and, in turn, produce an easier supervisory experience for fintechs and other non-banks.
Related Posts
There is no content related to this data.