Blog post
What's Behind Slower Economic Growth? A Look at Labor
Oct 24, 2019
By Thomas F. Siems, CSBS senior economist and director of research 
In my last blog, I examined the U.S. business cycle's expansions and contractions going back to the 1950s. (There's also a chart that goes back to the 1850s!) The data clearly show that the current expansion, while the longest in American history, has also been the weakest. Computing average annual real GDP growth rates during the last half of the twentieth century with the nearly 19 years of growth thus far in the twenty-first century highlights the overall slowdown. Annual real GDP growth averaged 3.6% in the last half of the twentieth century, compared to only 2% annually since 2000.  
Moreover, as shown in Chart 1, there has been a general and almost systematic decline in cumulative average real GDP growth rates over the eight expansions since 1961, falling from about 5% to 2.3% in the current expansion. What are some of the key factors behind slower economic growth? And what can be done about it?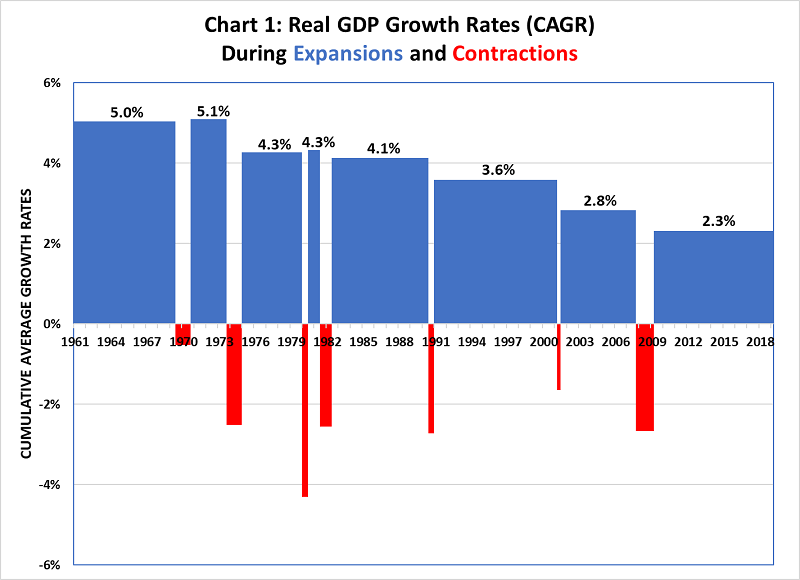 While there are many factors that have contributed to the secular decline in economic growth over the past 60 plus years―including, but not limited to, technology, globalization, monetary and fiscal policies, government debt levels―in this blog I will look only at demographic trends, and more specifically, at labor force growth. 
GDP growth is the sum of labor force growth and growth in labor productivity. Chart 2 shows that, like GDP growth, cumulative average job growth rates during job market expansionary periods have declined from rates above 3% in the 1960s and 1970s, to rates between 2% and 3% in the 1980s and 1990s, to rates well below 2% during the last two expansions since 2000.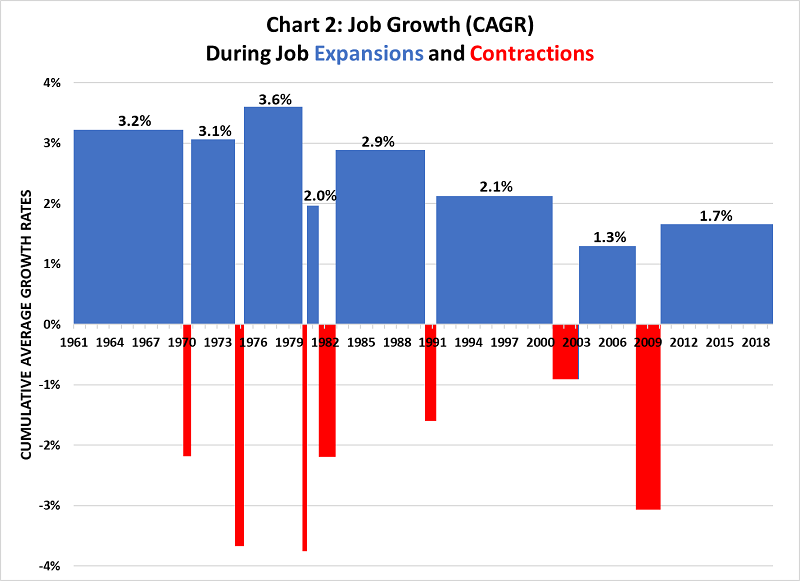 All else being equal, unless slower rates of labor market growth are offset by improvements in productivity growth, GDP growth will also be slower. And, when comparing Charts 1 and 2 to each other, it appears that slower labor market growth rates have been a key force contributing to slower rates of GDP growth. 
To reverse this trend, policymakers and business leaders are looking at the following ideas to create incentives that grow the workforce:  
Incentives to keep workers in the workforce longer: As the population ages and lives longer and baby boomers reach traditional retirement milestones, incentives that encourage older workers to stay in the workforce longer could keep the labor force participation rate, now at around 63%, from falling further.   
Incentives to prepare workers with the right skills: For younger people preparing to join the workforce, incentives that encourage new workers to pursue skills-training and careers that better match labor needs demanded in the economy is an investment in knowledge-based capital that more efficiently allocates resources and boosts productivity.   
Incentives to attract skilled labor: Immigration policies designed to be skills-based and more employer-based, and yet cognizant of any negative impact to domestic workers, can help attract and retain workers that businesses need. 
Fundamentally, it appears that one of the most important determinants behind slower rates of real GDP growth is declining rates of U.S. job growth. And while there may be several factors that negatively impact the labor market (technology, globalization, etc.), long-run demographic trends that have led to longer life spans, an ageing population, and the baby-boomer generation leaving the workforce through retirement have likely contributed the most to this decline. Unless policymakers and business leaders find ways to grow the workforce, we should expect that persistent slowing workforce growth will be a drag on U.S. economic growth. 
The views expressed in this blog are those of the author and do not necessarily reflect those of the Conference of State Bank Supervisors or its members. 
Featured Posts
Recent Posts
Email Subscribe Block Newsroom