Community Bank Sentiment Index


The Community Bank Sentiment Index is an index derived from quarterly polling of community bankers across the nation. As community bankers answer questions about their outlook on the economy, their answers are analyzed and compiled into a single number. An index reading of 100 indicates a neutral sentiment, while anything above 100 indicates a positive sentiment, and anything below 100 indicates a negative sentiment.
The Quarter 1 2020 Community Bank Sentiment Index Number is:
91
This represents a significant negative decline in economic sentiment by community bankers: a 32-point decrease from Quarter 4, 2019. The economic impact and community banker sentiment from COVID-19 is clearly taking a toll.
Key Highlights: 
Six of the seven CBSI components declined in Q1 2020 relative to Q4 2019, with five components declining more than 35 percentage points each
The CBSI declined throughout the month of March as survey responses came in, from an average 98 at the beginning of March to an average 71 by the end of March
47% of bankers believe business conditions will be the same (40%) or better (7%), down significantly from 85% in the previous survey (74% same and 11% better)
45% of banks expect the same (26%) or better (19%) profits, down significantly from 77% (45% same and 32% better)
20% of banks believe they will see a decrease in franchise value, up significantly from 3%
Below are some charts to show the decline in CBSI over time as the month of March progressed: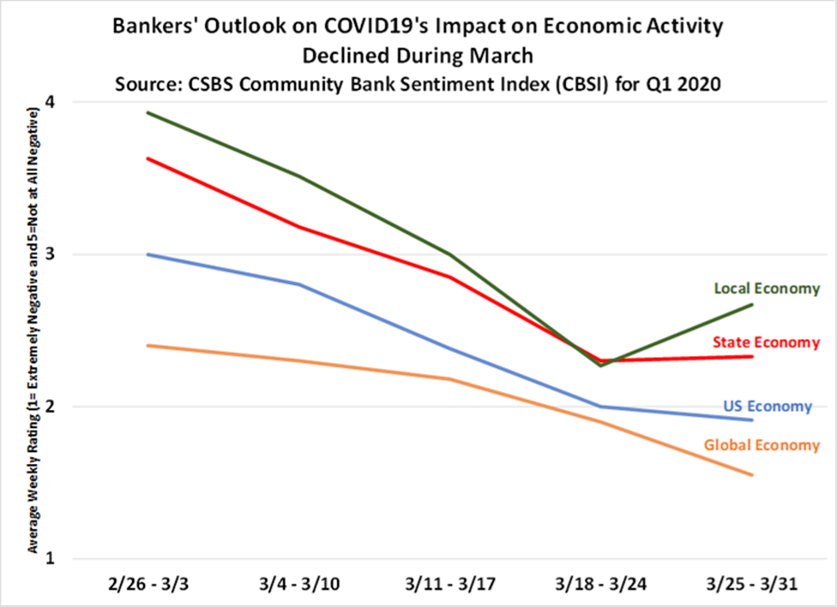 Data Behind the Index
Every quarter, the Community Bank Sentiment Index number will be accompanied with a paper explaining the underlying data. You can read the full report to learn how this breaks down by region and asset size, the influence of technology and impact on merger activity. 
Sentiment Index Findings