Community Bank Sentiment Index



The Community Bank Sentiment Index is an index derived from quarterly polling of community bankers across the nation. As community bankers answer questions about their outlook on the economy, their answers are analyzed and compiled into a single number. An index reading of 100 indicates a neutral sentiment, while anything above 100 indicates a positive sentiment, and anything below 100 indicates a negative sentiment.
The Quarter 4 2019 Community Bank Sentiment Index Number is:
123
This represents a significantly positive economic sentiment by community bankers, and a 2 point decrease from Quarter 3. 
Key Highlights: 
85% of bankers believe business conditions will be the same or better, up from 71% in the previous survey
77% of banks expect the same or better profits, down from 80%
61% of banks believe they will see an increase in franchise value, up from 52%
32% of bankers project a heavier regulatory burden, down from 34%
As more quarters are collected, historical charts will be provided here.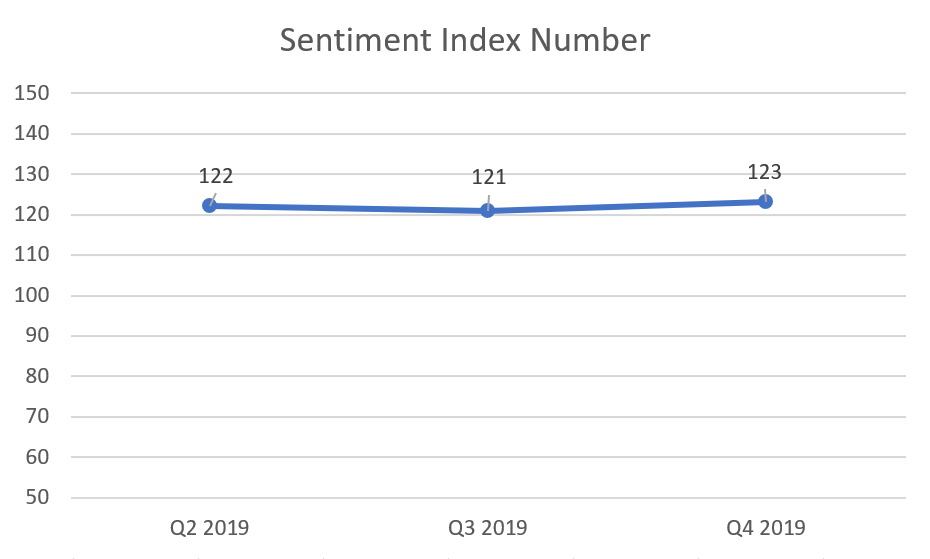 Data Behind the Index
Every quarter, the Community Bank Sentiment Index number will be accompanied with a paper explaining the underlying data. You can read the full report to learn how this breaks down by region and asset size, the influence of technology and impact on merger activity. 
Sentiment Index Findings