Community Bank Sentiment Index


The Community Bank Sentiment Index is an index derived from quarterly polling of community bankers across the nation. As community bankers answer questions about their outlook on the economy, their answers are analyzed and compiled into a single number. An index reading of 100 indicates a neutral sentiment, while anything above 100 indicates a positive sentiment, and anything below 100 indicates negative sentiment.
The Quarter 3 2021 Community Bank Sentiment Index Number is:
100

This represents a neutral reading in economic sentiment by community bankers and is 15 points below the index reading for last quarter. 
Key Highlights: 
The CBSI is 15 points below the level recorded in both the first and second quarters of 2021 but three points higher than a year ago.
While all seven components that comprise the CBSI declined from the previous quarterly survey, three in particular contributed to 89% of the overall decline: profitability, business conditions and franchise value.
The 41-point quarterly drop in the profitability component is the largest quarterly decline since the 43-point drop from Q4 2019 to Q1 2020 at the start of the COVID-19 pandemic and subsequent economic lockdowns, settling at the same level (66 points) as in Q1 2020.
The business conditions component fell 32 points from the previous quarter, but at 111 it remains above the neutral level of 100 and is 8 points above the year-ago level. 
The regulatory burden component (21 points) remains the greatest concern among community bankers and is down 35 points when compared to year-ago levels.
•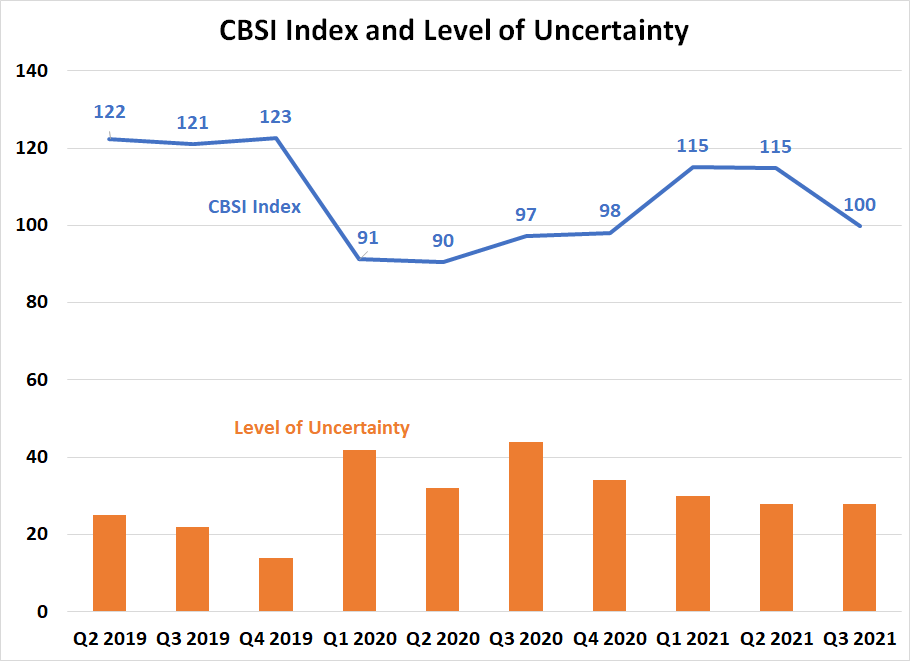 Interactive Dashboard
 In this interactive, you can click on a positive, neutral, or negative view in each subcategory to see how those respondents answered other questions. For example, if you click the "they will be better than today" green bar under business conditions, all other subcategories will update to display responses only by those people who believe future business conditions will be better than today. Clicking on the same item a second time will return you to the original display. 
Data Behind the Index
Every quarter, the Community Bank Sentiment Index number will be accompanied with a paper explaining the underlying data. You can read the full report to learn how this breaks down by region and asset size, the influence of technology and impact on merger activity. 
Sentiment Index Findings